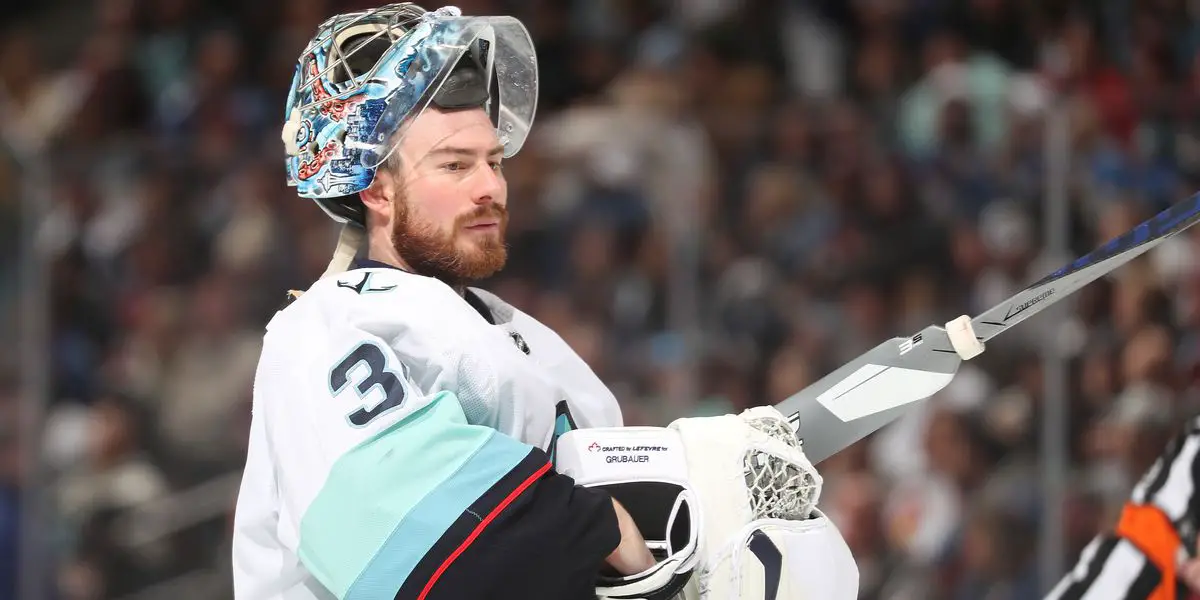 Coming into their second season in the NHL, not much was expected from the Seattle Kraken.
Last year, the Kraken were the third-worst team in the league with a 27-49-6 record and 60 points. They had trouble scoring goals, did not get great goaltending, and were outmatched by almost every other team.
This season was a much different story for the Kraken. The team finished in the first wild-card spot with a 46-28-6 record and 100 points and clinched a playoff spot for the first time in franchise history.
Despite the team's strong season, however, many people are counting them out against last year's Stanley Cup champions and this year's Central Division winners Colorado Avalanche and with good reason. The Avalanche won the Stanley Cup last season, won the Central Division again this season with a 51-24-7 record, and they appeared to be locked and loaded headed into their first-round matchup with Seattle's NHL club.
Well, the Avalanche got somewhat blindsided in Game 1 on Tuesday night, April 18th, when they lost 3-1 on home ice. While the loss probably shocked many hockey pundits and fans alike, I really did not think it was much of a surprise for several reasons.
For starters, the Kraken know how to put the puck in the net. The Kraken were fourth in the league in goals scored this year, as they scored 289 goals (3.52 goals per game).
The Kraken have a lot of talented offensive players. Players like Jared McCann (70 points), defenseman Vince Dunn (64 points), Jordan Eberle (57 points), Yanni Gourde (48 points), Daniel Sprong (46 points), Oliver Bjorkstrand (45 points), and Jaden Schwartz (40 points) all had solid seasons and were consistent offensive performers for this hockey club.
If you look at the paragraph above, you will see that the Kraken had seven players that had at least 40 points this season. That is impressive, no matter how many years the team has been in the league.
What should put a bit of fright into the Avalanche is that none of the guys mentioned above, with the exception of Schwartz, had a point in Game 1. As such, one should expect the other players mentioned above to get going in Game 2.
Secondly, the Kraken were able to shut down the Avalanche in periods two and three after giving up a goal to Mikko Rantanen about seven minutes into the game. When a team is able to shut down the likes of Rantanen (Yes, I know he scored a goal, but he did not do any damage after that), Nathan MacKinnon, Cale Makar, J.T. Compher, Artturi Lehkonen, Devon Toews, and Valeri Nichushkin, they are doing something right.
In Game 1, the Kraken did a good job of allowing their goaltender, Philip Grubauer, to see the puck while also doing a great job of clearing the rebounds and being smart with the puck in their own zone. Against a team like the Avalanche and in the playoffs in general, they will need to continue to do that if they want to give themselves an opportunity to win the series.
Lastly, this team is playing with house money. The Kraken were not expected to even make the playoffs this season, and yet, here they are playing against last year's Stanley Cup champions after having a terrific regular season.
Because of this, the Kraken have nothing to be afraid of. They can go out and play the kind of hockey that made them so successful this season, and if they win the series, great. If not, at least they can go out with their heads held high, knowing that they gave it their all.
With all of this in mind, do not be surprised if the Kraken continue to surprise people in this series. Yes, they have only won one game, but that could end up catapulting them to surprising things down the line.
This is a nice change considering how the team was defensively in the regular season. The team was 15th in the league in goals allowed this year, as they gave up 252 goals (3.07 goals against per game).
The boys are back after a long break but have plenty to talk about as the playoffs are in full swing. We go series by series, looking at how teams have fared so far and who will come out on top. Thanks for listening! Please rate and review our show on your favorite listening platform. Check out our partner's website at www.insidetherink.com for all your latest hockey news.