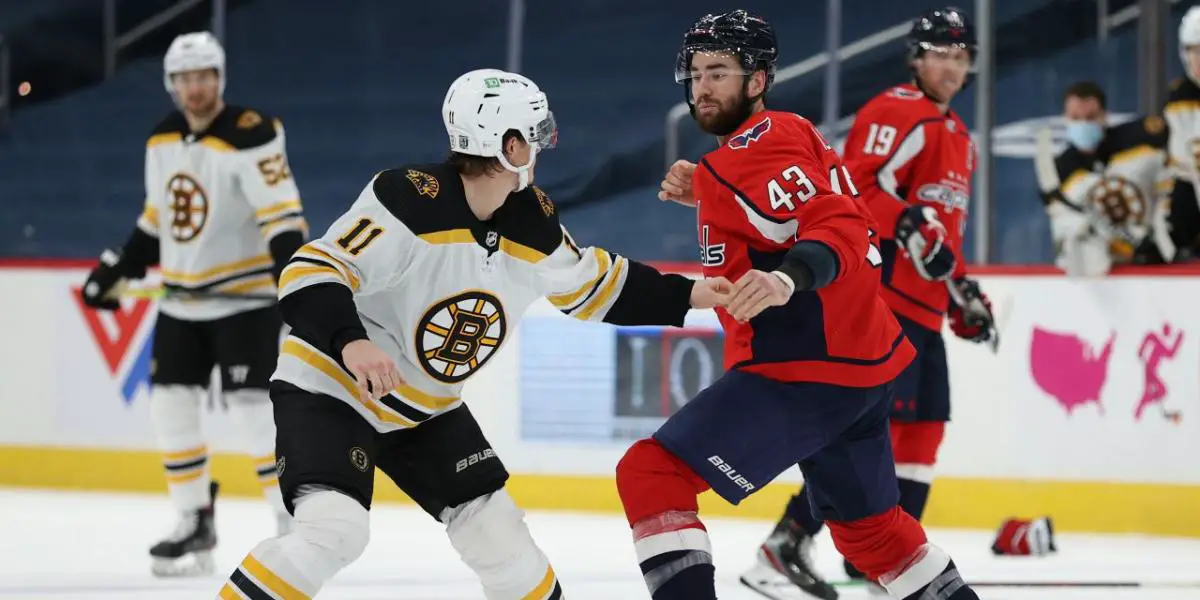 As the Bruins gear up for another playoff run thanks to a hot streak that has seen them go 14-2-1 in their last 17 games, many have wondered if this team has what it takes to go all the way. Of course, the Bruins have the scoring, not just from their top line but their top three lines, which have all been producing as of late. The Bruins have the defense pairings well, at least the top two pairings as Hampus Lindholm and Charlie McAvoy create a powerful duo atop the pairing list for Boston as Brandon Carlo and Matt Grzelcyk form their pair that can hold their own. The only question mark surrounding the defense is the third pairing which Bruce Cassidy has given some clarity as he intends to keep Derek Forbort and Connor Clifton as a duo with Mike Reilly and newly acquired Josh Brown being the next guys up.
Most Recent Cup Contenders
Through Boston's previous Stanley Cup runs, we have seen a common theme that the Bruins had in one successful Cup run and another they lacked in their unsuccessful run of 2019. The theme is toughness and grit, two words that have gone hand in hand with the Boston Bruins since they became an NHL team in 1924. We all know the Bruins' grit and toughness in 2011 as their roster featured guys like Milan Lucic, Adam McQuaid, and Shawn Thornton, amongst others. These players made a difference with their hard-punishing hits and hard-nosed style of play as they didn't back down from fights, defended teammates, and looked to hit instead of being hit. Having guys like this on your roster showed a difference-maker throughout the playoffs as they set the tone and helped the Bruins capture the Stanley Cup in 2011. The same could not be said for the Bruins in 2019 as a lack of physicality led to the downfall of the Bruins in a seven-game series against the St. Louis Blues as they wore down the Bruins all series before putting them away in game seven. What could have been if the bruins possessed the same rugged and gritty players that helped them win in 2011, which brings us to 2022 and the question surrounding this roster, do they have the toughness and grit that it takes to make a deep playoff run and win Lord Stanley's Cup?
Breaking Down Bruins Fights this Season
When looking at this Bruins team, three names pop out when it comes to toughness, grit, and, of course, fighting. Those three players are Nick Foligno, Trent Frederic, and newly acquired defenseman Josh Brown who hasn't played yet but brings a reputation of toughness to Boston. They are currently tied for tenth in the NHL with 20 fighting majors, breaking down Boston's fighting this season. Well, that may not seem like a lot of fights through 66 games it is fourth in the Eastern Conference as only three teams sit ahead of Boston as the Ottawa Senators (27), Tampa Bay Lightning (24), and the New York Islanders (21) have been in more scraps so far this season. Compared to the Toronto Maple Leafs (6), Washington Capitals (8), Carolina Hurricanes (8), and Pittsburgh Penguins (10), the Bruins are willing to drop the gloves a lot more than their potential playoff matchups.
Nick Foligno Still Has It
We have all seen what Nick Foligno can do when he drops the gloves, which seems to be the only thing the fourth-line winger has brought to the Bruins this season. Foligno has 38 fights in his career, including five fights this year for the Bruins, including his most recent fight coming last Saturday against the Islanders during the Bruins 6-3 win. While his offensive output is depressing, there's no question about his toughness as the 34-year-old is still willing to take the hits and drop the gloves as a fourth-line grinder this year.
Trent Frederic Fight Club
Since coming into the league, 6'3″ 210 lbs. forward Trent Frederic has been looking to do one thing, and that's fight against anyone who will accept and drop the gloves. Frederic has racked up nine fights in two full seasons and a partial third, with the bulk coming this year. He has fought five times against the likes of Jacob Middleton, Marcus Foligno, Brendan Lemieux, Brandon Duhaime, and Dmitry Kulikov. We have seen Frederic go after veterans such as PK Subban and Alex Ovechkin, with the latter retaliating by hitting Frederic between the legs with his stick.
The New Guy in Boston
While Josh Brown hasn't played a game for the Boston Bruins, he comes with the reputation as a tough defenseman that is not afraid to drop the gloves and lay the body on hits. At 6'5″ and 217 lbs, Brown is a mammoth on skates as there are not many players bigger than him. Over his five seasons in the league, Brown has dropped the gloves 14 times, with four of the fights coming this season while he was still in Ottawa. It's only a matter of time before Head Coach Bruce Cassidy decides to utilize the hard-nosed defenseman allowing him to showcase his skills to the Boston faithful, who will love his style of play.
Is It Enough?
It's exciting to see what this year's Bruins team has in store for the Boston faithful as they look to win their first Stanley Cup since that remarkable 2011 season. While three players may not be enough toughness for a deep playoff run, it is a start and a step in the right direction for the Boston Bruins, who will need every piece of grit and toughness to get through this year's elite talents in the Eastern Conference. The Bruins have every other element required to make a run, so having these players step in when needed will be much needed to set the tone and keep other teams in line from targeting Boston's offensive superstars.
The boys are back after a long break but have plenty to talk about as the playoffs are in full swing. We go series by series, looking at how teams have fared so far and who will come out on top. Thanks for listening! Please rate and review our show on your favorite listening platform. Check out our partner's website at www.insidetherink.com for all your latest hockey news.