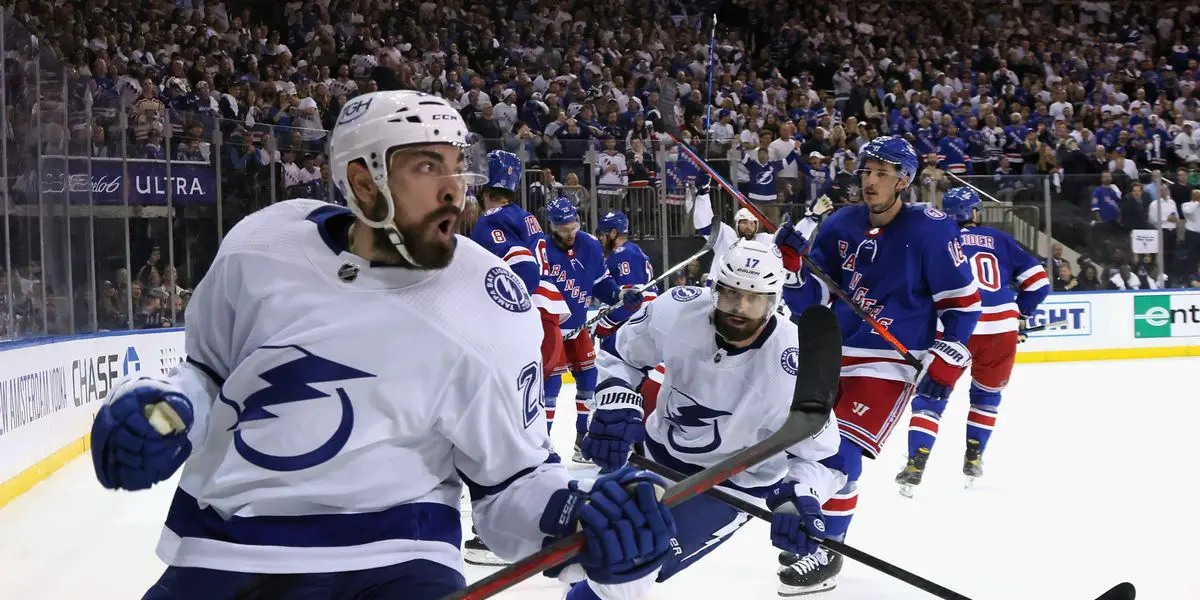 With the Tampa Bay Lightning facing elimination in Game 5 Thursday night, the question of whether they consider making lineup changes is one worth pondering.
They haven't played poorly in the last two games. In fact, the Lightning controlled play for long stretches in Games 3 and 4. Defensive lapses late allowed the Toronto Maple Leafs to come back and force overtime, a period that hasn't been too kind to Tampa Bay in each of their past three successful postseasons.
Entering a do-or-die Game 5, however, the Lightning might have physical forward Michael Eyssimont available for the first time since a big hit from Jake McCabe knocked him out of Game 1.
Considering that, do they insert Eyssimont and sit one of their other bottom six forwards?
It's a valid question if Eyssimont is ready to go.
The third line of Tanner Jeannot, Nick Paul, and Ross Colton has struggled to produce offense, with Colton's three points being all of the scoring that line has seen. They also are a combined minus-5 in three games together, as Jeannot was recovering from a late regular season injury that prevented him from playing Game 1.
On the fourth line, Corey Perry is second on the team with five points, so there's no chance he gets taken out. Pat Maroon and Pierre-Edouard Bellemare have three points combined. Defensively though, they are a combined plus-one. Couple that with their physical play, and it makes no sense to take any of those three out of the lineup.
Given that Jeannot just returned to the lineup and brings a physical element that could prove beneficial, the Lightning should consider sending Paul to the press box for at least one game.
Now hear me out. He's a good player, but there's a chance his prolonged offensive slump is affecting the rest of his game. A game off might allow him to reset mentally and be ready for the next time he gets in the lineup.
As for line combinations, there is no reason to mess with the top six. You can keep your fourth line intact or slot Maroon alongside Jeannot and Colton, with Eyssimont flanking Bellemare and Perry. Either way should work, as head coach Jon Cooper can always mix and match during the game if needed.
Defensively, you could swap out Ian Cole for Haydn Fleury, but that's not much of an upgrade. If Erik Cernak was ready after suffering injury in the series first game, the answer would be fairly easy. He's not though, so the Lightning have to make do with the players available to them.
Will the Lightning make any lineup changes ahead of Game 5? No matter the decision, they must play as if there's no tomorrow because their season depends on it.
The boys are back after a long break but have plenty to talk about as the playoffs are in full swing. We go series by series, looking at how teams have fared so far and who will come out on top. Thanks for listening! Please rate and review our show on your favorite listening platform. Check out our partner's website at www.insidetherink.com for all your latest hockey news.