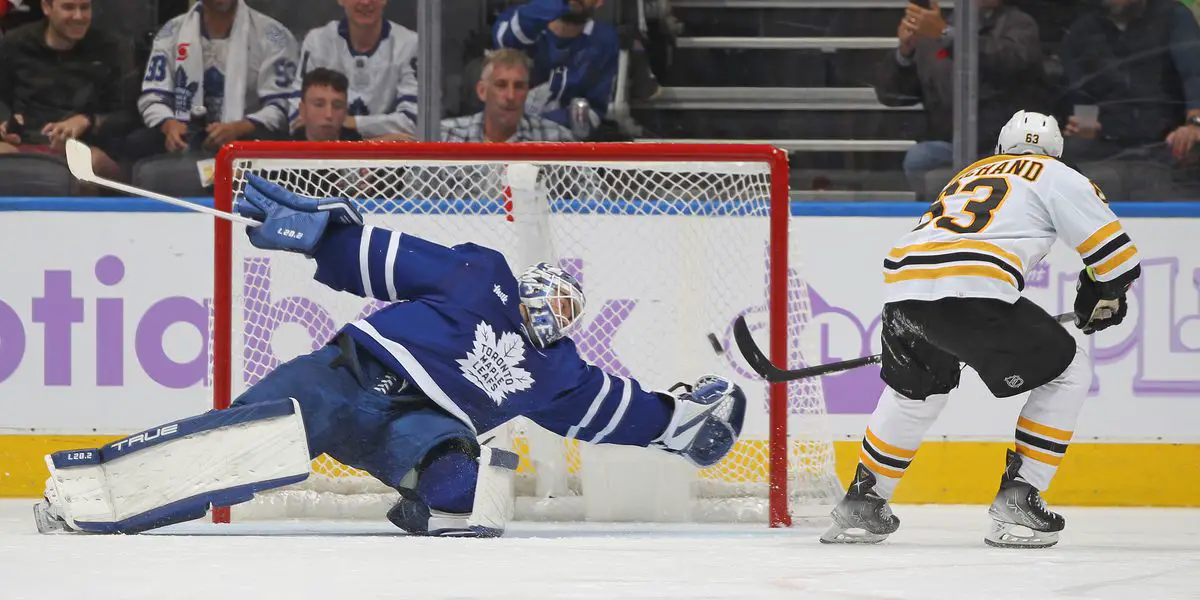 If you are a hockey fan and a fan of the Toronto Maple Leafs, then you are very well aware that the Buds have a problem when it comes to getting past the first round in the Stanley Cup playoffs.
Year in and year out, it's the same story. The club has a solid regular season and cannot get the job done when it matters most.
It is tough to figure out where to point the blame. Sometimes it is the goaltending, not enough scoring, or just plain inconsistent play.
After losing goaltender Jack Campbell in the offseason, Leafs General Manager Kyle Dubas went out and acquired goaltender Matt Murray, a two-time Cup winner with the Pittsburgh Penguins (2016 and 2017), from the Ottawa Senators in the offseason while also signing goaltender Ilya Samosonov to a one-year, $1.8 million contract.
When these moves happened, I wondered what Dubas was thinking. Yes, Murray, 28, was a two-time Cup champion with the Pittsburgh Penguins, but over the past few seasons, his performance had dropped considerably, and he could barely stay healthy.
In looking at Samsonov, 26, was a goaltender that was mediocre at best with the Washington Capitals for three seasons. Would he improve his play with the Leafs?
Up to this point, the team's goaltending has gotten the job done in helping the Leafs be one of the best teams in the league this season. As of this writing (Wednesday, February 22), the Leafs are second in the Atlantic Division and fourth in the league with a 35-15-8 record for 78 points.
Surprisingly, the team is currently eighth in the league in goals allowed as they have given up 155 goals against in 58 games (2.67 goals against per game). Yes, part of that has been the solid play of the team's defense, but some credit needs to be passed onto the club's goaltenders.
Samsonov is in the middle of what can be considered an excellent season for the Leafs. He is currently 20-7-0-2 with a 2.40 goals-against average, a .915 save percentage, and three shutouts.
There have been many games this season where Samsonov has been able to steal two points for his hockey club. He does not give up too many soft goals, does a good job of stopping the shots he should stop, plays within himself, and, more importantly, he wins games.
Samsonov has come in and done exactly what has been asked of him. With that said, can he play the same way in the playoffs?
In eight postseason games, Samsonov is 1-6 with a 2.98 goals-against average and a .907 save percentage. These are not the kind of numbers that will help a team win a round in the playoffs.
As for Murray, he has been solid when healthy, as he has been hurt a few times this season. He is currently 11-5-0-2 with a 2.73 goals-against average, a .911 save percentage, and one shutout.
When he has been on the ice, he has been pretty good. He has looked flexible, has had a few big wins, and has shown that he can still stop the puck at a pretty high level.
We all know Murray's experience in the playoffs. He won back-to-back Cups with the Penguins in 2016 and 2017, and he is 29-21 with a 2.18 goals-against average, a .921 save percentage, and six shutouts.
Can a tandem of Murray and Samsonov get it done in the playoffs? Heck, who will be the starting goaltender when the time comes?
To be honest with you, this is a tandem in which I do not have much faith. Samsonov has not played well in the playoffs, and one has to wonder if Murray will be healthy come April since it is still a few months away, and a lot can happen.
I am hoping that I am wrong. I would like to see the Leafs get past the first round because, outside of goaltending, this team has the talent up front to make that happen.
With that said, their goaltending will always be a question mark, which is never a good thing when it comes to playing for hockey's Holy Grail.
WELCOME BACK TO LEAFS LATE NIGHT! Presented by Inside The RinkRoscoe / National Biehnographic- Ketchup With Us- Willy Up The Middle- Game 1+2 Standouts- Stamkos Ain't HappyNEW MERCH IS AVAILABLE!JOIN OUR DISCORD!Remember to follow us on Twitter @LeafsLateNight & IG @LeafsLateNightCheck out Mike, Josh, and Nathan's articles on the Leafs + many more! insidetherink.com