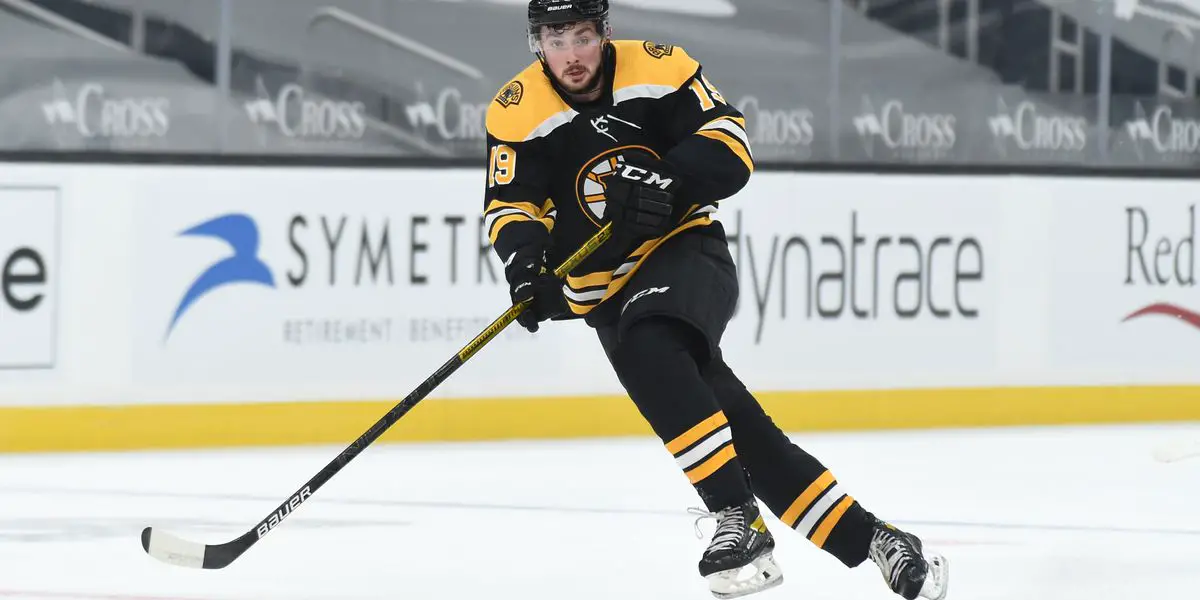 Second chances in sports are sometimes hard to come by, even if a player seems to deserve one and never got a chance the first time around. This is usually the case with young players who are trying to make a name for themselves and break on to the big stage. Sometimes overcrowding at a certain position group doesn't allow for a second chance, but when you have a bunch of underperformers on your roster, what's the harm and seeing if the new player can provide that spark to relight that flame that's been starving for oxygen. That's exactly what the Bruins have with former first-round pick Zach Senyshyn. The young 24-year-old Ottawa native has once again been lighting up the AHL but still has not seen any big league playing time this season, even with all the injuries and Marchand's suspension.
Drafted 15th overall in Don Sweeney's memorable 2015 draft, Senyshyn projected to be an intelligent offensive winger that had the potential to be a difference-maker. A fluid skater who knew how to constantly move around the ice and find advantageous positions not only on offense but also on the defensive side of the puck. Senyshyn also comes with size and a solid frame as he is listed at 6'1″ and 207 pounds and knows when to use that size to his advantage, which the Bruins could use up in Boston. While it's been seven years since the young Canadian was drafted and only appeared in 14 games at the NHL level, many have given up on him and written him off as a bust, especially after he requested a trade earlier in the season. While waiting for that potential trade to come through, Senyshyn has continued to produce down in Providence as he's matched his career-best in goals with 14, which he's done in only 38 games compared to the 66 it took him back in 2018-2019. Is this a sign that Senyshyn is finally starting to truly realize his potential, or is this just another season of hope that will be followed by disappointment?
The big question is when Bruce Cassidy will let Zach Senyshyn out of the dog house and stop being stubborn to prove a point. Yes, being loyal to your current players is important for a coach to instill confidence, but when your third line right winger in Nick Foligno has one goal, six assists for seven points, and boasting a plus-minus of minus 10 in 33 games, how does he still deserve consistent minutes? Something must give because this just screams for a shakeup to happen. Giving Senyshyn a chance shouldn't hurt the team more than the underperforming players of Nick Foligno, Curtis Lazar, Tomas Nosek, Anton Blidh, and Jack Studnicka. They all combined for 12 goals, and half of those were scored by Lazar himself. At this point, the Bruins have nothing to lose by letting him give it a shot. The worst that can happen is he produces the same stats and impacts the game just like the player he replaced, or he shows that he finally can perform. The case that Senyshyn deserves one more crack at the NHL level is right in front of Bruce Cassidy, so give him the opportunity before Don Sweeney and company decide to finally cut bait.
Episode 51: Interview w/Jack Ahcan Episode 51 is back in action talking about the New York Paingers ITR bet, Can Buffalo Sabres make the playoffs? Is Vancouver in the wrong on the Boudreau treatment? Is Tocchet the right guy? Is Daryl Sutter the last Dinosaur in the NHL?YouTube: https://www.youtube.com/@insidetherinkTwitter: https://twitter.com/CueTheDuckBoatzFacebook: https://www.facebook.com/Cuetheduckboats/Thanks for listening! Please rate and review our show on your favorite listening platform. Check out our partner's website at www.insidetherink.com for all your latest hockey news. Also, catch all of the games in this year's NHL season by signing up for ESPN+ at Insidetherink.com/ESPN