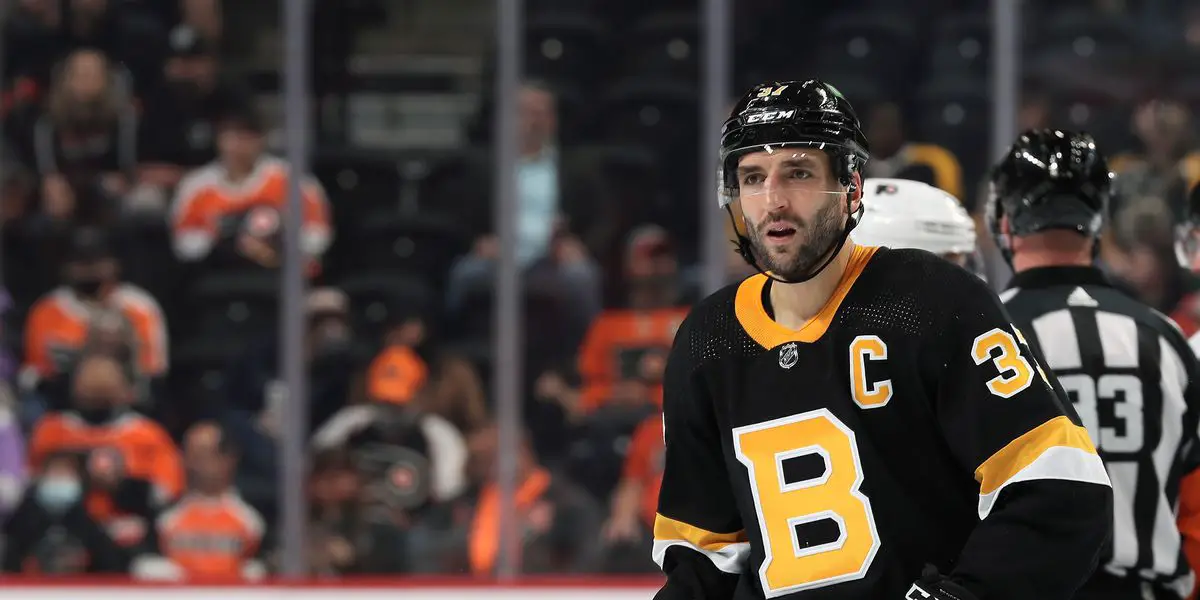 The playoffs officially kicked off last night for the Bruins as they took on the Hurricanes in Carolina. It was not the result that fans and players were hoping for, as it was a closer game than the 5-1 final score indicated. The Bruins had plenty of chances early on but couldn't convert to give them the edge they needed.
While many are focused on the present, some are focused on the future, especially the future of team Captain Patrice Bergeron. The 18-year veteran could be playing in his last Stanley Cup Playoffs ever. His contract is up at the end of the season, and the 36-year-old has often said he is living in the moment and not talking about it. Now that the time is closer than ever to discuss his future, many wonder what the Captain will do in the coming months.
"Honestly, I haven't really… I've done a good job of staying in the moment," Bergeron said when asked on Sunday if anything had changed. "I think that's where I'm at right now, still, is being ready for Game 1 of the playoffs, and that's all I should really focus on."
Don Sweeney has been respectful of Bergeron's wishes all season long as the GM looks to game plan for next season. The Bruins will have an estimated $4.4 million in cap space, with a chunk of that being reserved for Bergeron if he chooses to come back. There's no replacing Patrice Bergeron as he had Bergeron had 25 goals and 40 assists in 73 games this season, with what he brings with his leadership and defensive skillset even more valuable.
"Good luck with that one. I'm doing the same thing everybody else is," Sweeney said. "As I've referenced all along, my job is to put together the most competitive group that we can so that I extend his shelf life of wanting to play. His impact is not questioned regarding what he can do on and off the ice. It's just a matter of how long he wants to continue to do it. We're hopeful that he does. I believe in my heart that he does, but that ultimately is Patrice's decision. I've been respectful of that from Day 1 and will continue to be until he says, 'Let's get this done.'"
While it's obvious Bergeron hasn't lost a step as he is having one of if not the best defensive seasons by a forward in league history, according to advanced analytics. Among 587 players who played at least 500 minutes this season, Bergeron ranked first in Corsi-for percentage (65.6%), first in expected goals-for percentage (69.2%), first in Corsi against per 60 minutes (40.2), and first in expected goals against per 60 (1.51). He also led the NHL in face-off wins (991) and face-off percentage (61.9%). He should be a runaway winner for a record fifth Selke Trophy that he is a top-three candidate for every year.
It just comes down to whether he wants to return and continue his Hall of Fame career. This season saw Bergeron accomplish plenty of personal milestones as he skated in his 1200th career game and registered his 400th career goal. With some other milestones closing in, like his 600th career assist and 1000th career point, we may see the longtime Bruin back to achieve those.
What is most important to Bergeron is winning the Stanley Cup. Bergeron has been to the Stanley Cup Finals three times in his career (2011,2013, 2019) and has only won it once, back in 2011. With the majority of the core still in place, come next season with Pastrnak, Hall, Marchand, Debrusk, McAvoy, Lindholm, Carlo, Grzelcyk, Ullmark, and Swayman all under contract plus others, he may run it back for one more. If the Bruins succeed in raising the Cup this year, plans may change as Bergeron could skate off into the sunset on a high note like Mark Recchi back in 2011.
Episode 51: Interview w/Jack Ahcan Episode 51 is back in action talking about the New York Paingers ITR bet, Can Buffalo Sabres make the playoffs? Is Vancouver in the wrong on the Boudreau treatment? Is Tocchet the right guy? Is Daryl Sutter the last Dinosaur in the NHL?YouTube: https://www.youtube.com/@insidetherinkTwitter: https://twitter.com/CueTheDuckBoatzFacebook: https://www.facebook.com/Cuetheduckboats/Thanks for listening! Please rate and review our show on your favorite listening platform. Check out our partner's website at www.insidetherink.com for all your latest hockey news. Also, catch all of the games in this year's NHL season by signing up for ESPN+ at Insidetherink.com/ESPN