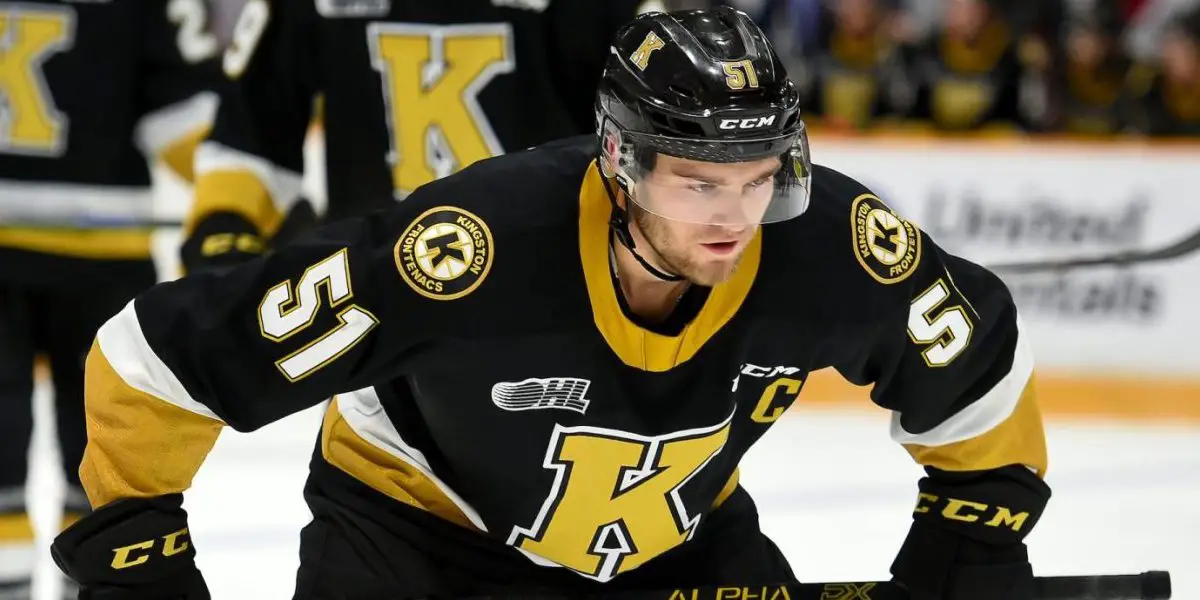 With one week left in the regular season, the Detroit Red Wings look like they will once again have a draft pick in the Top 10 of the 2022 NHL Entry Draft. After today, Detroit will have two games left in the regular season. If Detroit remains in the Top 10, it will be the 6th consecutive year they have had a draft pick this high.
The NHL Draft Lottery will be held virtually on May 10th at 6:30 PM ET. The top 16 selections will be set in order, with the Top 11 seeds eligible to receive the #1 pick.
Odds for Selecting #1 (Source: nhl.com)
1. 18.5 percent
2. 13.5 percent
3. 11.5 percent
4. 9.5 percent
5. 8.5 percent
6. 7.5 percent
7. 6.5 percent
8. 6.0 percent
9. 5.0 percent
10. 3.5 percent
11. 3.0 percent
12. 2.5 percent
13. 2.0 percent
14. 1.5 percent
15. 0.5 percent
16. 0.5 percent
Detroit Odds of Picking #1
The Red Wings currently sit with the 8th best odds in the draft lottery with two games left in the regular schedule. No matter what happens this week, and if the selection order stays the same, Detroit will pick between 7th and 9th in the draft.
Shayne Wright is the consensus #1 pick in the draft. With the odds stacked against Detroit, there is a very slim chance that Detroit will move up and have a chance at picking Wright. Numerous other players would fit the mold of a Steve Yzerman draft pick.
Yzerman always seems to have a card up his sleeve when it comes to the draft. Don't be surprised if he picks a player not ranked in the Top 10. Forwards expected to go in the Top 10 include Logan Cooley (USDP), Matthew Savoie (Winnipeg, WHL), Juraj Slafkovsky (TPS, Liiga), Joakim Kemell (JYP, Liiga), Danila Yurov (Metallurg Magnitogorsk, KHL), Brad Lambert (Pelicans, Liiga), and Frank Nazar (USDP).
Detroit's depth at center is a weakness within the organization. If Yzerman selects a center and doesn't get the 1st pick, he will likely pick Cooley, Savoie, Lambert, or Nazar. A longshot center he could also select would be Conor Geekie from Winnipeg (WHL). Geekie scored 70 points in 63 regular-season games and was ranked #4 by NHL Central Scouting (NA Skaters) in the mid-season rankings.
Detroit is not expected to draft a defenseman in the Top 10. If Yzerman surprises everyone as he did with the Mortiz Seider pick in 2019, he will likely select Simon Nemec (HK Nitra, Slovakia) or David Jiricek (HC Plzen, Czechia).
Shane Wright is the #1 Prospect
In 2019, Wright was granted exceptional player status, which gave him the right to play major junior hockey at 15. Drafted 1st overall by Kingston (OHL), Wright scored 39 goals in 58 games at the age of 15. Last year, the Covid-19 pandemic washed out the entire OHL season. Wright did play in the IIHF World U18 Championships and scored nine goals and 14 points in just five games.
This season, Wright scored 94 points in 63 regular-season games for Kingston. The Frontenacs are currently leading the Oshawa Generals 1-0 in the first round of the OHL playoffs and play game two this afternoon.
Final Thoughts
NHL Central Scouting will release their final prospect rankings on May 5th. Both North American and European rankings will include players born in 2003 and 2004. With Detroit almost guaranteed a pick in the Top 10, I believe that the Red Wings will take a forward that will have an excellent chance of playing professionally in the Red Wings organization in the not-so-distant future.
With five picks in the top-50 of the 2023 NHL Draft, the Red Wings are in prime position to make a trade for a top-six forward. We breakdown fits of players that are potentially on the trade market and what a potential package could look like. We also start with how Red Wings at the World Championships are performing, focusing on Dominik Kubalik, Carter Mazur, and Lucas Raymond.