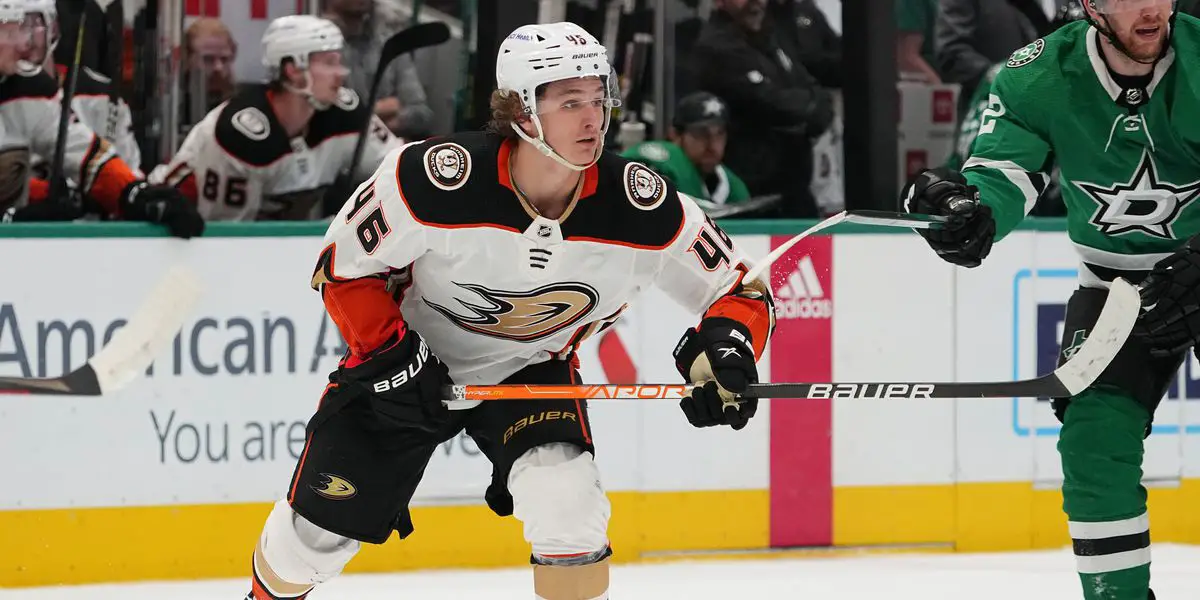 This. This is what we were promised this season. The Anaheim Ducks versus the Pittsburgh Penguins. A struggling high-power team against the Kids from Katella. A competitive game with lots of fight; the Ducks showed some heart and came back to take the lead…then lost because they are a young team with little depth. It was a disappointing result, but this is more of what we figured to expect in what Ducks games should be. 
Or we could talk about how it really ended. 
Losing the game because the most veteran Duck, the one that should know how to and make the veteran play, gets caught watching the Trevor Zegras show and forgets one of the most basic rules in hockey. When heading toward the net? Keep your stick down. Cam Fowler should have been the recipient of some particular brilliance by Zegras for all the glory and the OT winner. It should have been. On a clear breakaway, Trevor looked over his shoulder and saw Fowler. So Z didn't cut more to the middle to set up and roof his insane patented backhand. Instead, he stayed a little wide to the right, pulling Pens netminder Casey DeSmith, who had overcommitted to the scouting and was sitting on that move completely, with him. So Z11 out-thought the goalie, was very creative, and set up #4 for the tip-in and the celebration. 
I get it; Zegras can be mesmerizing, especially on a breakaway. But Cam…stick on the ice, man. Ryan Getzlaf would eviscerate you. 
Pittsburgh gets very lucky in the win. No slam dunk winner for Anaheim, The Pens pick up the loose puck transition to a three-on-one, and Jake Guentzel buries his opportunity. The pass goes harmlessly under Fowler's stick. 4-3 loss in OT. 
A disappointing ending, but it was fun. After a string of 7-1, 6-2, and 6-2 brutal home losses where none of the aforementioned heart and fight were on display? The Ducks were really engaged and actually in a game, for a change, and with good reason. 
Dallas Eakins tweaks the lines and finally puts Zegras back to his natural center position. Zegras responds with an amazing game with a goal and an assist. This now gives the Ducks two legitimate lines, with Ryan Strome moving to the wing and finally away from former Ranger teammate Frank Vatrano. Strome has struggled at center and with Vatrano. This looks like this might be a better option. Max Comtois also benefitted greatly on the opposite wing and had a solid power game down low. The 44-11-16 line looked and was dangerous all game long.
John Gibson was wonderful in his hometown, where he traditionally, well? Isn't. He stopped 41 of 45 and was just let down a bit by the team in front of him. It was heartbreaking for him to have come within 24.8 seconds of getting his first road win this year to have it slip away.
This was the first game that Pittsburg Forward Rickard Rakell has played versus Anaheim since he was traded. The revenge game went well for him. Ricky played the wing for Evgeni Malkin and Jason Zucker. That line had their way with the Ducks, as the team's first lines essentially canceled each other out for most of the game. Rickard got a measure of revenge, factoring in on all three of the Penguins' goals in regulation, including the game-tying goal with 24.8 seconds left from Bryan Rust. 
On paper, Pittsburgh is the superior team, but for this first road game, at least, things looked balanced between the two teams. It was a back-and-forth affair with the teams trading goals, neither team with more than a one-goal lead until the final in OT. Anaheim dominated the special teams battle, their lowly power play going two for four, and their bad but improving penalty kill had a clean sweep, four-for-four. Even with Malkin and Sidney Crosby together, the Ducks were able to handle them, while Gibson made some terrific scrambling saves. 
A last item of note: the Ducks could only match Pittsburgh's intensity after a penalty kill. Whenever the shot totals started to skew due to a power play against, Anaheim gained a great deal of momentum and scored. During the long and complicated stretch of 5 on 3 to 4 on 4 to 4 on 3 (that was wild), the Ducks held up and scored immediately after. Killing penalties seems to energize this team and the team we have seen over the past ten games at home? At least for one game. There is a small ray of hope. 
The road trip continues with the second of a back-to-back Tuesday night against Philadelphia.
On this week's chaotic episode of LAP, Jake, Chris, and Lou talk about the Stanley Cup Final, some coaching changes and share some thoughts on the ESPN and TNT broadcasts. They also talk at length abouth why Florida's uniforms need to change and finish things up with listener questions!Follow Late Arrivals Twitter: @latearrivalspodInstagram: @latearrivalspodFollow the hostsChris: @CJKChelConnor: @91_PlutyJake: @_JRobles71Louis: @Louiex37 Intro/ Outro done by Will Rice/ @pastorwillrice