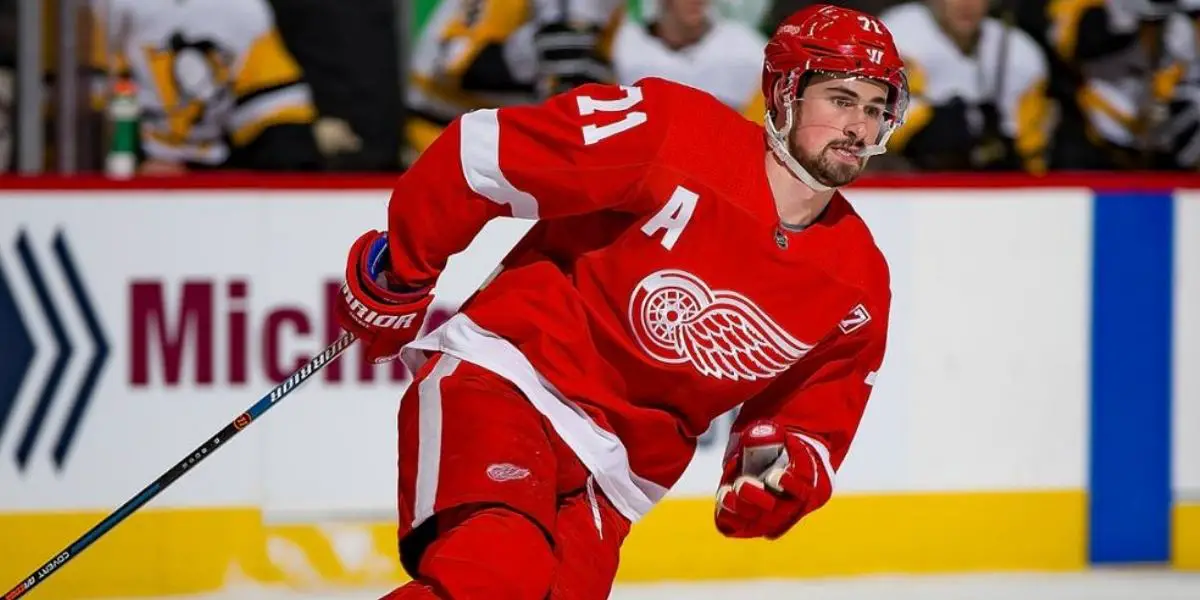 Dylan Larkin has had a challenging time during the second half of the season. The Red Wings are losing and continue to slide in the NHL standings, and Larkin can't seem to rescue a once-promising season.
The Red Wings had a 3-9-3 record during March, and they now sit 24th in the overall league standings. If the season ended today, the Red Wings would be guaranteed a Top 10 pick in the draft for a sixth consecutive season.
Larkin has struggled right along with the entire team. Is he nursing an injury, or is he just so emotionally spent that he needs a day away from the arena? He has been routinely taking maintenance days after games. Sam Gagner has also replaced Larkin as the player rep for post-game press conferences on many nights.
Larkin played all 15 games for the Red Wings during March. He scored two disappointing goals and added six assists for eight points and a miserable -11 rating. On the season, Larkin continues to lead Detroit in scoring. In 66 games, Larkin is averaging just over one point a game and is still on pace for a career year.
Trade Speculation
There is no doubt that trade speculation will swirl regarding Larkin once the season ends. With the draft approaching this summer, and Larkin an impending UFA only one year from now, Larkin is in the prime of his career. Trading Larkin would bring a massive haul that would point the team in a different direction in what is becoming a lengthy rebuild.
Why would General Manager Steve Yzerman even think about trading his captain? This question has to be examined from a variety of angles. Larkin could leave after the 2022-2023 season, and the Red Wings wouldn't receive anything in return. At that point, Larkin will be 27, and if the Red Wings are not a playoff contender, both Larkin and the Red Wings will likely agree that a trade would be best for both parties.
It will be interesting to see what questions Yzerman has to answer at his season-ending presser. He will undoubtedly talk about the disappointing second half of the season. The topic of Larkin and his second-half struggles should also be at the top of the list for most reporters.
Moving Forward
April has started the way March finished for Dylan Larkin and the Red Wings. Detroit started the month with back-to-back losses to the lowly Ottawa Senators. The Red Wings defeated Boston on home ice this week and then had a rare road victory on Wednesday night in Winnipeg.
Larkin has two goals and two assists with a +1 rating so far in April. Larkin has also had 15 shots on goal, indicating that he is making chances for himself and his teammates.
If the Red Wings are going to be playoff contenders in the future, they will have to rely on Larkin being the best player on the ice, but Larkin will need offensive support from at least one more line.
Only time will tell what the future holds for Detroit's top forward, but one thing is certain, if the Red Wings want Larkin long-term, they will have to provide the support that he richly deserves.
The boys are back after a long break but have plenty to talk about as the playoffs are in full swing. We go series by series, looking at how teams have fared so far and who will come out on top. Thanks for listening! Please rate and review our show on your favorite listening platform. Check out our partner's website at www.insidetherink.com for all your latest hockey news.