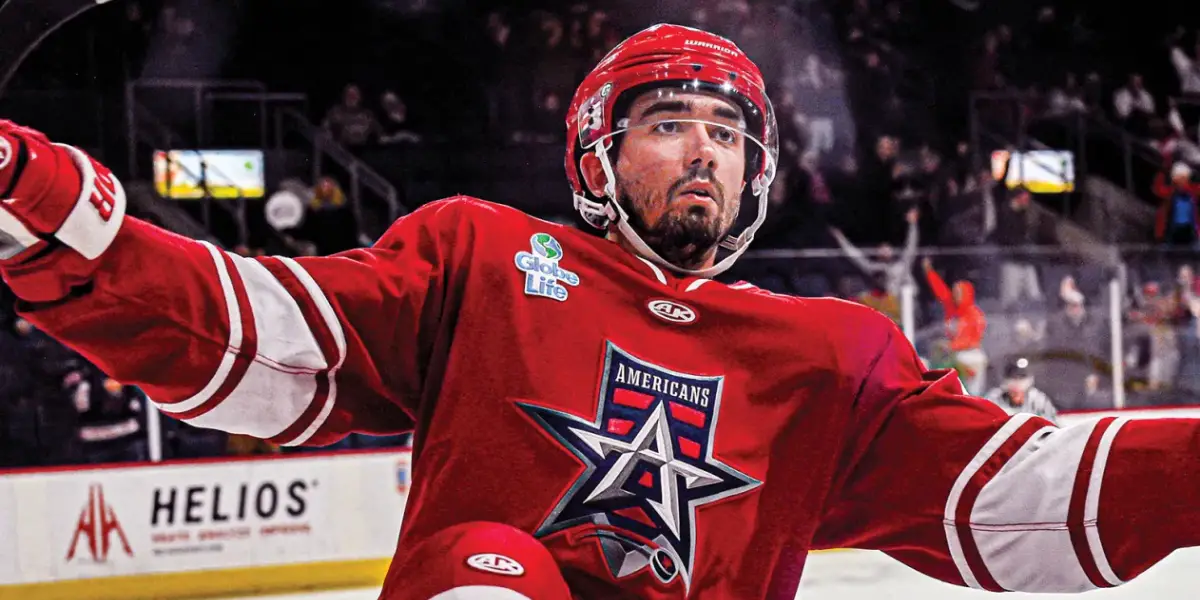 The ECHL announced the members of the All-Rookie Team for this season today. They clarify the definition of a rookie as, "a player who has played in less than 25 professional games at the "AA" level or higher prior to the start of the current season." These players have all had fantastic seasons and earned their positions on the team by their diligence and hard work. 
Goalie – Remi Poirier – Idaho Steelheads: Poirier has played 14 games with the Texas Stars and has been pulled up to the Dallas Stars, although he has not played in any of their games. In his 14 AHL games, Poirier's save percentage was 0.909. In Idaho, he has been in 23 games earning a save percentage of 0.928, his career-best, and a 2.07 GAA. He's currently third in the ECHL in goals-against average and third in save percentage this season. Poirier has been a huge part of the Steelhead's success, leading to them capturing the Brabham Cup as Regular Season Champions, and has their team is currently tied for the most wins in a season at 56.
Defender – Owen Headrick – Idaho Steelheads: Headrick has played four games for the Wheeling Nailers along with 58 for the Idaho Steelheads. He has 53 points for the Steelheads: 14 goals (6 PPG) and 39 assists, along with 22 PIM. Headerick led all defencemen in goals with 14 goals and points with 53; his four game-winning goals also led the league.
Defender – Michael Joyaux – Newfoundland Growlers:  The Newfoundland Growlers are a team where most of their team is splitting time between the Growlers and the Toronto Marlies of the AHL; however, that's not the case for Joyaux. The 26-year-old defenceman played in all 72 games for the Growlers, putting up nine goals and 32 assists for 41 points in 70 games. His 32 assists are second among defencemen; he is tied for second among D-men with four powerplay goals.
Forward – Hank Crone – Allen Americans: Hank Crone, as a rookie, is easily one of the favorites for MVP this season. In 69 games, he's put up 49 goals, and 56 assists for 105 points; he leads rookies in all three major scoring categories, along with PP goals, assists, and points. Crone leads all players in goals, points, and powerplay points on the season.
Forward – Liam Finlay – Allen Americans: It may be hard to notice how well how of a season Finlay is having, seeing that he's on the same team as Crone. Finlay is currently fourth among rookies in points with 68 and third in goals behind Max Newton and Hank Crone. He has seven game-winning goals, which is second among rookies.

Forward – Alex Ierullo – Greenville Swamp Rabbits: Ierullo has put up 25 goals, and 55 assists for 80 points in 65 games. His 55 points were second among rookies only behind Hank Crone, and he is sixth in the league in points.
Source: ECHL official website