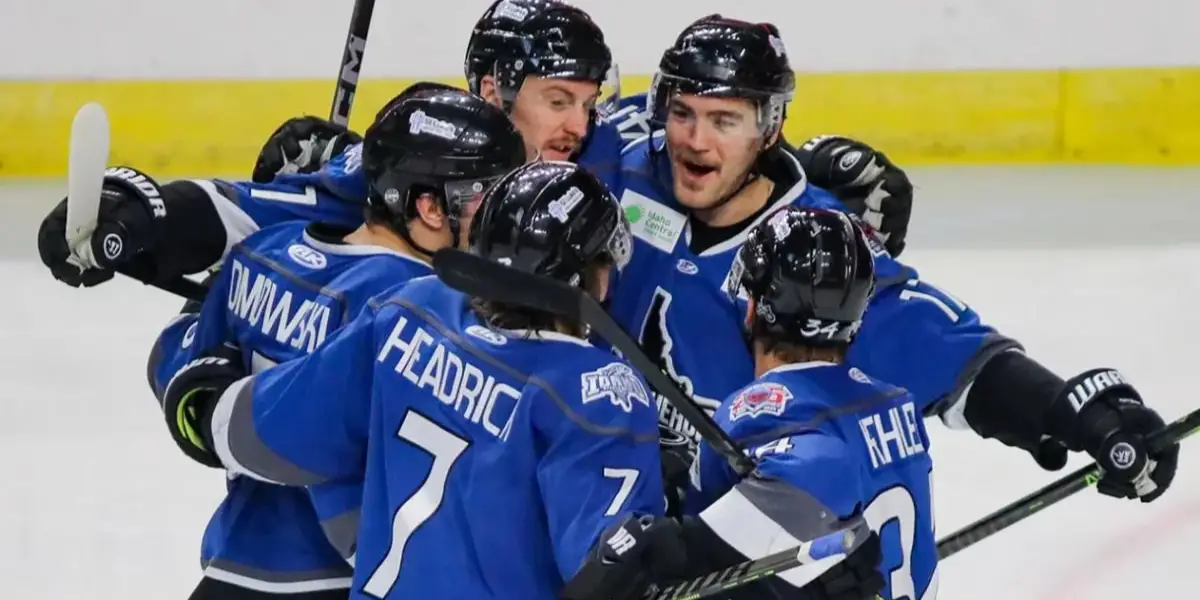 Game 1 of the Western Conference Finals kicked off Saturday night in Boise as the Idaho Steelheads hosted the Toledo Walleye in the battle of the fish. These teams come into the conference finals as two of the best when it comes to goaltending, and they showed that starting in the 1st period. Adam Scheel, who sported the best goals-against average and save percentage in the regular season, got the start for Idaho. Toledo went with Sebastian Cossa, who has been the best goalie in the playoffs, with a perfect 4-0 record and a 1.25 GAA to go with it. Neither team could put the puck in the back of the net during the period, with the Steelheads winning the SOG battle 13-10. At the end of the period, there was a scrum with Toledo's Sam Craggs getting a roughing penalty and Idaho's Justin Ducharme getting a four-minute double minor for roughing.
The 2nd period would start with Idaho killing off the penalty. Toledo managed one shot on Scheel during the power play. Idaho would get the scoring started when Jade Miller got his 2nd of the postseason. This is the first time that Toledo has not got the first goal of a game during the playoffs. Cossa looked to be screened and probably didn't see the shot coming in.
Toledo got a four-on-three opportunity after matching roughing calls and then a tripping call on A.J. White. Idaho was also able to kill off this penalty. Idaho would go onto the power play with 4:16 left in the period on a Charlie Curti slash. Cossa made a phenomenal save on the kill, keeping the game at 1-0. The period would end with Idaho outshooting Toledo 24-20.
Toledo came out firing to start the 3rd period. Scheel had save after save to keep this a one-goal game in the first half of the period. Andrew Sturtz was sent off for a boarding major and then was given a game misconduct. Idaho made sure to capitalize when Ty Pelton-Byce put home his 5th goal of the playoffs giving the Steelheads a 2-0 lead with 8:30 left in the 3rd period.
The power-play goal looked to take the sail out of Toledo's sails. Toledo pulled Cossa with 2:09 left in the 3rd to try and get back within one. Willie Knierim secured an empty netter to give Idaho the 3-0 lead, which is how the game would end. Shots would be even at nine a piece for the period. Idaho outshot 33-29. This was Toledo's first loss of the playoffs. Game 2 will be Sunday, with puck drop at 6:10 pm EST.