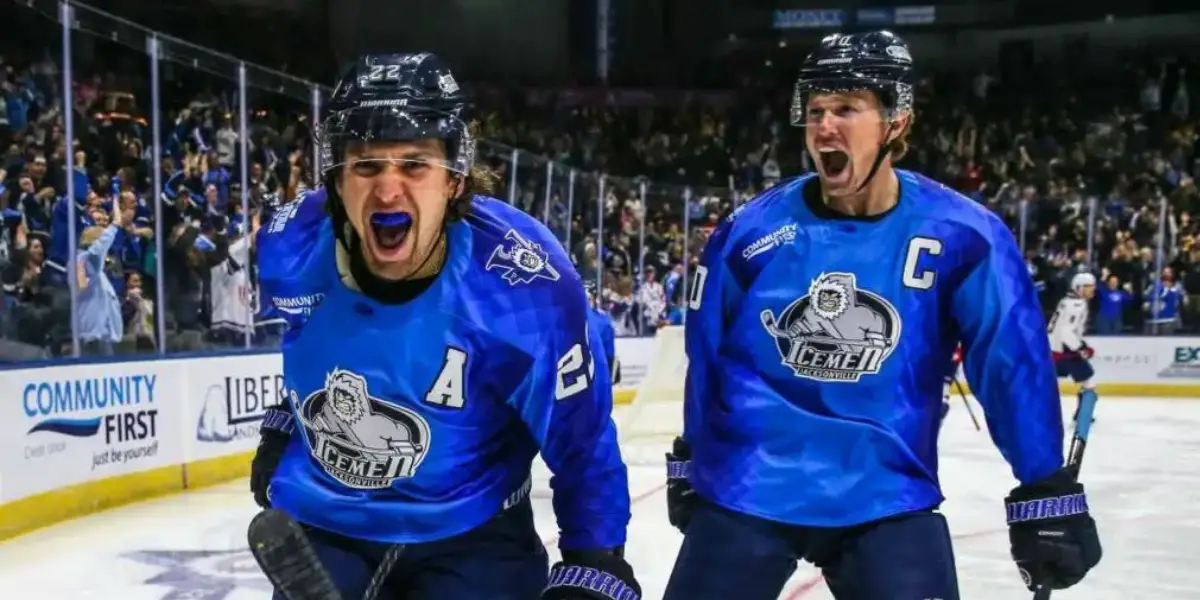 For the second year in a row, the Icemen are in.
The Jacksonville Icemen punched their ticket to the Kelly Cup Playoffs Friday evening with a 4-3 win over the Atlanta Gladiators. Jacksonville had a chance to secure their place in the playoffs on Wednesday but failed to beat the Florida Everblades, losing 4-2.

Wednesday's game against the hosting Florida Everblades was one in which the Icemen struggled to get going. A goal from recent addition Matheson Iacopelli in the first period would be bookended to a goal from AHL Hartford return, Cristiano DiGiacinto, in the third, with the Icemen failing to produce offense in the second period. The Everblades placed 33 shots on Icemen netminder Charles Williams, who made 30 saves.
Get It Done
Friday's win against Atlanta saw a commanding Icemen team dictate much of the game's pace. A goal from Chris Grando would get the Icemen on the board first. Atlanta, however, would take a 2-1 lead in the first period with goals coming from Michael Pelech and Derek Topatigh. Jacksonville had no second-period scoring woes, bringing an onslaught of offense in the middle frame. Powerplay goals from Jacob Panetta and Matheson Iacopelli, plus a contribution from defenseman Mackenzie Dwyer helped propel the Icemen to a 4-2 advantage. The Gladiators' only response would come with a third-period shot from forward Sanghoon Shin. Icemen goalie Olaf Lindbom faced 26 shots on the night, stopping 23.


The win Friday night for the Icemen means they have their ticket booked for the 2023 race for the Kelly Cup that begins on April 19th. The Icemen also sealed Atlanta's fate, with the loss officially taking them out of postseason contention. Jacksonville entered the weekend, sitting second in the ECHL's South Division. However, that may not be where the Icemen end up landing before the end of the regular season. Although they need five points to catch the first-place South Carolina Stingrays, the Icemen have an opportunity to do it with five games remaining on the schedule. Jacksonville will round out the weekend with another game against Atlanta before finishing the season with games against Florida, Orlando, and South Carolina. The playoff berth may be clinched, but the race to first place in the South is just heating up.