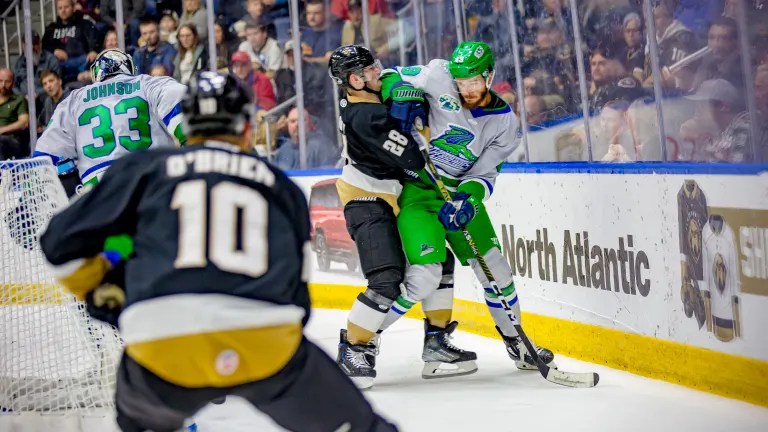 The Florida Everblades did it again, knocking Newfoundland out of the playoffs and advancing to the finals for the second straight season. Florida again outplayed Newfoundland and will face the Idaho Steelheads in the Kelly Cup Final beginning Saturday Night.
The series was filled with epic wins and heart-wrenching losses. An overtime win for the Growlers in game four when Jonny Tychonick scored with seven seconds left on the clock; it was a game few fans will forget. Another one for the memory banks? Tonight's loss was in double overtime and was the longest game in Newfoundland Growlers franchise history. 
Game six started on a high, and in a repeat of game five, Pavel Gogolev scored first. In another repeat of game five, Florida tied things up, and Will Calverley knocked one past Luke Cavallin so quickly that Newfoundland barely had time to celebrate their early lead. A power-play goal by Florida's Logan Lambdin  (too many men on the ice yet again for Newfoundland – way too many in this series, by the way) meant that the Growlers had some catching up to do. 
It has to be how incredible the Growler's goalie, Cavallin, has been in this series. His precision and focus in net has been a delight to watch. That's not to say that Cam Johnson didn't earn some appreciation from fans of the Growlers. Johnson gloved down more than a few shots earning applause for his prowess. With Florida ahead, Newfoundland's own Tyler Boland evened things up in the second at 8:42; the score would stay the same as the second period ended.
In total, in Newfoundland's final game of the season, Cavallin stopped 43 out of 46 shots on goals. Johnson stopped 34 of 36. The winning goal was scored by John McCarron, who picked up his 100th career ECHL point as the Everglades advanced the articles. Not that it's a tragic loss for Newfoundland, considering they fearlessly faced last season's Kelly Cup champions, but a loss nonetheless. 
One other thing worth mentioning was the calls throughout this series. Particularly in this last game, fans expressed their frustration. In the first overtime, Florida seemed to have scored, but it was reviewed and deemed a no-goal, but besides that, it appeared that those governing this series on the ice were not too concerned with infractions.