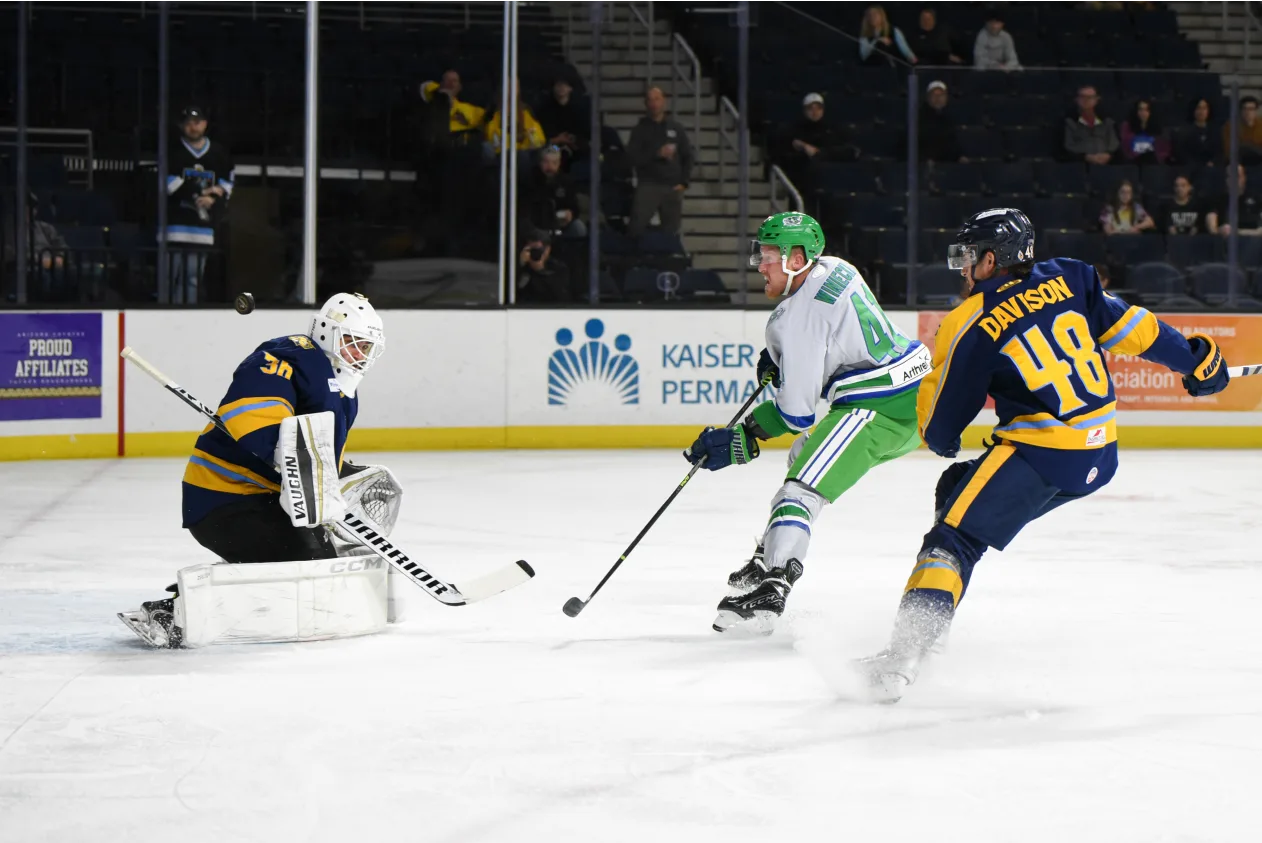 Going into last night's game with a tied series meant that there would be a hard fight from both teams. Oliver Chau made a big return in last night's game after he had missed 19 games due to an injury. On the ice, he showed that he has not missed a beat in his recovery as he got the first goal of the game. 
Also, to no surprise, Sean Josling got his fourth consecutive goal in each of their playoff games this season. When asked to give his thoughts on him being able to score in each of their four playoff games so far, he said, "I guess the puck is just finding my stick and finding the back of the net. I've been pretty lucky so far." 
Unfortunately, Chau and Josling's goals were the only two to be scored by the Florida Everblades. The South Carolina Stingrays managed to get four, one of which was scored on an empty Florida net. One thing that can't entirely be the whole cause of the Everblades' loss is shots on goal because they outshot the Stingrays 36-26. 
The first and third periods were almost perfectly mirroring each other, as both consisted of the Everblades scoring first, followed by two Stingrays goals. Interestingly enough, in the one period that neither team scored, they both had eight shots taken each. In addition, in the two periods that both teams scored, the Everblades out-shot the Stingrays.  
Cam Johnson has been performing exceptionally well in each of the team's games during playoffs. However, last night his play seemed to be a bit off, as well as their defense. Goalies can't always be expected to perform well when there's not enough effort from the defense in situations like those of the Everblades' last night. The last goal from South Carolina was not shot at him as he was taken out of the net. 
In terms of last night's matchup, it seems that some of the players just weren't as "in it to win it" as they have been during the rest of this series. When asked how the team will try to adjust with the series now being tied, Sean Josling said, "I think we're playing well. They got a couple of lucky bounces tonight. I think if we play the same, we'll have a better outcome tomorrow." 
Hopefully, tonight the Everblades can grab a 3-2 series lead before they head back to South Carolina for the remainder of the first round. All they need is a fluid combination of offensive aggression along with shots, defensive aggression and physicality, and goalie strength and reflexes. With it being roughly halfway through the first round, they need to crack down and play and push themselves harder than ever if they want a chance to win the Kelly Cup for the second year in a row.