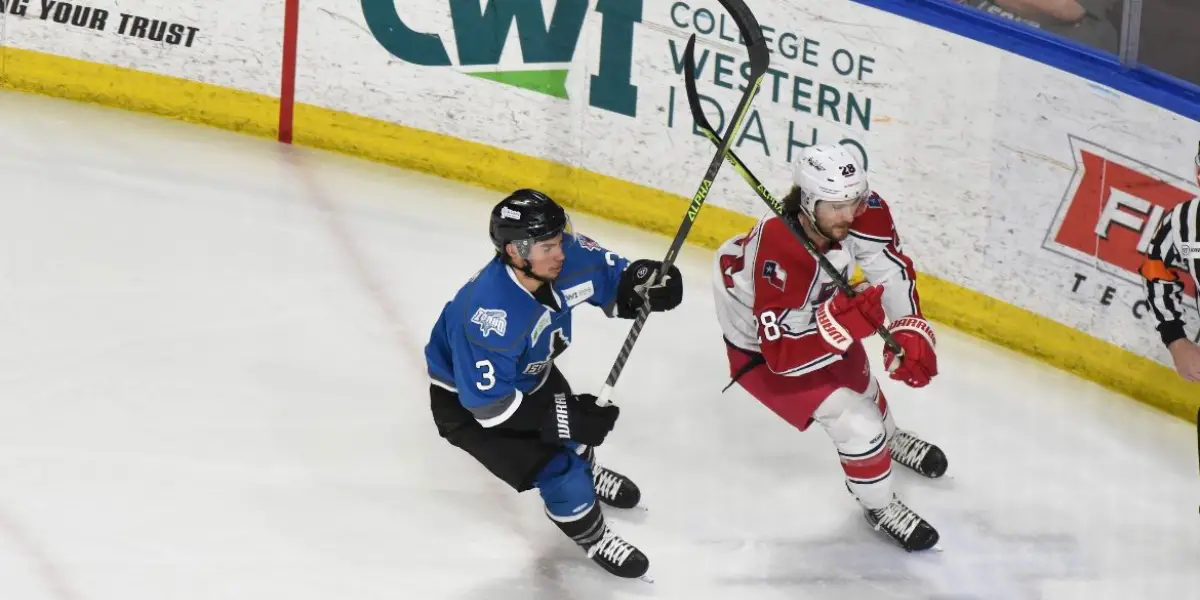 The Idaho Steelheads entered Game Five with a 3-1 series lead against the Allen Americans. The Americans saw Spencer Asuchak return after serving his two-game suspension for cross-checking Steelheads defenseman Cody Haiskanen in Game Two of the series. While they got Asuchak back, they lost two other players. Mikael Robidoux was given a three-game suspension for supplementary discipline due to his actions in Game Four. Aidan Brown was also suspended one game for his match penalty for an illegal check to the head on Steelheads forward Jade Miller in Game Four.
First Period
While goals may not have started early in Game Five, Idaho's domination of Game Five began when the puck dropped. The first goal of the game came 7:50 into the first from Justin Misiak and was assisted by Jade Miller. Then 9:59 into the period, Ryan Dmowski scored, making it 2-0. Dmowski's goal was assisted by Willie Knierim and Colton Kehler. 13:08 into the first, Wade Murphy scored a powerplay goal to make it 3-0 in favor of the Steelheads. The assists went to Matt Register and Jordan Kawaguchi. The final goal of the period was scored 19:18 into the period by Jade Miller to give the Steelheads a 4-0 lead. Miller's goal was assisted by Zane Franklin and Jordan Kawaguchi. Idaho outshot Allen 21-12 in the first period.
Second and Third Period
There was not a whole lot of action in the second period or third period. 10:53 into the second, Wade Murphy scored on the powerplay to make it 5-0. Matt Register and AJ White assisted Murphy's second goal of the night. That was the only goal scored in the second period, even though shots were tied at 15 at the end of the period.
The only goal of the third period came on the powerplay 9:18 into the third when Ryan Dmowski got his second goal of the game. Patrick Kudla and Owen Headrick assisted Dmowski's goal. Idaho outshot Allen 13-10 in the third period.
Post-Game Stats
Idaho won the game 6-0, which helped them win the playoff series 4-1. Idaho also outshot Allen 49-37 in the game. Allen went 0/2 on the powerplay, while Idaho went 3/9. Adam Scheel was a brick wall for the Steelheads as he stopped all 37 shots he faced in Game Five. On the other end, Chase Perry made 43 saves on 49 shots for a save percentage of 0.878.
Idaho will face off against the Toledo Walleye for Game One of the Western Conference Final on May 20th at 9:10 EDT.