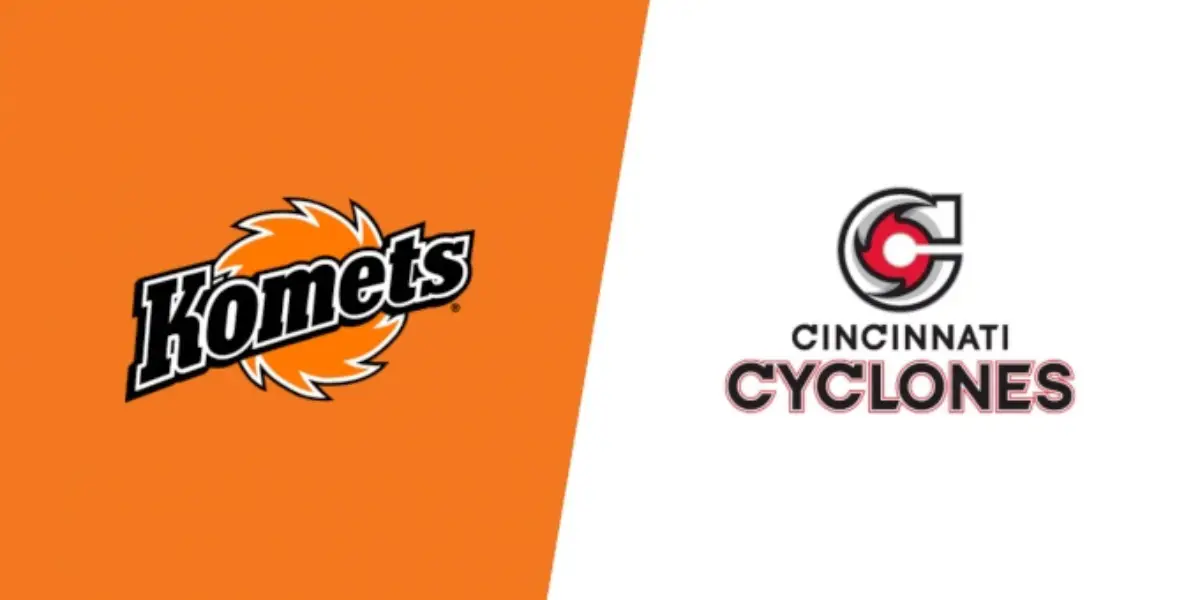 #1 Cincinnati Cyclones (47-16-9) vs. #4 Fort Wayne Komets (34-31-7)
Here is the Schedule for this round of the Kelly Cup playoffs.
Game 1 – Friday, April 21 at 7:35 p.m. ET at Cincinnati
Game 2 – Saturday, April 22 at 7:35 p.m. ET at Cincinnati
Game 3 – Tuesday, April 25 at 7:35 p.m. ET at Fort Wayne
Game 4 – Friday, April 28 at 8:05 p.m. ET at Fort Wayne
Game 5 – Sunday, April 30 at 6:05 p.m. ET at Fort Wayne (If Necessary)
Game 6 – Tuesday, May 2 at 7:35 p.m. ET at Cincinnati (If Necessary)
Game 7 – Wednesday, May 3 at 7:35 p.m. ET at Cincinnati (If Necessary)
Cincinnati and Fort Wayne meet in the Kelly Cup Playoffs for the fourth time in the last nine postseasons. The Komets have won the previous two meetings, including in the 2018 Central Division Semifinals.
A regular season full of personal and franchise-best marks for the Cincinnati Cyclones ended Saturday. Several players have impressive totals. Justin Vaive had officially taken part in the 700th professional game of his career. The Captain passed Barret Ehgoetz and tied his single season-high in goals (32). Vaive also suited up in all 72 games of an ECHL season for the first time in his career.
Zack Andrusiak continued his stellar Power Play production, recording his 13th goal on the man advantage. The score gave the four year pro a team-high 73 points in only 63 games played, establishing personal bests in total points, goals, and assists over the 2022-23 regular season. By assisting Andrusiak's goal on Saturday, Matt Berry tied his highest assist total in a single season at 44 points this season. The same goes for defenseman Jalen Smereck, who notched his 39th helper on the play and surpassed his former ECHL assist high by eleven in the process. Despite sitting out Saturday, Louie Caporusso performed at a super high level for the second consecutive year and established ECHL career bests in goals and assists. Patrick Polino joined Vaive as the only two skaters to appear in all 72 games this season, helping usher the Cylones to success: Cincinnati did not lose in regulation for nearly seven weeks in the second half of the year, recording at least one point in a franchise-best 21 straight contests. Over the same stretch of time, the Cyclones picked up 2 points in ten straight road games, the longest such winning streak in franchise history.
 
The Cyclones captured the Central Division title for the third time in the last four seasons. Zack Andrusiak led Cincinnati offensively with 32 goals and 73 points, while Jalen Smereck was tied for fifth among defensemen with 50 points (11g-39a). Beck Warm was tied for the league lead with 28 wins, while Mark Sinclair was tied for second with four shutouts.
 
Fort Wayne has advanced to the Kelly Cup Playoffs in the last nine postseasons, the longest active streak in the ECHL. Shawn Boudrais finished the season tied for eighth in the league with 33 goals and posted a team-leading 65 points. 

Cincinnati went 5-2-2 during the season series, with Fort Wayne going 4-4-1. Andrusiak's 10 points were best on the Cyclones against the Komets, while Tye Felhaber had eight points to lead Fort Wayne.
Overall this is going to be a hard-fought long series. All the games between these two teams have been close.