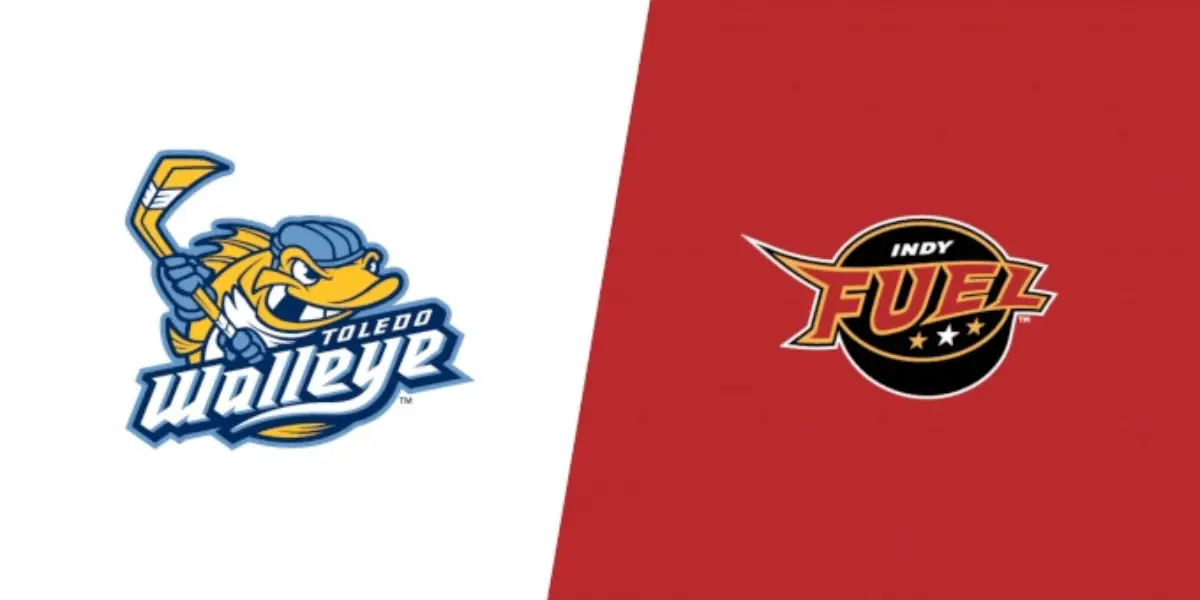 #2 Toledo Walleye (45-19-8) vs. #3 Indy Fuel (43-24-5)
Here is the Schedule of the first round matchup
Game 1 – Friday, April 21 at 7:15 p.m. ET at Toledo
Game 2 – Saturday, April 22 at 7:15 p.m. ET at Toledo
Game 3 – Tuesday, April 25 at 7:05 p.m. ET at Indy
Game 4 – Thursday, April 27 at 7:05 p.m. ET at Indy
Game 5 – Saturday, April 29 at 7:05 p.m. ET at Indy (If Necessary)
Game 6 – Monday, May 1 at 7:15 p.m. ET at Toledo (If Necessary)
Game 7 – Tuesday, May 2 at 7:15 p.m. ET at Toledo (If Necessary)
The Walleye will open playoff game play on Friday as they host the Indy Fuel in the first of four guaranteed games. While Toledo finished second in the Central Division with 98 points, Indy sat third with 91. The Walleye also took the season series with a record of 5-1-0. In those six games, Toledo outscored the Fuel 21-13 while consecutively picking up their five wins.
Toledo is in the postseason for the seventh consecutive season, while Indy has reached the Kelly Cup Playoffs for the second time in the last three years. The Walleye captured the only previous postseason matchup between these two teams in the 2018 Central Division Semifinals.
 
The Walleye, who have reached the Kelly Cup Finals in their last two postseason appearances in 2019 and 2022, Toledo has also won at least 40 games for the seventh time over the last eight seasons. All-ECHL First Team selection Brandon Hawkins was tied for second in the league with 38 goals ranking seventh with 81 points for most in the league. Sebastian Cossa was tied for third with 26 wins and a 2.56 goals-against average.
 
Indy won a team-record 43 games in the regular season. They were paced by Chad Yetman's 26 goals and Alex Wideman's 72 points. Zach Driscoll ranked fifth among goaltenders with 2,434 minutes played and was ninth with 1,095 saves.
 
Toledo went 5-1-0 in the season series against the Fuel, while Indy was 1-4-1 against the Walleye. Hawkins was Toledo's top offensive threat with four goals and 11 points, while Wideman paced Indy with five points.
At the end of the regular season, the Fuel set and broke multiple franchise records. They finished the 2022-23 season with the best home record and most road wins in franchise history. Overall, the Fuel finished 43-24-5-0. Forty-three wins are the most overall for the Fuel in franchise history, beating their previous best of 36 by seven wins. This is the Fuel's third trip to the Kelly Cup Playoffs in franchise history and their second time matching up with Toledo in the first round.
Overall this does not look like it will be much of a series looking at the numbers, but the playoffs are a crazy thing. All it takes is one team to get hot and make a run.