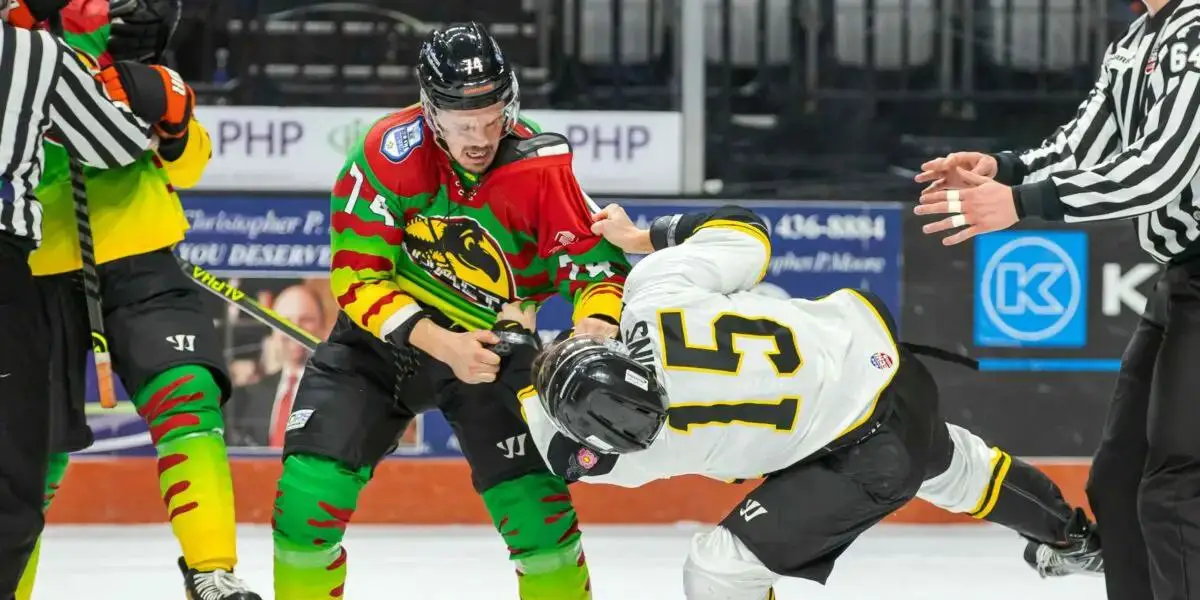 The Fort Wayne Komets have an all-important three games in three days stretch starting this Friday at home. First up is the Wheeling Nailers for back-to-back home and away matchups, and then the Komets host the Indy Fuel on Sunday night.
Friday and Saturday's matchup against the Nailers are two crucial games for the K's as Fort Wayne currently sits in fourth place in the Central Division, which is the last playoff spot, while Wheeling is right behind them in fifth place. The Komets have a nine-point lead and two games in hand, but these four points this weekend could help seal the deal. The Nailers are led by Cedric Desruisseaux, who has 21 goals and 24 assists. Three different goalies have played throughout the season, with Brad Barone leading the charge in 33 games having a .905 save percentage.
Sunday night's matchup against the Fuel will give the Komets a chance to cut into the 12 points in which they are behind the three seed; the K's also have two games in hand. Indy is led by Chad Yetman, who has 23 goals and 24 assists. Mitchell Weeks and Zack Driscoll are the two-headed monsters in the net for the Fuel this season.
Current Central Division standings are seen below, with Toledo, Cincinnati, Indy, and Fort Wayne as the current four teams making the playoffs as we enter the final month of regular season play.
Transaction news this week included Bakersfield of the AHL has recalled Sam Dove-McFalls. Dove-McFalls had played 32 games for the K's this season with ten goals and 15 assists. Fort Wayne did add 23-year-old defensemen Noah Ganske to the active roster. Noah, born in Bloomington, Minnesota, brings in some size for the K's at 6'7″ and 209 pounds. Ganske had spent the last three seasons playing in the NCAA Division 3 at the University of Wisconsin-River Falls. During the most recent season, he played in 22 games, tallying three goals, eight assists, 11 blocks, and 53 penalty minutes. He was named All-WIAC First Team and Team MVP during the 2021-22 season. Before transferring to Wisconsin River Falls, Ganske played at Northern Michigan University, a Division 1 school.
If possible, the Komets need to pick up five of the six points this weekend, if not all six points, specifically in regulation. They have a chance to slam the door on Wheeling and attempt a last-chance effort to track down Indy for that three-seed in the playoffs.