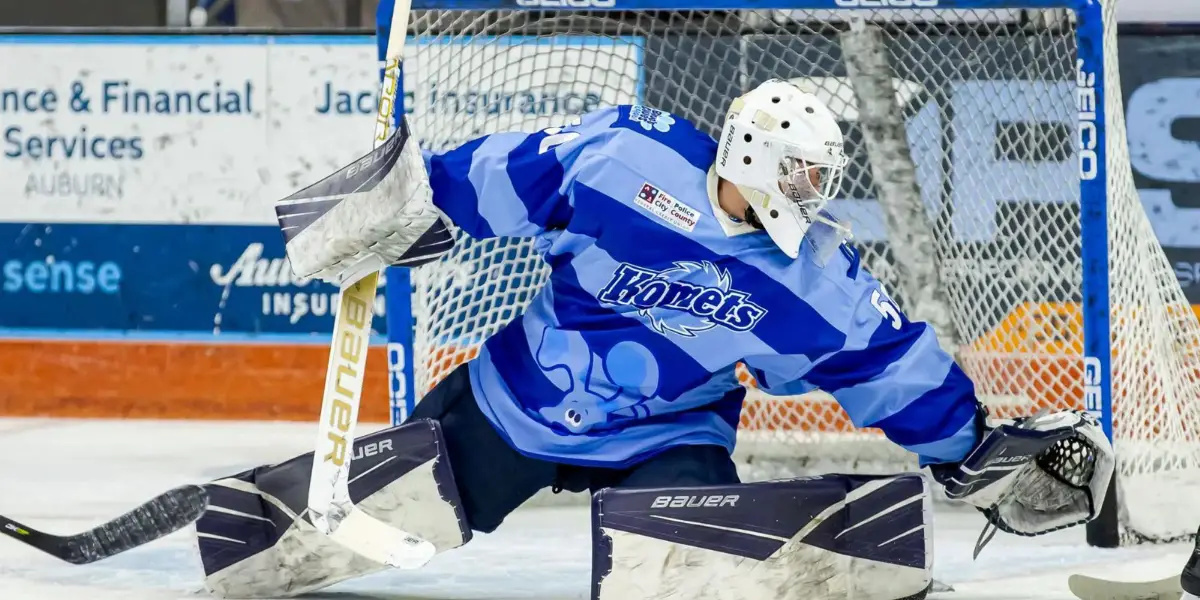 Brief Bio: Jordan Papirny was born on April 10, 1996, in Edmonton, Alberta, Canada. The 26-year-old goaltender stands at 6'1, weighs 185 lbs, and catches with his left hand. Throughout his development, he has vastly improved his coordination, reflexes, and puck awareness.
Early Years in Goal: His earliest record of playing hockey on a team was in 2009 when he played for the SSAC Lions U15 AAA in the Alberta Major Bantam Hockey League (AMBHL). He played two seasons for them and a total of 35 games. His last season in the junior leagues (2012-13) was a big one for him as he started with the SSAC Athletics U18 AAA of the Alberta Elite Hockey League (AMHL), this being his second season with them. At one point in the season, he moved up to the Sherwood Park Crusaders of the Alberta Junior Hockey League (AJHL). He moved up again to the Brandon Wheat Kings of the Western Hockey League, which he'd play a few more seasons later. 
Ex-WHL Wonder: Jordan Papirny played five seasons with the Wheat Kings from 2012-13 to 2016-17. He played 188 games with them, and as his time in the WHL progressed, his save percentage and goals-against average improved. In his first three games with them, his total save percentage was 0.893, and his goals-against average was 2.84. During the 26 games played in his last season with the Wheat Kings (2016-17), his percentage was 0.906, and his goals-against average was 3.24. At some time in that season, he got traded to the Swift Current Broncos of the WHL
Guarding the Nets of the ECHL: Papirny's first season playing in the ECHL was 2020-21, as he played for the Florida Everblades. While he only played one game with them that was put on record, but he helped them win. He made 38 saves and allowed only two goals in, giving him a save percentage of 0.95. He played two games for the Fort Wayne Komets in 2021-22, playing 95 minutes in their net. With the Komets, he made 40 saves, allowed five goals, got one win, and had a save percentage of 0.889. Papirny has spent most of this season playing for the Lowcountry's newest ECHL team – the Savannah Ghost Pirates. Playing 20 games for the SGP, he's worked hard in every game he's been on the ice. He has a record of 7-7-4 with a GAA of .904. He allowed 63 total goals to light the lamps in his 983 minutes played. 
Awesome AHL Netminding: After his time with the Swift Current Broncos in the 2016-17 season, he joined his first AHL team, the Toronto Marlies. While he doesn't have any games played with them on record, and therefore no statistics, he could work, practice, and develop with the professional team. He also got to go along with the Marlies to the playoffs. Even though he wasn't a significant contributor to the Marlies, he could still develop his talent there that he applied to his goaltending with his new team the following season. In the 2021-22 season, Jordan was initially playing for the NAIT (Northern AB Ins. of Tech.) in the ACAC. He eventually got moved to the Fort Wayne Komets of the ECHL and then loaned by them to the AHL's Henderson Silver Knights. While he didn't play in one of their games, Jordan got to apply the skills he developed with the Toronto Marlies and work from there to keep improving his game. He got contracted with the Henderson Silver Knights for this 2022-23 season and got the chance to make his AHL debut wearing their uniform. While Henderson lost during Papirny's first game, he made an incredible 33 saves while only allowing one in the net. Jordan Papirny and other players under contract to the Henderson Silver Knights were assigned to the Savannah Ghost Pirates as they became the HSK's eventually acquired ECHL affiliate team. 

Papirny's Powers: Jordan Papirny is a solid goaltender, and he does his best to keep every shot he faces out of the net he protects. He has swift reflexes and very good glove-eye coordination, allowing him to react quickly to block shots taken at him. While he can't perfectly deflect or catch every puck fired at him, his fight and determination are always present in all 20 minutes of every period he plays.