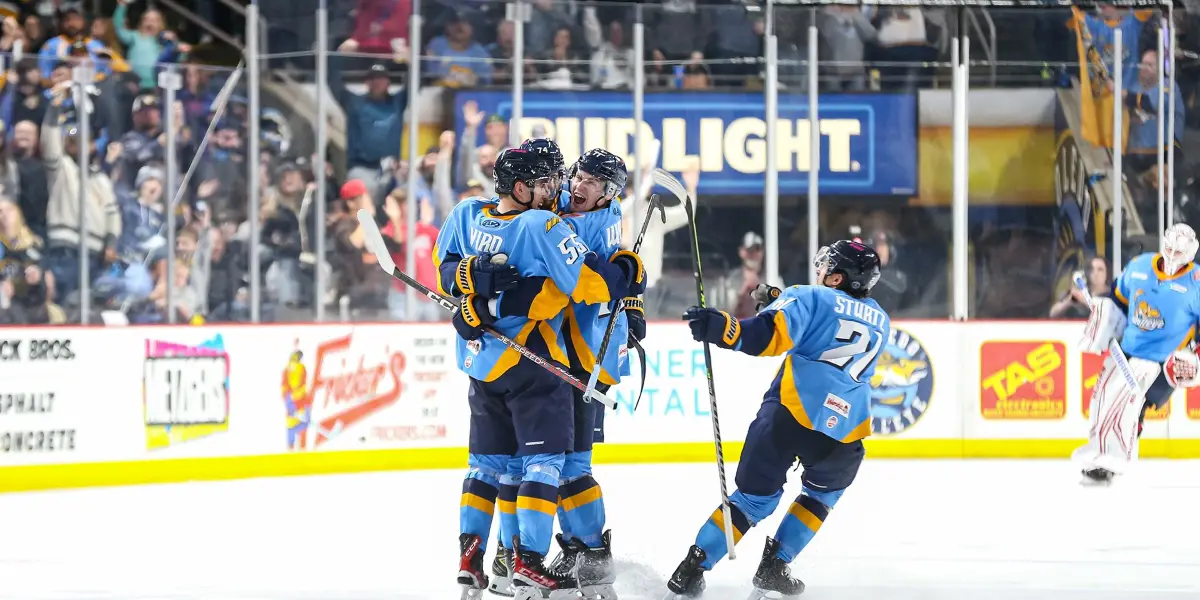 Brandon Hawkins scored his 2nd goal of the night, which turned out to be the series clincher, sending the Toledo Walleye to the second round of the Kelly Cup Playoffs. Toledo found themselves down a goal heading into the final period as the Fuel tried to stave off elimination. Toledo opened up the scoring when Sam Craggs created a turnover at Indy's blueline while on the penalty kill and sniped a wrister passed Fuel Goalie Mitchell Weeks.
Indy would strike back less than two minutes later when Chase Lang fired a hard slapshot on Goaltender of the Year John Lethemon and beat him low to tie the game. Indy would then take its first lead of the entire season when Colin Bilek, who had a goal disallowed earlier in the game, scored on a glove-side wrister with a Toledo defender in his face.
With less than two minutes left in the 1st period, the Walleye would tie it up when Hawkins got his first goal of the night. The first period would end with Toledo outshooting Indy 10-7.
Indy would get its last lead of the series and the only goal of the 2nd period when Alex Wideman stopped a breakout pass from Toledo and then slapped it passed Lethemon with 6:14 left in the period. Despite the goal, Indy was outplayed in the period and only managed four total shots on goal.
The score would stay the same until less than seven minutes remaining in regulation, and that's when Kirill Tyutyayev took a great pass from Gordie Green to score and knot the game up at three.
The series-clinching goal would come from Hawkins on his 3rd goal of the series. Indy was trying to set something up from behind their own net but would turn the puck over to Green, who fed Hawkins out front for the one-timer goal with 4:51 left in regulation, Indy would pull Weeks to try and tie the game with an extra attacker, but TJ Hensick would ice the game on an empty net goal to give Toledo the 5-3 win.
After the sweep, Toledo awaits the Cincinnati Cyclones and Fort Wayne Komets series winner. The Cyclones currently lead the series two games to one.