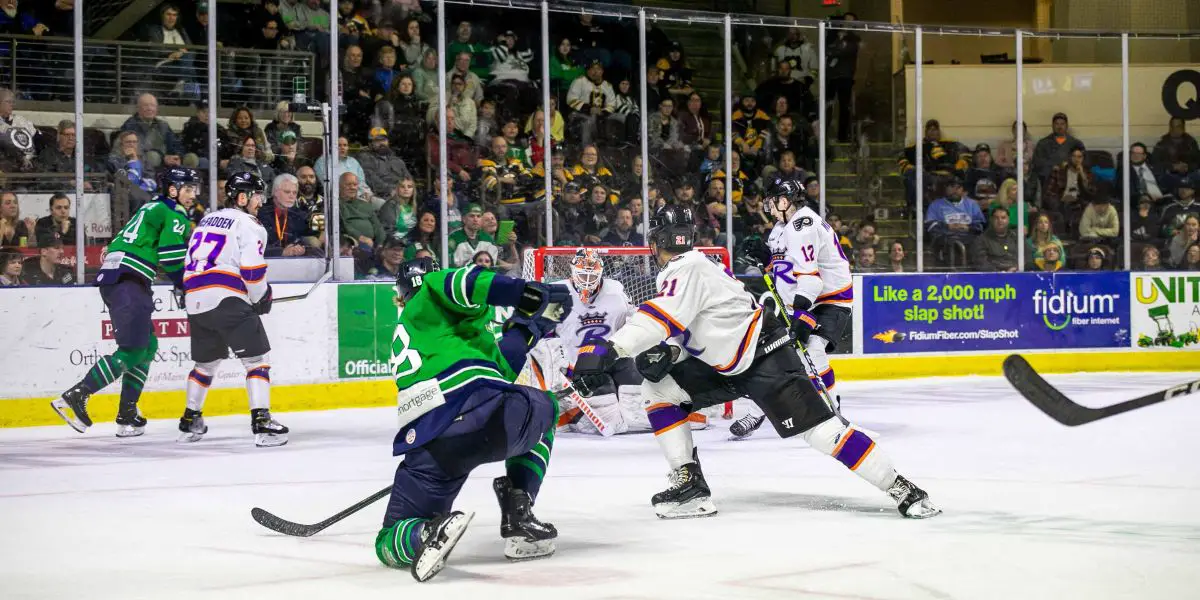 Fast pace first period
The first period was a quick one. Both teams were ready to play. For Game 5, we were back with a duel between the two top goalies, François Brassard for Mariners and Pat Nagle for Reading. Once again, the Royals scored the first goal quickly by way of Charlie Gerard unassisted.
It didn't take much for Maine to heat things up, and less than three minutes later, Tyler Hinam accepted a pass from Cameron Askew to even the score to one apiece.
The rest of the period was written by François Brassard. The netminder received a grand total of 12 shots, letting only one more puck go behind him. Max Newton was the last scorer of the period and gave Reading Royals a 2-1 lead before the team left for the locker rooms.
Tempers flared just before leaving the ice, causing Colin Felix and Mathew Santos to go to the box two minutes each for roughing.
Discipline is the key
The second period was proof that discipline is key. Despite that, the Reading Royals got three penalties.
The opportunist as they are, Maine's powerplay took advantage of a five-on-three to even the score. Mitchell Fossier is the man that blew the roof up with a sniper to put the puck behind Pat Nagle on the 20th shot of the game.
Shortly after the tying goal, Curtis Hall scored his third of the series, putting Maine in the lead for the first time in the game.
During this second period, Nagle faced 12 shots, and Brassard stopped the 11 shots directed to him. As usual, the period ended with a little brawl between Solag Bakich and Andrew Peski. Both men received two minutes for roughing.
Quebec giving the lead
To start the third period, it seems Maine forgot to show up on the ice. No more than 47 seconds in the period, Reading Royals evened the score. Max Newton scored with a pass from Charlie Gerard and Evan Barratt.
Five minutes later, former Baie-Comeau Drakkar captain, Jacob Gauthier, scored his third of the series to give the lead 4-3 to Reading Royals. This goal turned out to be the game-winning goal.
After the three-game stretch in the Maine pound, Reading is heading back home with a 3-2 lead in the series, hoping to close the first-round chapter Saturday night.
My Three Stars of the night
3rd Star: Alex Kile with an impressive nine shots on goal and two assists
2nd Star: Jacob Gaucher with the game-winning goal
1st Star: Pat Nagle, the netminder, had an impressive performance of 40 saves on 43 shots