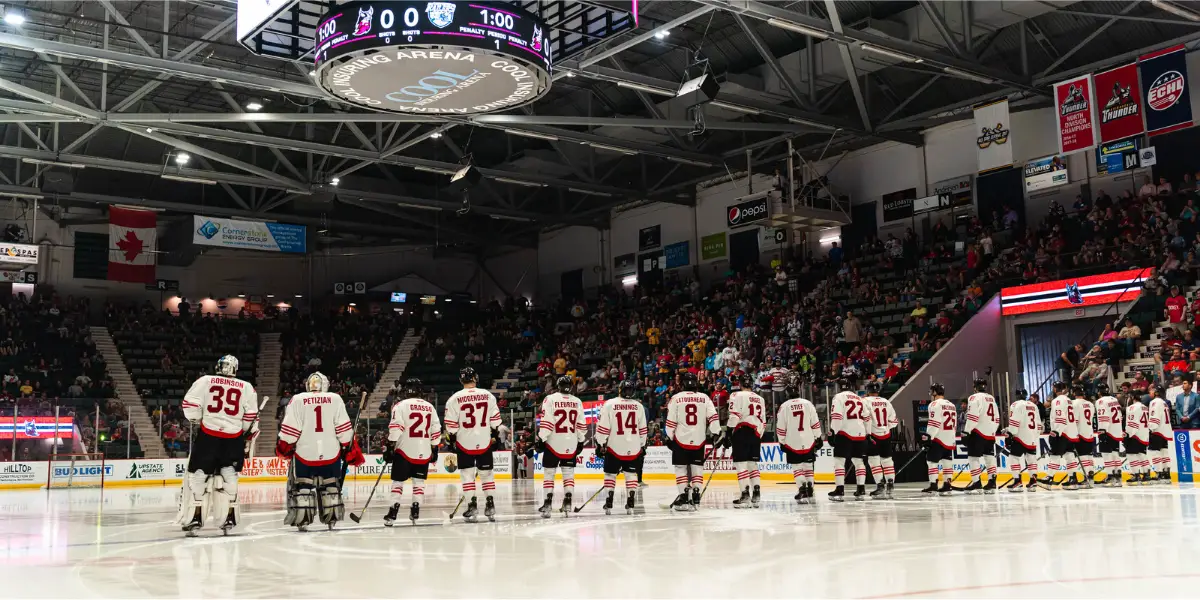 The Adirondack Thunder season has come to a close, and it was a tale of two different seasons for the Thunder as they got off to a slow start to start the season as they lost the first four games of the season to Worcester Railers and couldn't seem to right the ship after that rough start as at the end of the calendar year the Thunder were 9-15-3-1, and had yet to pull together three straight wins and their longest point-streak sat at five, but things were about to turn the corner for Adirondack, as in 2023 The Thunder would go 16-11-6-1, and would come back from down 23 points in December to clinch the final spot in the Kelly Cup Playoffs on the last day of the season at the Cool Insuring Arena, "I think when Brady Fleurent got the empty-netter to kind of seal it for the playoffs, I grew up in Glens Falls, and I'm not sure if that building has ever been louder; we definitely clawed our way back after being down 23 points in December, so it was a special day but so loud and so exciting," said Adirondack Thunder President Jeff Mead when asked about the final regular season game at home as the Thunder finished the regular season with a 32-29-9-2 record for 75 points. Patrick Grasso led the team with 37 goals this season, a franchise record, and Shane Harper broke some records as well, which will be mentioned later in the article.
Despite the first-round loss, the team finds the season a success, "A lot of ups and down, not the way we wanted to start, I think we kinda found our way as a group as the season went on, I just think it's a resilient group, we had a bunch of guys in and lot, a lot of callups, to get young kids to jump on board, I think we had a really good group, and I enjoyed playing with these guys, we had a really good group, and I had a lot of fun" said Shawn Weller. Head Coach Pete MacArthur described the season as "A huge success across the board," Colin Long, who's been playing professional hockey, said this was a year like no other, "I think it was a success, I think after our start, we were pretty incredible climb, and it's something I've never done in my career and I' ve been playing awhile, it was pretty special for me and everyone for us to dig down and make the playoffs,"
Injuries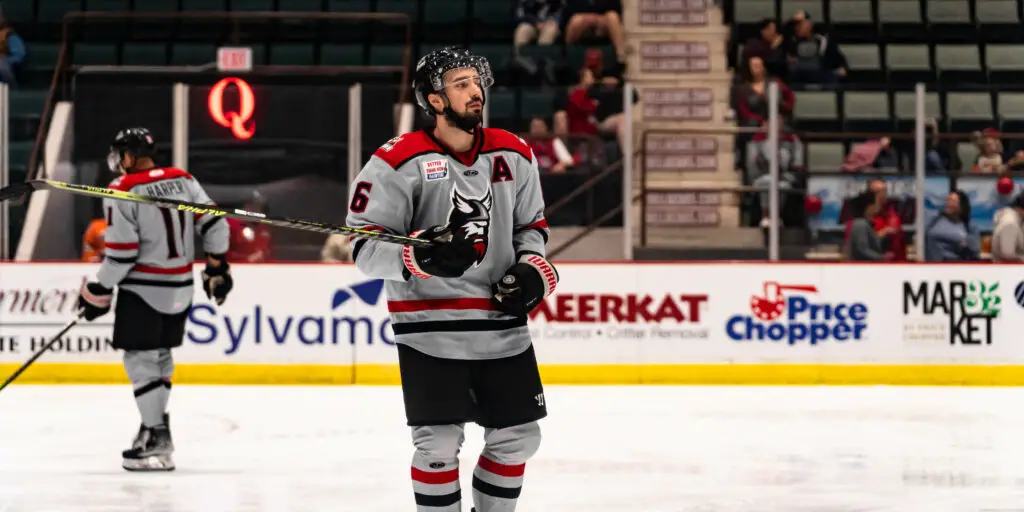 You can't talk about the 2022-23 season without mentioning injuries that hurt the team throughout the season. It would start on opening night as Mareks Mitens went down after giving up five goals on 35 shots to the Worcester Railers, and he wouldn't return for the rest of the season. Jeff Taylor, who was expected to be the number one defencemen for the Thunder when the season began, was limited to only 43 games, where he put up five goals and 20 assists for 25 points. Yanick Turcotte was a massive loss for the Thunder as he brought the physicality, and his presence in the lineup was certainly missed as the Thunder seemed to find that physicality when he wasn't around. Turcotte would play in only 23 games, putting up two goals and five assists to go along with 71 minutes in penalties.
A Carousel Between The Pipes
For Adirondack, one of the biggest struggles all season was the goaltending, which always seems to be an issue for them, this season 9 different goaltenders would see the net for the Thunder; Mareks Mitens, Isaac Poulter, Jake Theut, Mike Robinson, Matt Petizian, Brody Claeys, Francis Marrotte, Vinnie Purpura, and Leif Hertz, however, only four of them would pick up at least one win; Isaac Poulter, Jake Theut, Vinnie Purpura, and Mike Robinson. Theut started the season for the Thunder as the third goaltender but would be the go-to guy before he hit the IR toward the end of the season. The Michigan native would finish the year 16-13-4-2 with a 2.98 GAA, .907 SV%, and two shutouts. Isaac Poulter was the other somewhat main-stay in Glens Falls as Poulter and Theut were the battery for most of the season. However, Poulter saw a decent amount of time in Utica but played 22 games for the Thunder going, 10-8-2-1 with a 2.93 GAA and .910 SV%, and a shutout. Robinson would win back-to-back starts with the Thunder after coming up from the SPHL. His most significant moment came during the season's final weekend when he started all three of the last three-in-three weekend for the Thunder, where he beat the Railers in back-to-back games to take the Thunder into the Kelly Cup Playoffs.
The Vets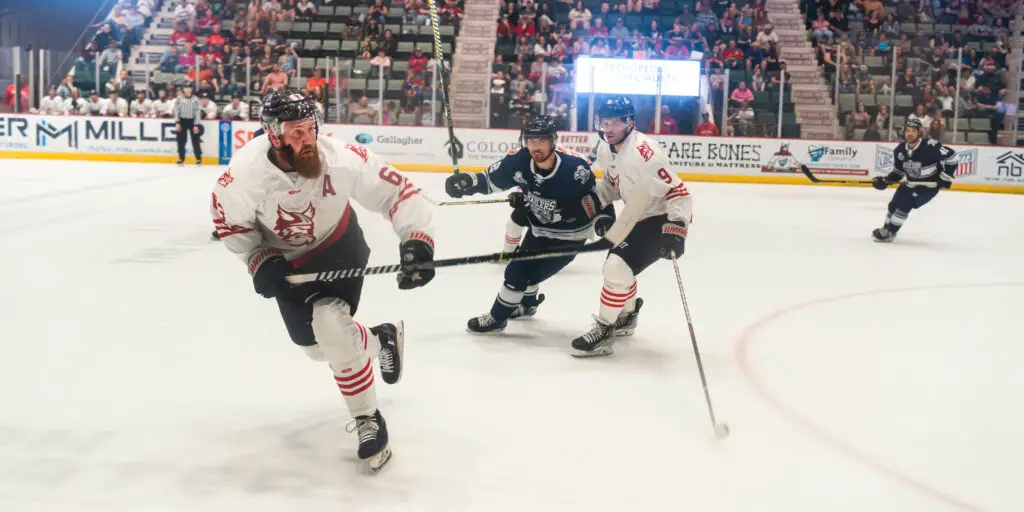 Adirondack has three key veterans on their team Shane Harper, Shawn Weller, and Colin Long, who are all unsure of their futures. "At this point of the offseason, it's too early to decide on next season, I love it here in Adirondack, but I want to spend time with my family this Summer before deciding what is best for us," said the Adirondack Thunder Captain. Harper had a career year putting up 22 goals and 53 assists for 75 points in 65 games. His 75 points were a franchise record, and he came one assist short of tying the franchise record for assists (53) held by James Henry when he had 54 during the 2018-19 season. Weller was traded to the Thunder last season from the Kansas City Mavericks and is the hometown Kid from Glens Falls. He's played in the ECHL and AHL and spent three seasons in the DEL2 league in Germany. "Ya, we'll see; it's my hometown. I really enjoy playing here, and obviously, I'm going to take it day by day; we'll see," said Weller. Long battled injuries this season, limiting him to only nine goals and 20 assists for 29 points in 44 games for the Thunder. He spent eight years playing overseas before signing with the Thunder last season; when asked if this it for him, Long said, "I'm not sure; the day or two after the season, it's something I try not to think about immediately, I try to evaluate the season, and at my age, it's a conversation with my family and with my wife, but I still love the game, and this team and the city and I absolutely love it here so it will be hard" said Long.
What's Next For The Thunder?
For Adirondack, they believe that there was a learning curve with Pete MacArthur and Mike Bergin but believe the future is bright, "We had a brand new hockey operations staff coming into the season with Pete MacArthur and Mike Bergin, and we had high expectations, it was a tough start on the ice, but as you said we continued to find players that worked in Adirondack and the second half of the year which was a pretty good push and we ultimately made the playoffs which is our goal every year until we ran into a pretty skilled Newfoundland team" said Mead. Head Coach Pete MacArthur said he plans on filling some holes during the off-season. Still, before they get started next season, everyone is going to spend some well-needed time with their family, "Hopefully get a core to come back and then get a few pieces that we thought we were missing, but that's gonna take time." MacArthur also gives a ton of credit to assistant coach Mike Bergin, "People don't know how valuable that guy is, it's hard to explain it, he's one of my best friends, like a brother to me, his intelligence level when it pertains to the game is off the charts, a lot of the credit goes to him, recognizing what players needed, I couldn't have done it without him." But for MacArthur, he is only looking for one thing, "Somebody that plays 200 feet and never stops, that's all we want".