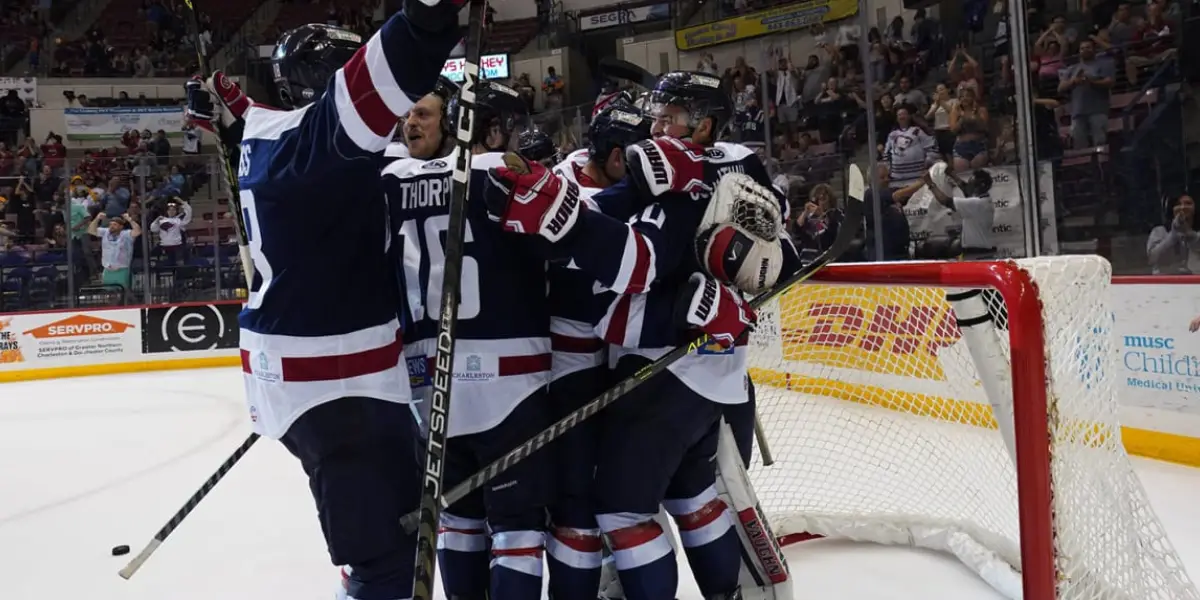 The South Carolina Stingrays have (finally) been named kings of the South Division after claiming the division Saturday night… and what a night it was. After 72 games, Garin Bjorklund got his first start in goal this season. The former Medicine Hat Tigers goaltender's absence has been notable this season, as he remained on reserve until the last game of the regular season. 
The Battle for the South began with a goal from Icemen's Ara Nazarian as they found their way past Bjorklund. Carson Mackinnon was also able to sneak past the Stingrays' goaltender on two different occasions during the first period, extending the lead to three. A great offensive effort from the Rays, as they outshot the Icemen 12-7 in the period but were just mere inches from their marks each time. With 37 seconds left in the first, Ty Thorpe hits the bullseye and records his first professional goal with South Carolina after being with the team for three games.  
Ryan Scarfo keeps the momentum going for the Rays, scoring five minutes into the second period, cutting the lead down to one. Jackson Leppard electrified the North Charleston Coliseum with a hefty tussle with Mackenzie Dwyer. Truly, it might be a contender for fight of the year within the Stingrays' locker room. The Rays later went on the penalty kill halfway through the period, where they held Jacksonville to only two shots on goal, and Bjorklund remained calm and collected for the duration of the period. 
Things started to heat up in the third period as Cristiano DiGiacinto reclaimed the two-goal lead over the Stingrays. With half of the period already down, South Carolina kicked it into gear and did not let their foot off the pedal. Matt Anderson found Jarid Lukosevicuius through traffic in front of the net to mark his third goal since returning Wednesday from his time with the Belleville Senators.  
Two minutes later, Lawton Courtnall marked his 10th goal of the season and evened up the score at four a piece. The Icemen pulled their goalie for the extra attacker with 1:30 remaining, but the Rays would force overtime and claim the Southern Division title, all within the same breath.  
Bjorklund would continue to turn heads into overtime and later the shootout, where he would claim the win over the Icemen as the Coliseum erupted behind the rookie goaltender. Truly a night fans and Bjorklund will not forget for a very long time.  
This is the seventh division title to come to the club, the most recent being the 2015-16 season, where South Carolina would make it to the Conference Finals before falling to the Wheeling Nailers. The Stingrays will face the Florida Everblades in the first round of the Kelly Cup Playoffs, beginning with a two-game home series on April 22 and 24th, marking their 27th appearance in the playoffs since their founding.