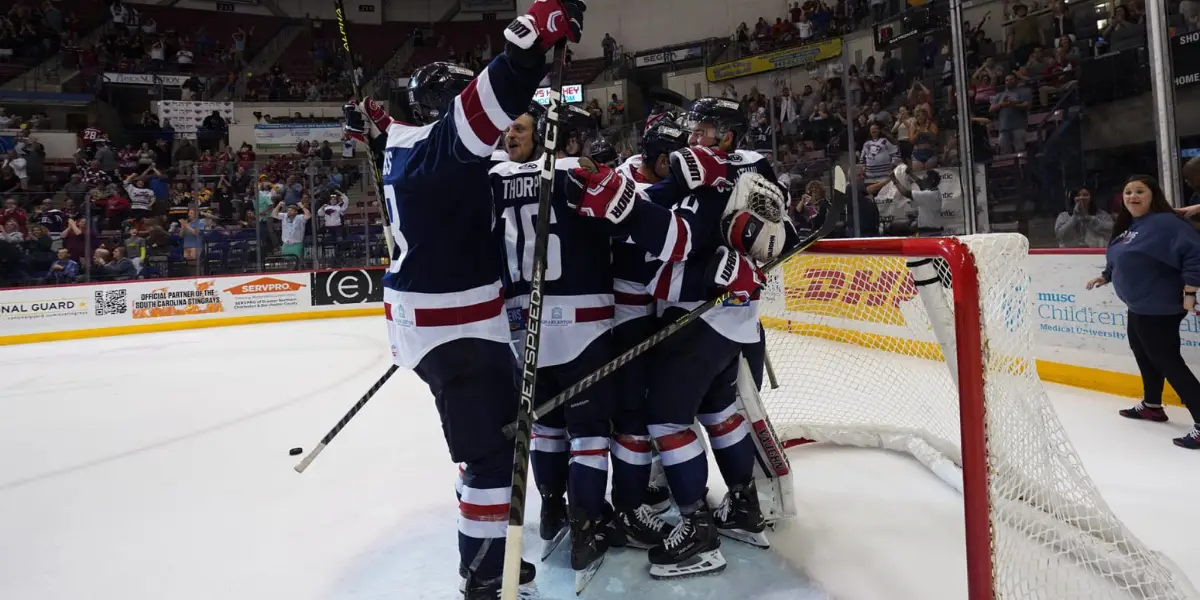 The stage is set for the Kelly Cup playoffs' first round as the South Carolina Stingrays take on the Florida Everblades, the reigning 2022 Kelly Cup Champions. The teams last met in the 2021 Eastern Conference Semi-Finals, where the Stingrays would go on to the Kelly Cup Finals. 
Keys to the Game:   
Goaltending 
Goaltending is going to be huge during this first-round series. For the Stingrays, the dynamic duo of Tyler Wall and Clay Stevenson are leading the charge just as they have been all season long. The two netminders have been a strong force during the regular season, having a combined three ECHL Goalie of the Week awards under their belts and being ranked among the rookie goaltenders. Wall is coming to the playoffs with 11 consecutive wins and three shutouts in his last eight games, while Stevenson is bringing 19 wins and a .916 save percentage on the regular season. Garin Bjorklund has been called up to Hershey and was not retained on the roster for the postseason after his professional debut last Saturday against the Jacksonville Icemen, where he helped clinch the South Division title for the Rays.  
Cam Johnson of the Everblades comes in as the only goaltender with postseason experience after Evan Fitzpatrick got recalled to the Panthers; Jaxon Castor has been signed to an ATO, and he's made two appearances this season for the Everblades. Johnson only dropped two matches last year during Florida's Cup victory and carried a .931 save percentage.  
Striking First  
No, this isn't Cobra Kai, but the game's first goal might determine who takes it all. The Stingrays will need to gain the momentum early in the game and keep it throughout the third period to claim the series early. Winning only three out of the ten matchups against the Everblades, South Carolina must come out hot and ready to go, including the powerplay.  
The Stingray's are tied for first with their power play this season, while the Everblades penalty kill is ranked 18th. Being able to capitalize on this early on in the game and the series could be the difference maker in who moves on and who goes home. The Everblades are and have been a strong team all season, even if they are ranked 4th within the division, but there is only a 10-point difference between first and fourth, which is the slightest difference in the league. They have given South Carolina a run for their money all year at every contest, but honestly, none of that matters, as playoff hockey brings out a different side to each team.  
This matchup kicks off on Saturday, April 22, in the North Charleston Coliseum   
Players to Watch:
Stingrays – Kevin O'Neil, Jarid Lukosevicius, Tyler Wall  
Everblades-Joe Pendenza, Cam Johnson, Sean Josling