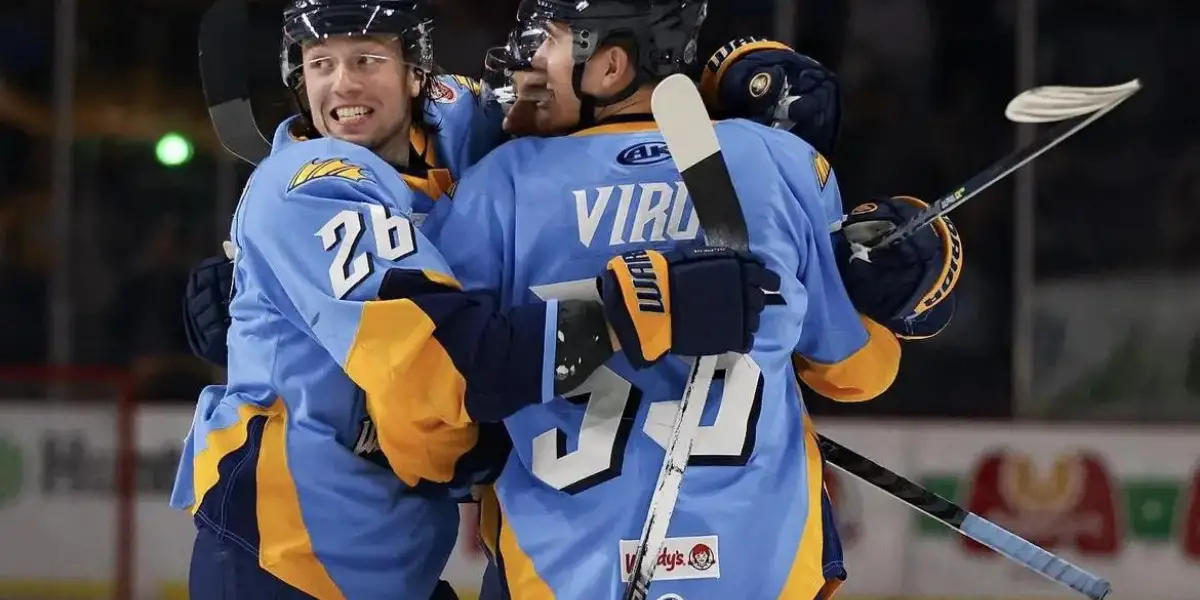 The Toledo Walleye took on the Indy Fuel in Game 2 of the 7-game series on Saturday in front of a sellout crowd, as the Walleye were able to find the back of the net four times to beat the Fuel 4-2. 
Toledo came out strong with a swift goal by Andrew Sturtz, assisted by Brett McKenzie at the 1:34 mark of the opening frame. The first period quickly became a battle of penalty kills and power plays. Toledo had four power play opportunities but couldn't convert. Indy had two power plays, but Toledo was able to prevent the Fuel from a goal. However, at eve strength, Indy's Kyle Maksimovich was able to tie it up at 1-1 toward the end of the period. 
Both teams had 11 shots on goal in the second period. Toledo's Drew Worrad was able to convert on a power play to put the Walleye up 2-1 at the 4:09 mark. Worrad's goal was assisted by TJ Hensick and Charlie Curti. The period ended with a brawl that resulted in matching 5-minute major penalties for Toledo's Brett McKenzie and Indy's Christopher Cameron for fighting. Indy's Kirill Chaika was also assessed a minor penalty for roughing. 
Toledo started the third period with a man advantage on the ice. A quick goal (0:40) by Trenton Bliss put Toledo up 3-1. His goal was assisted by Seth Barton and Brandon Hawkins. Late in the third, Indy pulled the goalie in hopes of a goal with a man advantage. But Toledo was able to convert on an empty net insurance goal at 16:39. The goal was scored by Eemil Viro and assisted by Seth Barton and Drew Worrad to put Toledo up 4-1. Kirill Chaika was able to convert late in the period (17:44) for Indy, but it wasn't enough to stop Toledo's momentum. 
In goal for Toledo was John Lethemon, the Nick Vitucci Goaltender of the Year recipient. He recorded 34 saves in last night's win. Mitchell Weeks saved 29 shots on goal for Indy. 
Saturday marked the 17th straight sell-out of the Huntington Center, and Toledo improved to 2-0 in the Central Division semifinals. They will take on the Fuel in Indianapolis on Tuesday for Game 3.