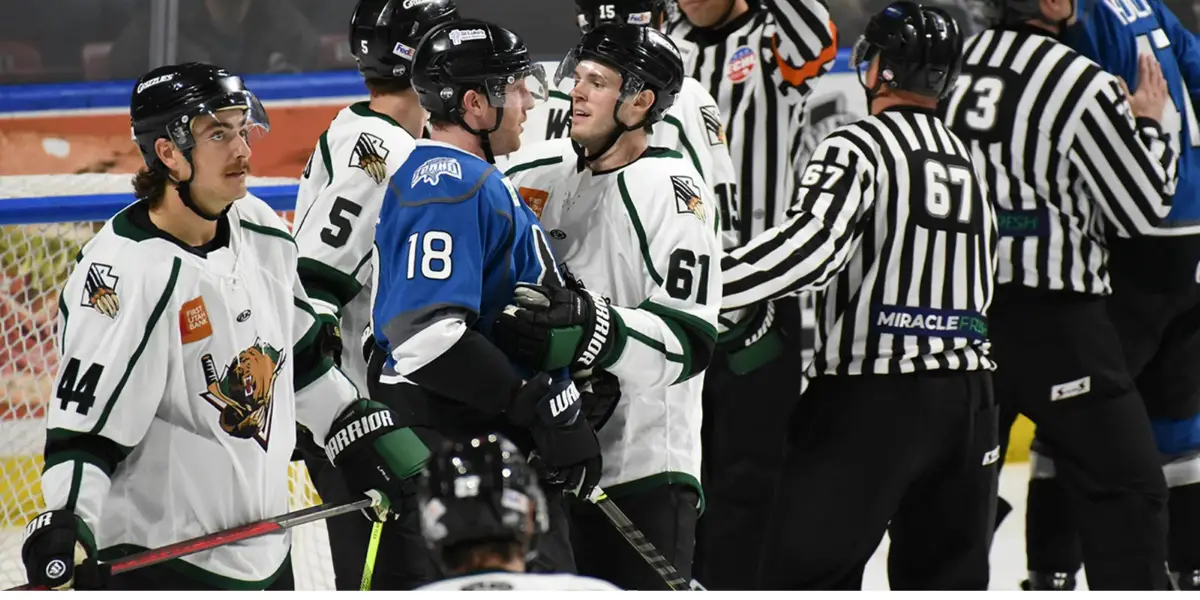 BOISE, ID  – The Utah Grizzlies took game two of the Mountain Division Semifinals by a final score of 3-2 vs. The Idaho Steelheads Friday night in front of a sellout crowd of 5,210 fans at the Idaho Central Arena. Idaho travels to Utah Wednesday and Friday for games three, four, and five (if necessary) at 7:10 p.m.  
Tarun Fizer made it 1-0 Utah on a power-play goal at 16:54 of the first period on a tremendous one-time shot from the left circle. The Grizzlies took the 1-0 lead into the dressing room for the first intermission outshooting the Steelheads 12-6. 
Idaho had four power-play opportunities in the middle frame but were unable to capitalize on any of their chances and still were behind 1-0. Shots in the middle frame were 15-7 Utah. 
A fortunate bounce off an Idaho defenseman in front of the net led to Utah taking a 2-0 lead 3:39 into the third period, as Kyle Mayhew would get credit for the goal. Mayhew had a goal and an assist in the contest. Just 87 seconds lfter a heavy forecheck from Zach Walker and Justin Misiak, Cody Haiskanen stepped into a wrist shot in the right circle beating Trent Miner to pull the Steelheads back within one. Idaho pulled goaltender Adam Scheel with 2:49 to play, trailing by a goal. The Grizzlies won a defensive zone face-off, and from his own high slot, Dylan Fitze fired towards the empty net and put the biscuit in the basket to make it 3-1, adding a huge insurance goal for the Grizzlies. The Steelheads pulled the goalie again, and Ty Pelton-Byce (1st) fired a wrist shot through the five-hole of Miner with assists going to Owen Headrick and Patrick Kudla. They were making things interesting. After a feverish final two minutes, Utah held strong to secure victory. 
Idaho fought until the last second but Utah goaltender Trent Miner saved 29 of 31 to secure the victory. Miner has saved 103 of 105 shots over his previous three games. Idaho's Adam Scheel stopped 29 of 31 in the loss. 
If you were to tell me there was a team with a 2-0 series lead in this series, my bet would not have been on Utah. The next game is Wednesday, April 26.
THREE STARS 
Ty Pelton-Byce (Idaho) 
Cody Haiskanen (Idaho)
Tarun Fizer (Utah) 
GAME NOTES 
Idaho finished 0-for-4 on the power play, while Utah was 1-for-4. 
Utah outshot Idaho 32-31. 
Ty Pelton-Byce and Wade Murphy each tallied four shots leading Idaho. 
REMAINING SCHEDULE 
Game 3 – at Utah Wednesday, April 26 at 7:10 p.m. (MT) 
Game 4 – at Utah Friday, April 28 at 7:10 p.m. (MT) 
Game 5 – at Utah Saturday, April 29 at 7:10 p.m. (MT) *If Necessary* 
Game 6 – at Idaho Monday, May 1 at 7:10 p.m. (MT) *If Necessary* 
Game 7 – at Idaho Tuesday, May 2 at 7:10 p.m. (MT) *If Necessary*