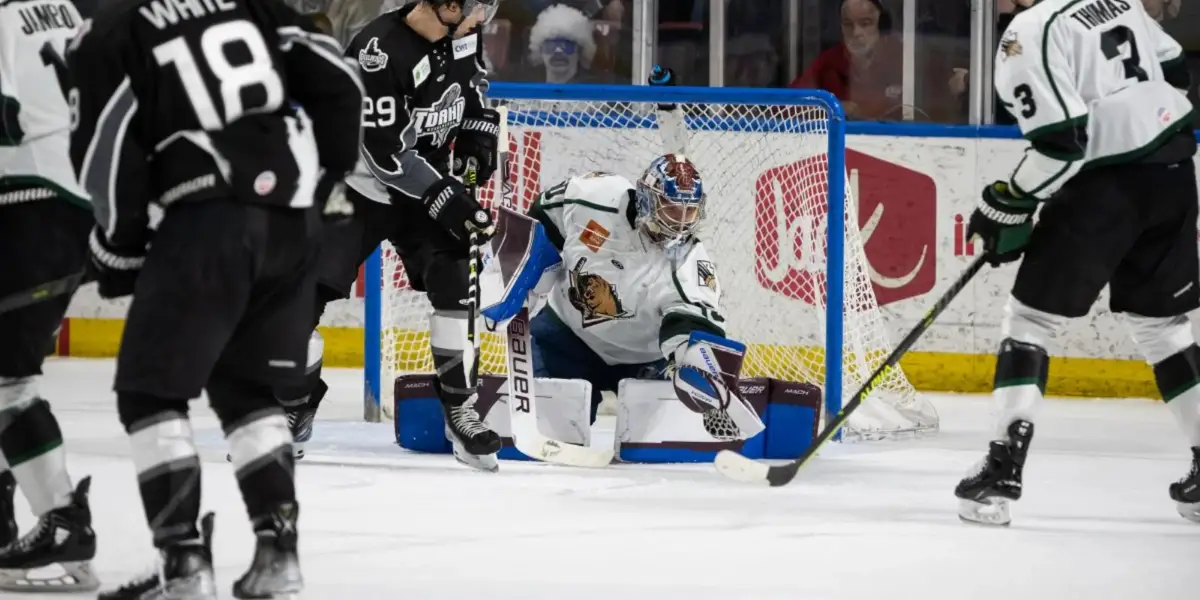 Boise, Idaho- Utah Grizzlies starting goalie Trent Miner saved all 43 shots he faced, and the Grizzlies got goals from Dakota Raabe, Kyle Betts, and Jordan Martel as they defeated the Idaho Steelheads 3-0 in game one of the Mountain Division semifinals best of seven series at Idaho Central Arena.
Neither team scored in the first period ,as neither team could capitalize on their opportunities as Idaho outshot Utah 15 to 8. Dakota Raabe got Utah on the board at the 16:07 mark of the second period on a Cory Thomas wrist-shot rebound. Utah led 1-0 after two frames. Kyle Betts made it 2-0 as he scored on an odd-looking play as the puck bounced off the top of the net and fell in the crease. Jordan Martel added an empty net goal at 18:06 to complete the scoring. Martel had a goal and an assist and was a +2 in Utah's game-one victory.
Trent Miner now has shutouts in back-to-back games as he saved all 31 Tulsa shots in the regular season finale. Miner had three shutouts vs Idaho last season and Wednesday was his first Kelly Cup Playoff shutout. Miner is the Grizzlies all-time shutout king with 10. Idaho's Adam Scheel saved 21 of 23 in the loss.
Idaho finished 0-for-4 on the power play, as neither team could score on the man advantage in six combined chances. Idaho outshot Utah 43-24. Justin Ducharme finished with a game-high eight shots. Eight different skaters made their professional playoff debut.  
It was a great way to start the Kelly Cup playoffs for the Grizzlies. The #4 seed Grizzlies upsets the top-seeded Steelheads, who, in the regular season, were the best team on home ice. This was the first time all season that the Steelheads were shutout, and it came at a very un opportune time in Game 1 of the Kelly Cup Playoffs.
Game 2 of the Best of seven series is on Friday at 7:10 pm' at Idaho Central Arena. Utah has now won game 1 in 4 straight playoff series.
Three stars
Trent Miner (Utah) – 43 save shutout.
Dakota Raabe (Utah) – one goal, +1.
Jordan Martel (Utah) – one goal, one assist, +2, 3 shots.