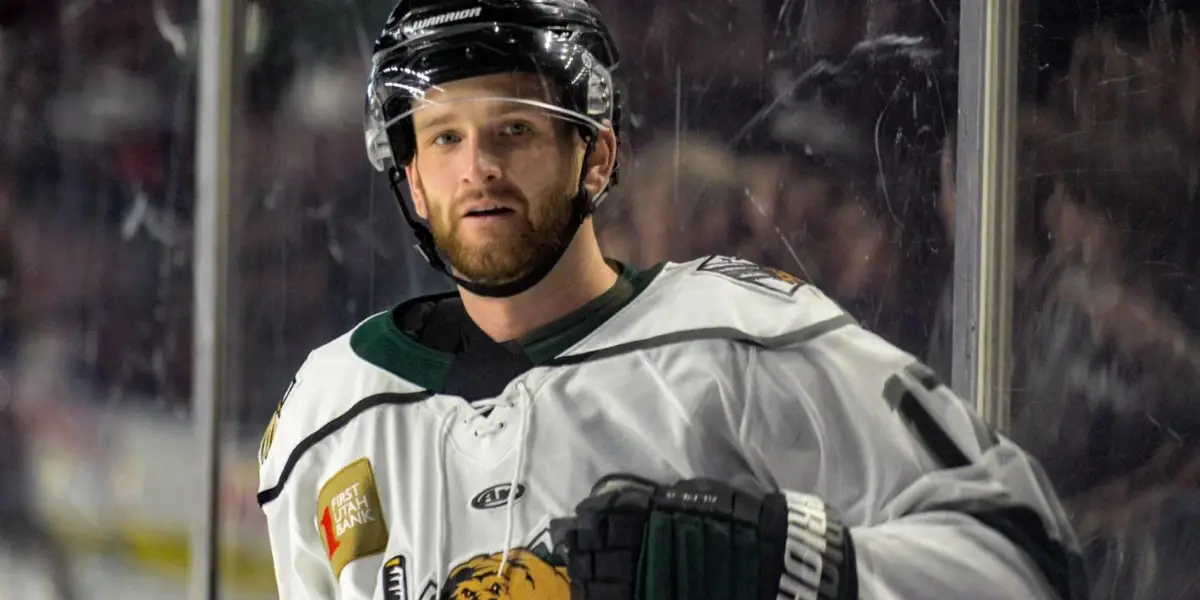 Utah can clinch a berth in the Kelly Cup Playoffs on Saturday if:
Utah wins OR Wichita loses in regulation OR Utah loses in overtime/shootout AND Wichita loses
Tulsa Oilers 22-40-8-1, 53 points @ Utah Grizzlies 34-33-4, 72 points
Saturday, April 15, 2023. 7:10 pm. Venue: Maverik Center West Valley City, Utah
It's the last game of the regular season as the Grizzlies pursue a playoff spot. Utah clinches a playoff spot with a win over Tulsa or if Wichita loses to Allen. Jordan Martel has a point in nine straight games, with eight of them being goals. Martel has 20 points (11 goals, 9 assists) in his last 12 games. He is on fire. Cameron Wright has a point in 18 of his last 24 games. Utah has scored 108 goals over their last 27 games for an average of 4.00 per game.
This Week's Games
April 12 – Tulsa 1 Utah 5 –  Kyle Mayhew, Jordan Martel, and Cameron Wright each tallied one goal and got a helper in Utah's 5-1 win over Tulsa on Wednesday night. Kyle Betts had two assists in his first game back after spending most of the season with the AHL's Belleville Senators. Utah outshot Tulsa 44 to 26.
April 14 – Tulsa 3 Utah 5 – Cameron Wright scored the game-winning goal 17:15 into the third period. His 9th game-winner of the year. Wright had two goals on the night. Tarun Fizer had two goals and one assist. Jordan Martel had three assists. Kyle Betts had two assists. Brandon Cutler had one goal and one assist. His goal was as pretty as I have ever seen. A skate into the slot, then toe dragging the puck between his own legs and goes top shelf roofing the puck in the net to start the scoring Utah was three for six on the power play and three for three on the penalty kill. Tulsa's Blake McLaughlin scored two goals. It was a great night for the Grizzlies, leaving them just one win away from the playoffs and in control of their own destiny
Tonight, April 15, 2023 – Tulsa at Utah. 7:10 pm. Maverik Center in West Valley City
·The Grizzlies are five for ten on the power play this weekend against Tulsa
·The Grizzlies have outshot Tulsa 81 to 60 in the first two games of the series.
·Jordan Martel has 8 points vs Tulsa this season (two goals, six assists). Cameron Wright has five goals and one assist vs Tulsa. Brandon Cutler has two goals and three assists vs Tulsa.
·Tulsa's Blake McLaughlin has four goals in five games vs Utah this season. McLaughlin has three goals in the first two games of the three-game set at Maverik Center.
Mountain Division Playoff Picture
Utah is tied for 4th with Wichita in the Mountain division standings with 72 standings points. Utah has 29 wins in regulation, which is the league's number one tie-breaker. Utah has the advantage over Kansas City (28) and Wichita (24). Kansas City has 74 points and is in 3rd place in the Mountain Division, two points ahead of Utah and Wichita.
Mountain Division Games Tonight
Cincinnati (47-15-6-3) at Kansas City (33-30-6-2). 6:05 pm MST. – Kansas City is 20-8-6-1 at home this season.
Wichita (33-32-6) at Allen (36-32-2-1). 6:05 pm MST. Wichita is 5-4-1 in their last 10 games.
Idaho (57-11-1-2) at Rapid City (33-34-4). 7:05 pm MST. Idaho broke a league regular season record with their 57th win last night as they beat the Rush 4-1. Idaho also broke a league record for standings points, as they now have 117.
Tulsa (22-40-8-1) at Utah (34-33-4). 7:10 pm MST. Utah is 4-1 vs Tulsa this season.