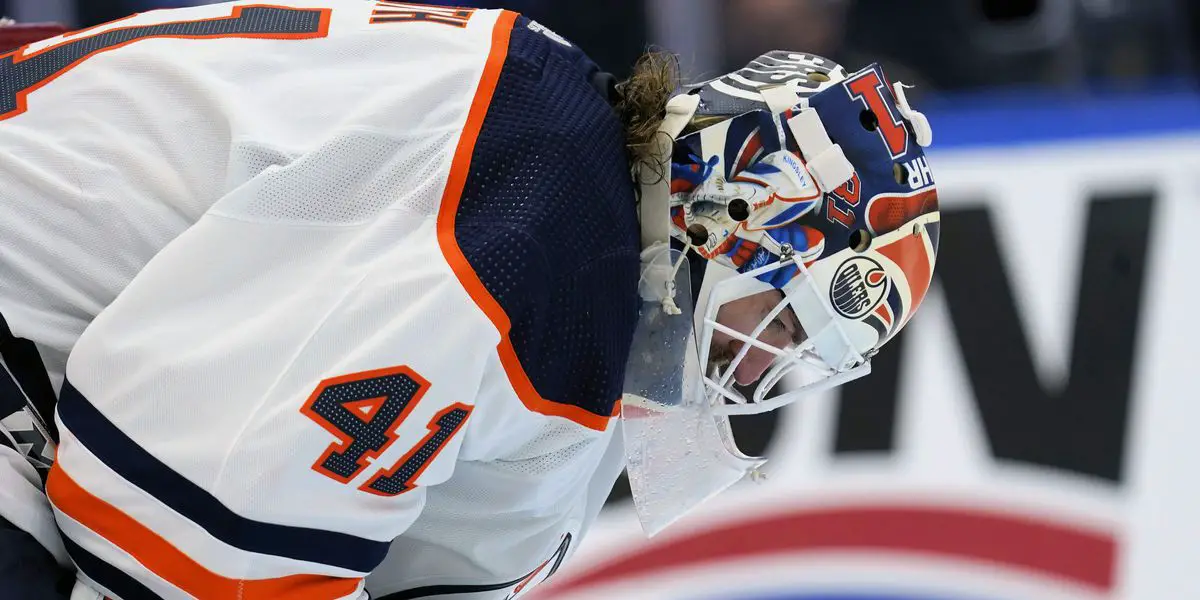 The Edmonton Oilers are fighting for two things right now: A) a playoff spot and B) goaltending. Mike Smith is currently holding back the Oilers in both categories as his tough play continued last night against the 2nd worst team in the league, the Montreal Canadiens. Smith faced 28 shots and got scored on four times, and these stats don't show the other two goals he let in but was bailed out by review. While it was a rough game, it was just one game, right! Right…?
It wasn't; it's been all season. Through 14 games (not including last night's), Smith has a record of 5-7-1, a GAA of 3.53, and a SV% of .893. Those aren't even backup-level numbers. In his last 5 1st periods, Smith SV% has looked like this: .778%, .875%, .600%, .636%, .750%. It's clear that Smith's play hasn't been good enough. While he's struggled to get his feet under him because of injuries, numbers don't lie. Smith hasn't given the Oilers good goaltending by any means.
Mike Smith's goaltending now has every Oilers fan asking one question, when does Ken Holland say enough is enough?
Skinner!
With the Oilers being cap-strapped, they aren't given many options for goaltending moves. You can try and move Koskinen, but that still leaves you with Smith. On top of that, Koskinen's play has been nothing short of stellar recently. In his last eight starts, Koskinen has gone 7-0-1, has a GAA of 2.19, and a .934 SV%, something that has been a nice breath of fresh air for the Oilers.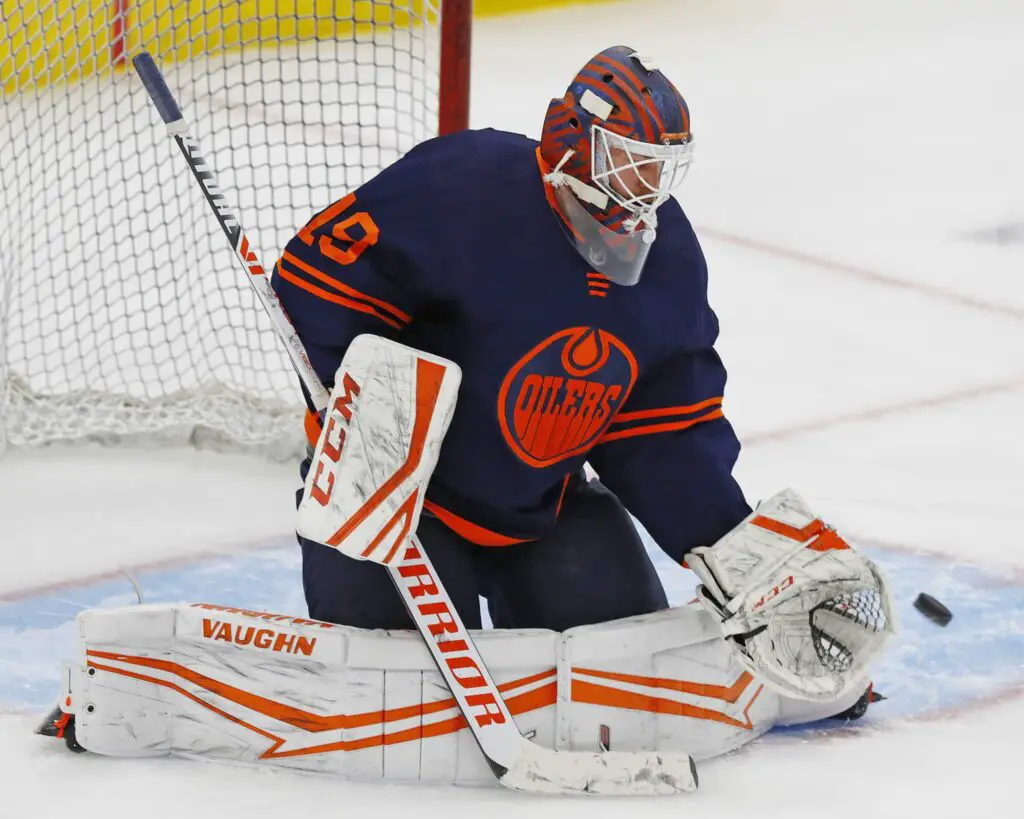 Now the only other option you are left with is calling up someone internally, but this may be the best move for the Oilers as of now. As of right now, the Oilers' best goalie statistically speaking is actually in the AHL on their farm team. His name is Stuart Skinner.
This season Skinner has played 13 games and has played phenomenal considering he's a rookie and that the Oilers have one of the worst defensive cores in the league. Through those 13 games, Skinner has a record of 6-6-0, a GAA of 2.62, and a SV% of .913. There is an argument that Skinner should be the starter for this team in the future, especially with Smith's poor play.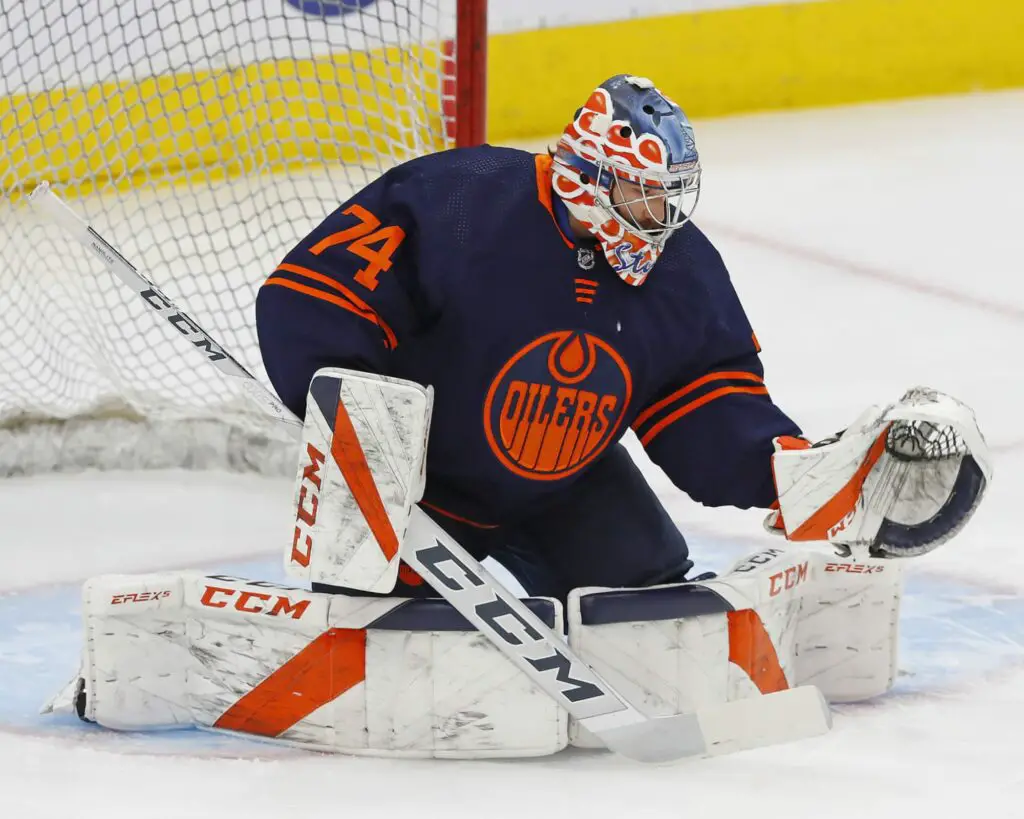 So What Now?
If you're Ken Holland, you simply cannot sit on your hands here and do nothing. The Oilers are currently in a very tight race for a playoff spot, and goaltending is single-handedly costing the Oilers precious points.
Smith has shown time and time again this season that he is not to be relied on, whether it be him costing the Oilers on the scoreboard or being very injury prone. Mikko Koskinen can be a very reliable option with a proper workload, but with the standings being so close, you can't run him for the rest of the season without having a trustworthy goalie to back him up. Smith just isn't that anymore.
The Oilers are currently 4th in their division and are 1 point away from taking the second spot in the wildcard. It's crunch time for the Oilers, and it's time they get serious instead of waiting for an issue to resolve itself that clearly won't.
Enough is enough.