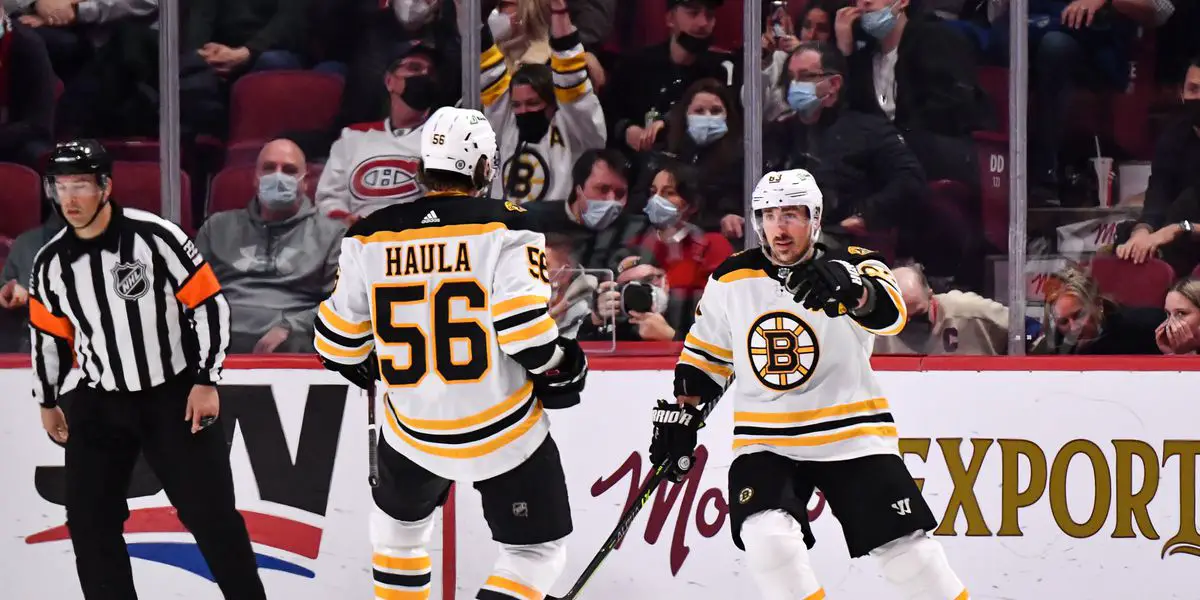 The Boston Bruins have been on fire the last couple of months, especially in their last 17 games, as they have compiled a 14-2-1 record that has vaulted them from wild card team to second place in the Atlantic Division. The reason behind this excellent play has been due to several reasons. Still, several players throughout the roster as the offense, defense, and goaltending have looked amazing over this stretch. The third line continues to produce at an unreal level as the combination of Trent Frederic, Charlie Coyle, and Craig Smith are all playing the best hockey of the season during this stretch as they have found the chemistry and created what many call the "numbers line." The recognition doesn't stop there as David Pastrnak and his linemates of Taylor Hall and Erik Haula have been outstanding as Pastrnak continues his onslaught of goal scoring. Brad Marchand has found his goal-scoring ways as he now has five goals in his last five games and has recently been blessed with the return of Patrice Bergeron from the injured reserve.
It has indeed been a complete team effort for the Bruins as they are hitting their stride at the perfect time of the season. While the offense has been fantastic, so has the defense led by Charlie McAvoy, who has anchored this stout defense all season long and just got better with the addition of Hampus Lindholm at the trade deadline. The appreciation doesn't stop there as rookie goaltender Jeremy Swayman has been lights out as he anchors the Bruins, allowing them the opportunity to win every time he starts in goal.
Last Three Games Have Been Haula's Best As a Bruin
As the trade deadline approached, many fans, including myself, wanted to see the Bruins acquire a second-line center to upgrade over Erik Haula. Looking at the season as a whole, Haula hasn't played the best hockey of his career, but since the trade deadline, it seems something has clicked in his offensive abilities as he's been on a tear over the Bruin's last three games. Has all the talk around the league and organization finally made Haula realize it's time to put up or shut up or is this streaky play we shouldn't get our hopes up about? It's tough to decide, but it's also tough to write Haula off entirely as they may be the spark he's been looking for all season. In the last three games, Haula has had multi-point games in them all as he's been an assist machine-feeding goal-hungry David Pastrnak.
Across these three games, Haula has tallied seven points, with six of them coming from assists showing his ability to be a facilitator on the second line between Pastrnak and Taylor Hall. Haula had come a long way from the days of the beginning of the season when he scored only one goal and had 3 points over the first 17 games that eventually led to his benching. While Haula hasn't been the center he was back in Vegas during the 2017-2018 season, he still hopes this new offensive outburst is just the beginning of a long streak he is about to embark on. For the sake of Bruins fans all over, let's hope Haula can keep this up and bring this type of offensive outburst into the playoffs, where the Bruins will need it most.
The key takeaway from this all is that Haula has never given up on his abilities as he has maintained professionalism and looks to get better every game. It's never easy to play when your name is constantly on the hot seat as you were expected to fill the void of such a skilled and valued player in David Krejci. Haula needs to play his game and continue to create chances for those around him as the Bruins continue to find ways to win through many different players. Only time will tell if this is just a fluke three games for Haula or he is certainly coming into his own at the perfect time of the season. Continue to follow Haula's play and hope for the best as he looks to regain the offensive potency he once showed in his career not too long ago.
Episode 51: Interview w/Jack Ahcan Episode 51 is back in action talking about the New York Paingers ITR bet, Can Buffalo Sabres make the playoffs? Is Vancouver in the wrong on the Boudreau treatment? Is Tocchet the right guy? Is Daryl Sutter the last Dinosaur in the NHL?YouTube: https://www.youtube.com/@insidetherinkTwitter: https://twitter.com/CueTheDuckBoatzFacebook: https://www.facebook.com/Cuetheduckboats/Thanks for listening! Please rate and review our show on your favorite listening platform. Check out our partner's website at www.insidetherink.com for all your latest hockey news. Also, catch all of the games in this year's NHL season by signing up for ESPN+ at Insidetherink.com/ESPN