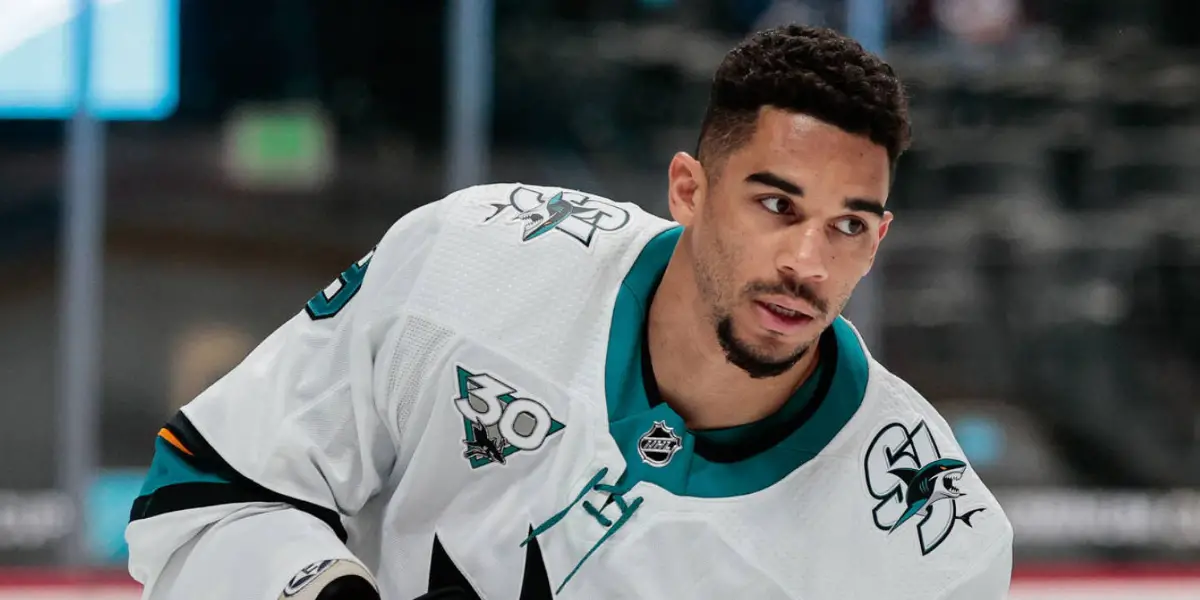 Lately, there has been a lot of talk around the league about former San Jose Sharks forward Evander Kane. Several teams have been linked with the Left Winger, yet there has been uncertainty whether he will play at all. Numerous on and off the ice scandals, accusations, and suspensions have added up, and his contract has been terminated. However, amongst all the chaos, one question prevails: Where is Evander Kane headed next?
Champa Bay – The New Home For Evander Kane?
The only three teams that are not involved in Kane's NTC are the Tampa Bay Lightning, Florida Panthers, and his hometown team, the Vancouver Canucks. Other notable teams interested in his No-Trade Clause are the Edmonton Oilers and Carolina Hurricanes. However, per sources, the Tampa Bay Lightning are very interested in Kane, and arguments could be made for his case.
Pros To Having Kane On The Bolts Roster
Despite having baggage in his personal life both on and off the ice, several compelling arguments could be made that the signing would be mutually beneficial to both parties involved. After essentially being cut from the San Jose Sharks, Kane is motivated to succeed in his career, and the defending champions will not settle for anything less than a three-peat. The Bolts are currently in second in the entire league, only behind the new division rivals, The Florida Panthers.
Kane was a very effective forward last season with the sharks, registering 22 goals and 27 assists in 56 games. He would be an excellent addition to Tampa's goalscoring firepower, adding even more depth to the current firepower led by Captain Steven Stamkos, Ondrej Palat, Brayden Point, Corey Perry, etc. not to mention the fact that the Power-Play cornerstone Nikita Kucherov recently returned after being on IR since October.
There's also a big incentive for the Bolts to sign him since he could potentially be a short-term, cheap signing that would help come playoff time without sacrificing too much cap space. A deep playoff run or a cup run with the Lightning would help dramatically increase Kane's value in the offseason, which would greatly benefit him.
Despite Kane's on and off the ice controversy, the Tampa Bay Lightning has a leadership structure that could very well help keep Evander in check. Captain Steven Stamkos and Alternate Captains Victor Hedman, Ryan McDonagh, and Alex Killorn have led both on and off the ice with example, and there are plenty of NHL veterans in the locker room such as Corey Perry, Pat Maroon, Zach Bogosian, Pierre-Edouard Bellemare, and Brian Elliot that really round things off.
Cons To Evander Kane Coming To Tampa
Now, as if Antonio Brown quitting in the middle of a Tampa Bay Buccaneers game and then going on podcasts to publically slander the entire Buccaneers organization and his close friend Tom Brady wasn't enough controversy in Tampa sports, Evander Kane is a whole other circus on skates.
Before the start of the current season, Evander Kane was accused by his estranged wife of betting on NHL games, including games that he was playing in. His allegations went as far as to claim he even jeopardized the games he was playing in for his own gambling benefit. Although he has been cleared following a private investigation by the NHL, it certainly isn't a good look for an athlete.
On October 18th, Evander Kane was suspended for 21 games for using a fake Covid-19 vaccination card. To make matters worse, Kane entered Covid-19 protocols with symptoms on December 22nd. He then traveled to his hometown of Vancouver while still being positive for Covid, which was a big reason as to why his current contract was terminated.
Now, what do Lightning fans think? Is Evander Kane worth the trouble to sign in order to help our conquest of a three-peat, or should the Lightning pass up on this signing? Sound off in the comments below!