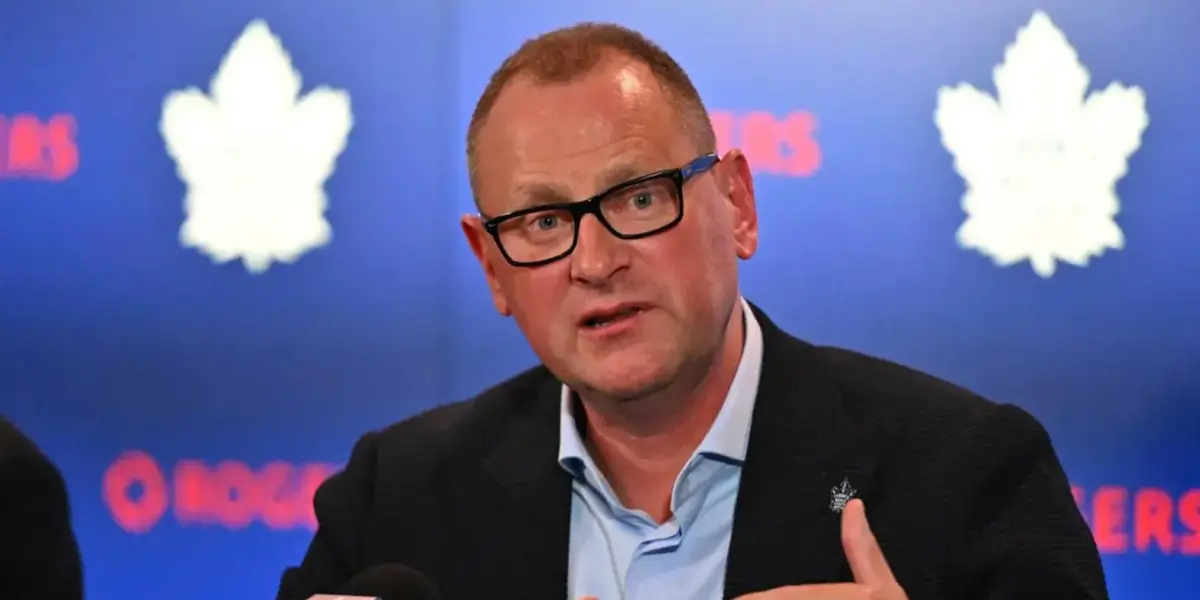 By now, most of us Leaf fans have grown used to the trickery of Brandon Pridham. His official title is assistant general manager for the Toronto Maple Leafs. Over recent years, he has been well known as their resident capologist and the brains behind the Leafs cap gymnastics. 
Same story every summer. The Leafs are in trouble with the cap, but they still manage to sign players, and like magicians, every year, they somehow ice a team under the cap for opening night, and all works out.
Bam, Go Pridham. 
I mean, he did literally help write the rules to the cap when it was created. We are in good hands.
This summer was a bit different because the Leafs had more cap space than usual to spend. They made short work of that and are over the upper limit again, currently sitting $2,943,950 over the NHL salary cap ceiling.
That's WITH Matt Murray and Jake Muzzin considered on LTIR.
Wait…Was Max Domi ($3M) an impulse buy? Wasn't he the last signed? 
Anyways, teams are allowed to exceed the cap by 10 percent in the off-season, so they have until opening night to get their books in order and comply with icing a team that costs equal to or less than the upper limit. That number normally increases every year, but the pandemic changed that and ruined the plans of a few GMs around the league. It grew in 22-23 and will rise again in 23-24.
I think we all kind of expect the Leafs to get out of this without having to trade anybody because of this happening seemingly every year since the Core 4 came together as Leafs. 
Simply by sending some players down to the minors or playing a player short for a few games etc., the buds will find a way to keep all of their guys, we tell ourselves. 
Right? 
They could send Pontus Holmberg ($800,000) and top prospect Matthew Knies($925,000) to the Marlies to start the season. Both players are waivers exempt, so they can go up and down from NHL to AHL as the organization sees fit.
They could possibly even add new acquisition Martin Jones ($875,000) into the waiver pool, risking losing their third NHL goaltender, a position which has been proven to be crucial. See Vegas Golden Knights. 
But that would mean the Leafs only have 2 NHL caliber goaltenders, one of which only has 11 NHL games experience, and it's pretty slim pickings in terms of NHL ready netminders in the Leafs farm system after that, for the time being anyways. 
Not Ideal. 
Even with those three moves made and leaving themselves with 11 forwards seven defensemen, and two goalies on the active roster, the Leafs would still be over the cap by $343,950 
So what can they do?
I know what you're thinking.
"Easy solution," right? 
"You only need six defensemen on the roster. Three pairs of two, yeah, that's 6. So send a defenseman to the Marlies too."
In a perfect world.
They could play a player short on forward AND roll with six defenders and become cap compliant, BUT that would mean sending a defenseman through waivers, none of which are waiver exempt, again risking losing another NHL-caliber player for nothing.
But who would they send if they were willing to make such a move?
In my mind, the only logical candidate would be Connor Timmins. His cap hit of $1.1M would be able to be completely buried. IF he even cleared waivers, that is, which in the Leaf's case, doesn't happen often. 
Taking the $343,950 off of Timmins buried or possibly waiver claimed $1.1M would give the Leafs the room to call up a forward at no more than $756,900 for opening night.
"Isn't League Minimum $750,000?"
Yep.
"Perfect, add a Marlie forward. That gives you 12 forwards, six defenders, and two goalies. That's all you need to start the season anyways. Cap hits go down by the day. They're gonna be fine, end of story, as usual."
Well, first off, everything is a story with the Toronto Maple Leafs, and second, the Leafs forward with the lowest cap hit, listed on the non-roster by cap friendly, is Bobby McMann. Normally that would work perfectly, and McCann has looked pretty good in his limited time with the big club; the problem is he makes $762,500. Low hit but still over the $756,900 that would be available. 
NHL teams can't exceed the cap, not even the slightest bit.
Even in the best-case scenario of Timmins clearing and his $1.1M being buried in the minors, the Leafs are playing a forward short to start the opening night. 
Maybe instead, Mark Giordano will pull a "Jason Spezza" and tell any team if they claim him off waivers, he will retire and allow the team to play a forward short but not lose anyone off the roster. Doubtful, he would even have to report to the Marlies. It would be more of a paper move, but we know he won't want to sit. 
The man's a machine with one gear, and that gear is go. Maybe that's the secret to playing into your 40s. This is a less likely option but still possible. Plus, he only makes $800k.
Maybe swapping out Lafferty or new signing Ryan Reaves because of their higher cap hits for cheaper players to start the season, leaving room to ice a full team and maybe not be claimed because they are paid more?
But consider they are paid more because they are worth more though, and with the history of the Leafs putting players on waivers, I don't think that's a safe bet. A lot of other teams are likely to be able to fit either one of those contracts.
Dylan Gambrell makes $775,000, so there is minimal savings in sending him down as well.
The best option for the Leafs would be to make a trade so they don't lose a player for nothing, which is the most likely scenario when considering who they could out through waivers to get themselves under the cap. 
Who? 
It could be Timmins or Lafferty. It won't be Ryan Reaves; he was just signed. It would have to be both, not just one. 
I think losing one player would be better than multiple, so I suggest…
Calle Jarnkrok
Dubas signed Jarnkrok in the 22-23 off-season as a UFA. He signed a four-year, $2.1M per year contract with the Leafs and scored 20G and 19A in 73 games averaging 14:23 of time on ice. However, in 11 playoff games, he only recorded one goal and two assists while playing 15:05 per game that stretch. The Leafs don't need more ghosts in the playoffs. 
Brad Treliving previously acquired him for the Calgary Flames 21-22 postseason run, so we know Brad has liked the player before, but he also didn't re-sign him in the off-season, which Calgary for sure could have if they wanted to.
His $2.1M is the biggest cap hit for a forward outside of the core 4, and new acquisitions made this off-season. If they're going to trade a forward, it would make the most sense to try to move Jarnkrok first.
Another name swirling around in rumors has been TJ Brodie, with people linking the fact that Treliving tried to trade him before and also not re-signing him the off-season Brodie landed in Toronto.
Brodie has logged tough minutes for the Leafs since his first day here, and a lot of minutes have been eaten by the 33-year-old defender. He logged two goals and 12 assists in 58 games last year, averaging 21:13 of ice time. The Chatham, Ontario native has one year left on his deal and may be enticing to some teams with cap room looking for a defensive defenseman who moves the puck well. 
The issue with trading him is that his cap hit is $5M, and in actual dollars paid, he's making $7.5M this season. Also, having one year left isn't exactly leverage for the Leafs, not to mention he has a modified no-trade clause in his contract allowing him to nix a deal with ten teams he has previously chosen. Not only would those reasons make the trade difficult, but he's a major piece of why the Leafs have had so much defensive success. 
Removing his 5 million dollar hit would certainly solve all the Leaf's cap problems and would allow them to roll with a 12F 6D combination to start the season while not risking losing multiple players, but I'm sure it doesn't make them a better team.
I could also see Treliving waiting until training camp to see who makes it and who doesn't, and injuries happen all the time, maybe someone gets hurt between now and then. 
Dog days of summer are fun, aren't they?
So Nice, It Ended Twice feat. Marty Zylstra
–
Leafs Late Night
WELCOME BACK TO LEAFS LATE NIGHT! Presented by Inside The RinkGalaxy Biehn / Marty Zylstra of Sports! Is FunCheck out Marty's Music- Lucky To Be Good, Good To Be Lucky- Mitch Marner Is Underrated- Joseph Woll Remembers.- Gregor's ArkNEW MERCH IS AVAILABLE!JOIN OUR DISCORD!Remember to follow us on Twitter @LeafsLateNight & IG @LeafsLateNightCheck out Mike, Josh, and Nathan's articles on the Leafs + many more! insidetherink.com