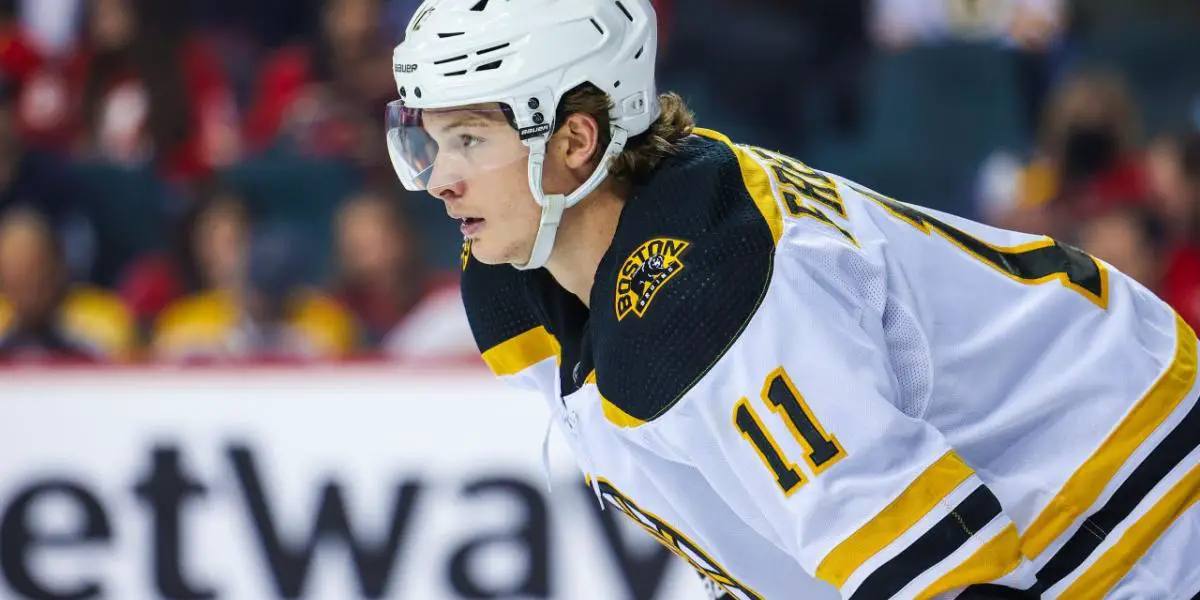 It might be time for me to give Bruins forward Trent Frederic his due. As co-host of the Bruins Benders Podcast, I have been steadfast in my disdain for Frederic's game and have questioned whether the 29th pick in the 2016 NHL Draft is even talented enough to be an NHL player. Some of my analyses of the former University of Wisconsin star are justified. Sox years since being drafted, Frederic has totaled just 15 points in 96 games. For a former first-round pick, those are pretty pedestrian numbers.
The scouting report on Trent Frederic coming out of Wisconsin had the former Badger as a strong physical presence at 6'2" and 200 pounds. He was heralded as a good penalty killer and spent time as the second-line center on the United States National Development Team behind Arizona's Clayton Keller. Frederic had the skill and size to protect as potentially a middle-six center in the pros. Draft protections had him somewhere in the late second to the late third round. But Boston thought highly enough of Frederic to take him late in the first round.
To say that Frederic's career in Boston has been underwhelming is an understatement. The Bruins center has been up and down between Boston and the Providence Bruins AHL team. Even though Frederic's career has developed slowly, many Bruins fans still seem to support the 24-year-old. Bruins fans have always liked players who can be physical and fight for their teammates. Fans have been waiting patiently for Frederic to bring that style to the rink. Coming into this year, there just hasn't been enough of it.
This season has been a roller coaster ride for Frederic, who was the recipient of an open-ice hit by Ottawa Senator's forward Josh Brown. On January 6th, the Bruins center had a controversial hit on Minnesota's Kirill Kaprizov. It was a play that drew the ire of the Wild but pleased the Bruins' faithful. This was the Trent Frederic Bruins' fans have been waiting to see, a physical player with an edge to his game. Some Bruins fans even value his four fighting majors over anything else.
Here is where my apology comes toward Frederic. Since joining the "Number Line" with Charlie Coyle and Craig Smith, Frederic's offensive game is flourishing, and the resurgence is happening on the left wing. Frederic had a career-high three assists in a 5-2 win in Vegas. Also, on the same West Coast trip, Frederic scored a goal in a recent loss to the Los Angeles Kings. But it is not just the offensive production that has Bruins fans excited. The Frederic-Coyle-Smith line is playing a heavy, physical style of hockey with an emphasis on puck possession. Simply stated, the 11-13–12 line is hard to play against something that head coach Bruce Cassidy has preached from day one.
Now, the only question is if Trent Frederic can continue his solid play and give the Bruins a steady third line. If so, Bruins fans can rest assured that their loyalty to Frederic has paid off, and my hesitance to believe in "Freddy" was a little premature.
The Bruins rebound after a 3-game skid. NHL ratings are down on ESPN and Turner. Don't mess with the chemistry. Concerns about the Bruins veterans wearing down. Plus Beauties and Benders.