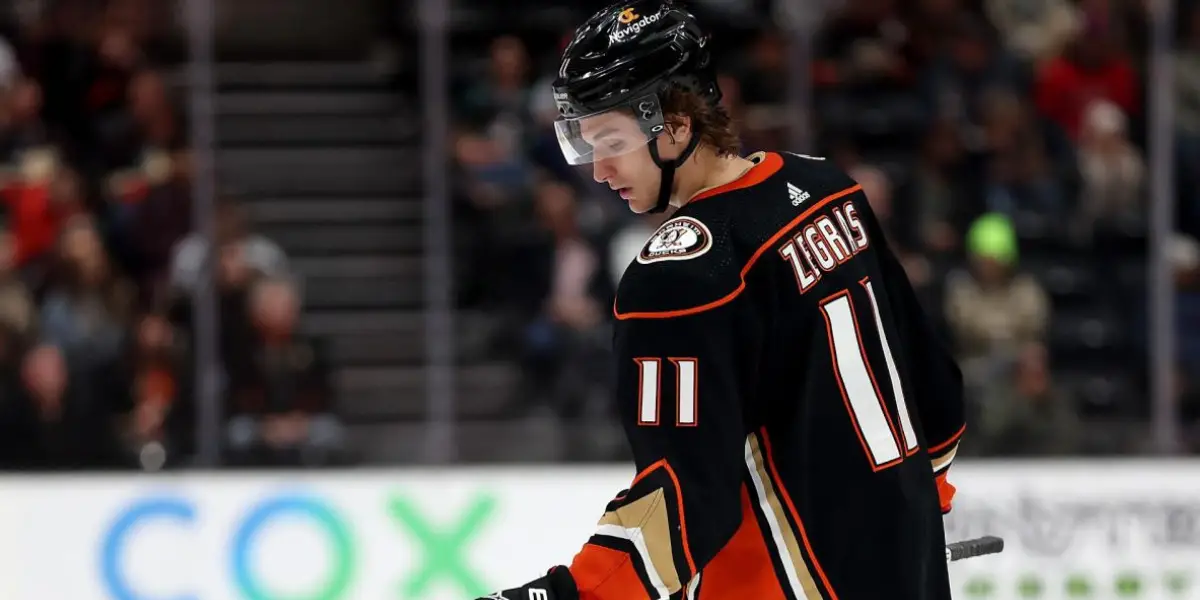 The Anaheim Ducks will be looking to enter the 2023-24 season with a new lease on life. The team's social media account has even appointed this a "new era of Ducks hockey." They will finally be looking to crawl out of the gutter and into relevancy after the worst five-year stretch in franchise history was capped by their worst single season in 2022-23, which saw them only manage 58 points in the standings and give the worst team defensive performance in the Salary Cap era of the NHL where they allowed a whopping 338 goals. They've officially hit rock bottom, but as the old saying goes, "There's only one way to go from here."
Pat Verbeek was hired as the General Manager for the Anaheim Ducks on February 4, 2022. We are now just over a year and a half into his tenure, and his vision for the franchise is starting to clarify with each passing day. This offseason saw him hire new head coaches for the Ducks and San Diego Gulls of the AHL with Greg Cronin and Matt McIlvane, respectively. The two new coaches and Verbeek himself have emphasized their priority on player development above all else. There's an ample amount of supremely talented young players currently in the organization, like center Mason McTavish, center Trevor Zegras, and defenseman Jamie Drysdale, with more entering it this season with the likes of defenseman Olen Zellweger, center Leo Carlsson, defenseman Pavol Mintyukov, and many more, so focus on maximizing their potential will be paramount. 
This summer, Pat Verbeek has also signed some players to significant contracts who will look to have a big impact on the roster moving forward. Winger Alex Killorn and right-shot defenseman Radko Gudas were the team's two big unrestricted free agent (UFA) signings on July 1st. Killorn was signed to a four-year deal worth an average annual value (AAV) of $6.25 million, and Gudas was signed to a three-year deal carrying an AAV of $4 million. Verbeek's biggest offseason transaction thus far has been Troy Terry's new deal. The 26-year-old right winger was inked to a seven-year, $49 million ($7 million AAV) contract on the day the two sides were set to enter their arbitration meeting. Some less significant deals were also made, like the signing of UFA defenseman Robert Hagg, RFA goaltender Lukas Dostal, and a trade for right-shot defenseman Ilya Lyubushkin. The opening night roster seems to be coming together. 
It's been a seemingly endless offseason following an unrelentingly long season, but we sit here with training camps and preseason games on the near horizon. An offseason full of questions like "Who will coach this team?" and "Who will they take with the number two overall pick?" is winding down, but some big questions remain for the Anaheim Ducks and their 2023-24 campaign. Here are the five biggest questions the team faces as they attempt to turn the corner on their rebuild in this upcoming NHL season…
What will the contracts of Trevor Zegras and Jamie Drysdale look like?
NHL training camps are mere weeks away, and two of the team's top young players remain without contracts. The Ducks currently have about $16.6 million in salary cap space, which is good enough for most in the NHL. Verbeek stated nearly a year ago to the day that he intended to wait until the conclusion of the 2022-23 season before opening up negotiations with his pending restricted free agents (RFA's), which at the time were Troy Terry (26), Trevor Zegras (22),  and Jamie Drysdale (21). Troy Terry's contract has since been settled, but it came down to the wire on the date of his arbitration hearing. It seems a similar pattern has emerged with the Zegras and Drysdale negotiations as camp is fast approaching. 
"One of the things we're hearing is that's likely to be a bridge deal. It doesn't look like that's going to be a long-term deal. It sounds like Zegras and the Ducks—when it gets done—is going to be a bridge."

Elliotte Friedman on the 32 Thoughts Podcast
Elliotte Friedman of Sportsnet and Frank Seravalli of Daily Faceoff have each speculated that Trevor Zegras' next contract will be a bridge deal as opposed to a long-term, seven or eight-year deal that several of his colleagues in similar situations have recently signed. In the last two seasons, Jack Hughes, Cole Caufield, Tim Stutzle, Matt Boldy, and Dylan Cozens have all signed seven or eight-year contracts ranging from $7 million to $ 8.35 million in AAV. Speculation indicates that Zegras' camp is searching for a shorter-term contract so they can reevaluate the landscape with a clearer view of where the salary cap is heading. Projections indicate the salary cap will increase by $9-10 million in the next two seasons. 
Like Trevor Zegras, Jamie Drysdale is not searching for a long-term contract extension either. Drysdale's situation is a little different, as he will be returning to the Ducks' lineup after missing the final 74 games in 2022-23 due to a torn labrum in his shoulder that required surgery. The 21-year-old right-shot defenseman will likely sign a one or two-year contract in hopes of getting his development back on track and taking the next steps toward maximizing his potential on the Anaheim blueline.
What league will Leo Carlsson primarily play in?
The Anaheim Ducks held the second overall pick in the 2023 draft after finishing at the bottom of the league standings, losing the lottery to select first overall and winning the lottery to select second. For months heading into the draft, consensus rankings had Regina Pats (WHL) center Connor Bedard projected as the first overall pick, University of Michigan (NCAA) center Adam Fantilli as the second, and Orebro HK (SHL) center Leo Carlsson as the third. The second overall pick in the 2023 draft was, arguably, the most important draft pick in the history of the Ducks franchise. Not only was it the highest the team had ever drafted (tied with the second overall selection in 2005 when they selected Bobby Ryan), but it came at a pivotal point in the rebuild and in the most highly touted draft in recent memory. 
Pat Verbeek and Martin Madden (Ducks Assistant General Manager/Director of Scouting) surprised quite a few people when they selected Leo Carlsson with the second overall pick. They went against consensus but selected the player they felt was the right fit for the organization. As stated previously, this was an incredibly important pick for the franchise, so his development (especially in 2023-24) will likely be monitored and handled with the utmost care and calculation. 
"We're going to find the right league. If the NHL's not it, we'll try San Diego. If that's not it, then he'll go back to Orebro. We're just going to wait and see."

Pat Verbeek in an interview with NHL.com
With Carlsson eligible to play in the NHL, AHL, and SHL in 2023-24, it seems as though Verbeek has a game plan for how to approach Carlsson's development in the upcoming season. From what we can gather, it seems likely he will get nine games in the NHL, and the front office will then evaluate his play and make a decision on where he'll play from there on out. If he were to play ten games or more in the 2023-24 season, the first year of his entry-level contract would be spent. 
Leo Carlsson has spent the previous two seasons playing left wing for Orebro HK of the SHL. The Ducks and Carlsson himself, however, view him as a natural center. He is responsible and cerebral in the defensive zone and can support the puck, break up plays, and win battles low. He can provide offense both on the rush filling in lanes properly with precision timing to make himself available as an option and making quality reads with the puck on his stick. He is much more effective in the natural center role as the F3 forechecker, where he can read a breakout and kill a play higher in the zone than he is as an F1 forechecker causing chaos by pressuring the opposing defensemen on puck retrievals. On the cycle, his game is advanced beyond his years. Low in the offensive zone, he can extend plays with his ability to protect the puck, draw opposing defenders to him, and find teammates in the space he creates behind them. He is as natural a centerman as you will find in the world. He simply would benefit from more repetitions at that spot on the ice. Physically, he could stand to improve his explosion and minor edge work while skating to make him even more dominant in and out of tight spaces on the ice. 
Will the Potential John Gibson Trade Saga Conclude?
It has been reported (and not denied) that John Gibson has requested a trade out of Anaheim. Other things have been reported (and denied), which quoted Gibson as saying he's "not playing another game for the Anaheim Ducks." Wherever the truth lies, it seems John Gibson is on his way out of Anaheim soon…maybe. 
Though once thought of league-wide as an elite goaltender, John Gibson is now viewed as a risky option for teams in need of an improvement between the pipes. His contract is quite hefty (four more years with a cap hit of $6.4 million AAV), and teams are mostly trending toward decreasing the amount they are investing in the position. His traditional numbers have been less than stellar for the past four seasons (not a single season with a save percentage higher than .904), as have his underlying stats (-51.2 goal saved above expected via moneypuck.com). The numbers don't paint the entire picture, however. 
For the past four seasons, John Gibson has been playing a lot of hockey behind some of the worst defensive teams in the modern era of the NHL. The vast majority of the goals he has allowed, especially in 2022-23, were unstoppable. The number of goals the Ducks surrendered on backdoor tap-ins, cross-ice one-timers, seam passes, breakaways, screens, tips, etc., has been overwhelming. Gibson lets in very few goals where one mutters to themselves, "he should have had that." It's a luxury that not many teams have in their crease. Based on talent, John Gibson could still be considered borderline elite. 
The plan with Gibson this season seems to be "patience." The Ducks have hired a new head coach, Greg Cronin, who will look to implement a system where the team won't bleed high-danger chances at will as they have in the recent past. The roster has improved from a defensive perspective with the additions of Alex Kilorn, Radko Gudas, Ilya Lyubushkin, and Robert Hagg. If all things go according to plan (or close to it), Gibson will see his numbers increase naturally if he maintains the level of play he has provided throughout his career. This will hopefully restore his reputation around the league as a goaltender who, at the very least, can be relied upon and inspire several teams to consider trading for him. 
What Impact Will Greg Cronin Have?
On June 5th, 2023, Pat Verbeek appointed his first head coaching hire in his tenure when he selected Greg Cronin to man the ship in Anaheim for the foreseeable future. Cronin, 60, has been coaching in the NCAA, AHL, and NHL since the 1988-89 season and will look to make the most out of his first opportunity to head coach an NHL franchise after spending the last five seasons as the head coach of the Colorado Eagles of the AHL. 
At first glance, Cronin appears to be the kind of coach who will value culture and structure on and off the ice while demanding effort in all three zones of the ice surface. While he may bring those philosophies to the Ducks' bench, he also seems to be a student of the game. Reports of him watching countless hours of game film so he can study which systems work in specific situations indicate he is willing to learn and adapt his structure as he sees fit. Cronin also values individual player development and how to get his players to maximize their full potential. 
Greg Cronin gave an interview on the NHL Network's Sirius XM radio station and indicated he intends to start the season by deploying a man-to-man system in the defensive zone. With his Colorado Eagles in the AHL last season, he deployed a passive man-to-man structure, so a similar style in Anaheim can be expected. In a league where teams are prioritizing pucks out of the defensive zone by any means necessary and establishing a forecheck that can cause havoc deep in the offensive zone, the Ducks roster isn't quite built for that style, as seen with the system the coaching staff attempted to deploy last season. It will be worth monitoring how Greg Cronin plans to attack in transition, with that seemingly being a strength of players like Trevor Zegras, Ryan Strome, Mason McTavish, and Troy Terry. 
It isn't unheard of for a new coach to have a tremendous impact on a team that had previously underperformed in the year prior. Most experts and fans alike didn't predict the Anaheim Ducks to finish with the worst record in the NHL last season, mostly due to there being clear talent on the roster. It isn't expected that this team will perform a complete 180 and compete for a playoff spot, but playing meaningful hockey games into the New Year and through the All-Star break is well within reach as a goal in Anaheim. 
Will Any Rookies Have a Meaningful Impact in the NHL?
The Athletic had recently graded the Anaheim Ducks as having the number 1 prospect pool in the entire NHL. Many of those prospects are eligible to play professional hockey in the AHL or NHL in 2023-24. Star left-shot defensemen Olen Zellweger (20) and Pavel Mintyukov (20) will be entering their first year of professional hockey along with fellow left-shot defenseman Jackson LaCombe (22), left-shot defenseman Tyson Hinds (20), and center Nathan Gaucher (19). They'll join fellow youngsters who will likely be spending some time in San Diego for the Gulls of the AHL; Drew Helleson, Braden Tracey, BO Groulx, Jacob Perreault, Pavol Regenda, and Lukas Dostal. Then, of course, there is Leo Carlsson, the second-overall pick in the 2023 NHL draft, who will also likely get some games in the NHL and possibly the AHL. The question is…who, and how many, among these young players will have a significant impact in the NHL for the Ducks in 2023-24. 
Pat Verbeek has stated on several occasions that he intends to be very patient with the young talent in the organization. He feels it's best that the young players only be called up to the NHL when they are 100% ready and that he doesn't want them to be going back and forth between the NHL and AHL. It's becoming increasingly evident that despite their exceptionally high ceilings, Pavel Mintyukov and Olen Zellweger won't be seeing much, if any, time in the NHL in 2023-24. The same can be speculated about fellow 2003 birth-year players Nathan Gaucher and Tyson Hinds. A potential spot may have opened up down the middle due to an injury involving Ducks' center Isac Lundestrom. Lundestrom tore his Achilles tendon training in Sweden earlier this offseason. BO Groulx is the likeliest candidate to receive NHL games in his absence. On the blue line, it can be expected that Jackson LaCombe and Drew Hellion will get the first crack at the lineup as they are the oldest of the bunch and seemingly the most NHL-ready. Lukas Dostal will be in a position battle with fellow goaltender veteran Alex Stalock for the backup role in Anaheim behind John Gibson. 
There are opportunities for all of the above players to win a job at their respective positions in training camp and during the preseason. If Leo Carlsson, indeed, doesn't play the entire season in the NHL, it doesn't seem there is a Calder Trophy candidate in the Ducks organization for 2023-24. There is, however, a very real probability that Lukas Dostal, BO Groulx, Jackson LaCombe, and Drew Hellesonn play significant time in the NHL and take the next steps in their developments. 
Conclusion
There are plenty of storylines to track as the 2023-24 training camp and the preseason approach for the Anaheim Ducks. Plenty more will arise as the season goes on as well. The team is in a transition phase of their rebuild, and general manager Pat Verbeek has a clear vision for how he wants that process to proceed. The fun part will be watching it all unfold very soon!
On this episode of LAP, Jake, Chris, and Lou talk the latest downward spiral of Ducks hockey in the last week. They cover the struggles the team is facing and how the absence of some key players is greatly affecting this young Anaheim team. They comment on the Corey Perry news and give their opinions on officiating league wide. Finally, the episode is rounded out with some listener questions!Follow Late Arrivals Twitter: @latearrivalspodInstagram: @latearrivalspodFollow the hostsChris: @CJKChelConnor: @91_PlutyJake: @_JRobles71Louis: @Louiex37 Intro/ Outro done by Will Rice/ @pastorwillrice