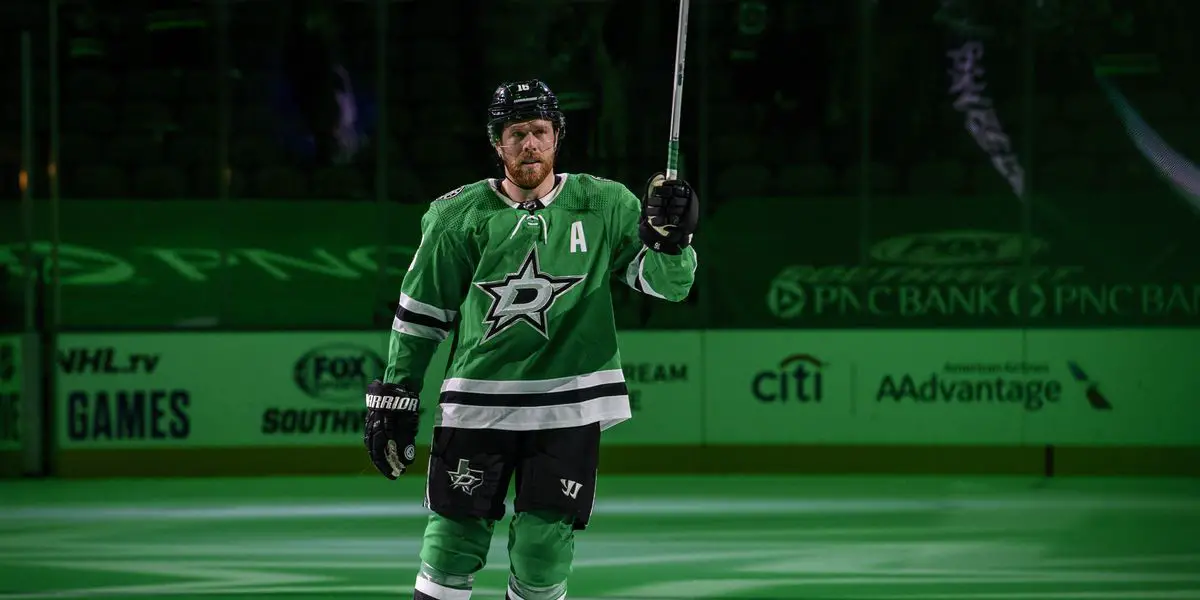 It's yet to be determined what New York Rangers General Manager Chris Drury will do as his first-ever deadline day in the big chair approaches. The Rangers are in a fascinating situation. Arguments for standing pat or going all-in are both reasonable. Here are five players that might fit what they're looking for.
*Many of these players have a Modified-No-Move-Clause, but I'm proceeding under the assumption they would welcome an exit out of losing organizations and a chance at a Cup run.
Top Targets
1. Joe Pavelski (expiring contract)
I've been banging the Pavelski drum for a few weeks now. This team has a lot of talent and a lot of leadership (despite no one actually wearing the C), but adding more of both is never a bad idea. The American-born center/winger is having one of his best seasons in an already remarkable career. At the break, he's sitting on 48 points in 43 games and is on pace to reach the 80-point plateau for the first time in his career. Whether he slots in as a winger or center on the 3rd line, his added scoring depth would give this lineup a balance all teams looking to make a deep run in the playoffs need. He's also a career 55 percent in the faceoff dot, which is something the Rangers have been missing for years.
Probable Cost: 1st round pick and prospect.
2. Phil Kessel (expiring contract)
Kessel's elite point production has stalled since he was sent out to the desert in the summer of 2019. So, what does the two-time cup winner bring to the table? It's tough to say if his game is gone or if his lack of production is just because he plays in Arizona on one of the worst teams/more dysfunctional organizations out there. The cost wouldn't be much, so the low risk could turn out to be a big reward if he finds his game playing with a more cohesive bunch.
Probable Cost: 2nd round pick (reported on the Cam and Strick Podcast)
3. Ben Chiarot (expiring contract)
This is another case where you just have to throw out this season's stats. Chiarot plays on a pretty awful Canadiens team that made a miraculous run to the Cup Final last summer only to see wheels fall off the wagon this season. However, during last year's cup run, his play still makes him an intriguing piece come April. There are two questions Drury has to ask himself. Is he better than Patrick Nemeth? The answer to that is an unequivocal yes. What's the price, and how much do you want to give up for a 30-game rental? Adding one defenseman has become a priority, with Nemeth taking extended leaves of absence from the team on and off the ice.
Probable Cost: 1st round pick.
4. Jakob Chychrun (4 years remaining x $4.6)
Most teams don't trade away top-pairing defensemen just as they're about to enter their prime. Then again, most teams pay their rent on time. Plagued by injuries early in his career, Chychrun seems to have put it all together. His numbers this season pale compared to the 41-point outburst that made him a household name last year. The only question will come down to cost. It should be noted that the Rangers have a trade offer on the table for Chychrun. What is in that deal is yet to be determined,
and we may never find out. I think Drury was just doing his due diligence on a great player entering the trade block. If the Rangers make a trade for a defenseman, I believe it will be a veteran with an expiring contract.
Probable Cost: Two 1st round picks, a prospect, a new arena, and Dolan's helicopter.
5. Mark Giordano (expiring contract)
The former Norris Trophy winner would bring veteran leadership to a young Rangers Blueline that only features one mainstay older than 24 years old (Jacob Trouba). Like many others on this list, Giordano is stuck on a bad team, and his numbers have suffered because of it.
Probable Cost: 1st round pick.

Honorable Mentions:
Claude Giroux:
While Giroux would be a fantastic addition, I find it hard to believe that Philly would trade their captain to the division rival. However, he might be a good idea in free agency if Strome walks. Expect the price tag to be different for the Rangers if they did entertain the idea.

Conor Garland:
It would be a great addition to the bottom 6 (assuming Kakko and Lafreniere are in the top 6), but I doubt Drury wants to take on a $4.95 cap hit for four more seasons after this year.

J.T. Miller:
The former Ranger has two years remaining on his contract that carries a very manageable $5.25 cap hit. The cost will be high as he's become a point-per-game player in Vancouver. He would be a great addition to this Rangers team.