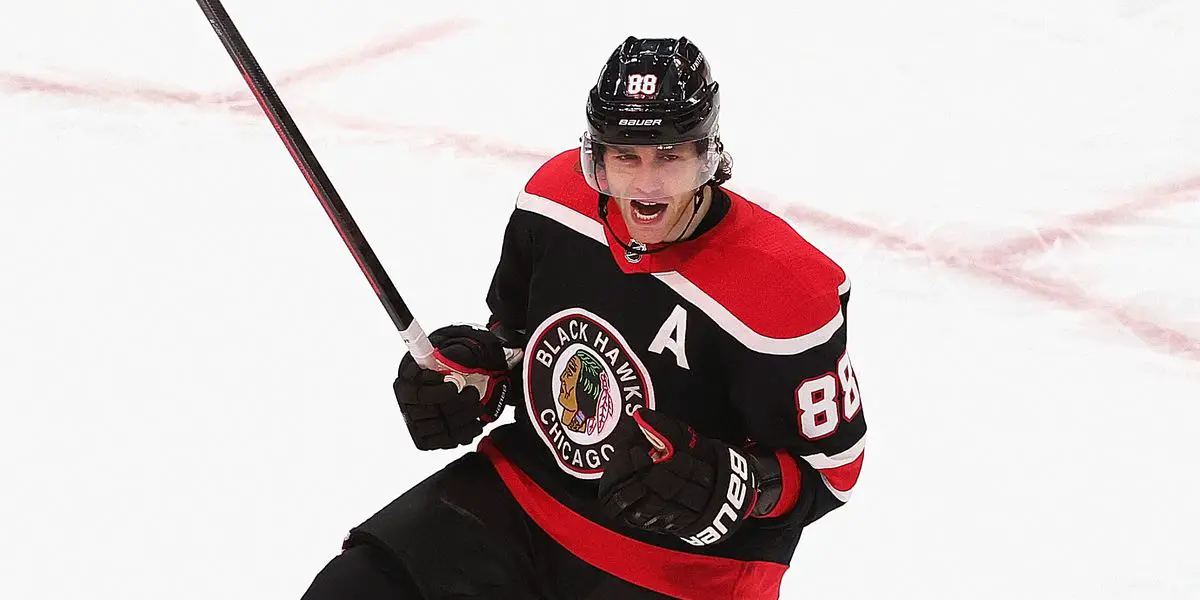 It's the best time of the year; HOCKEY IS BACK! With the start of the season upon, it may feel like a "lost" season already for the Chicago Blackhawks, but this is not the case. Kyle Davidson took over and tore the roster down to just nuts and bolts. On paper, the Blackhawks may have one of the worst rosters in the NHL. This may discourage Blackhawks fans, but it shouldn't! This is the time to jump on the train and enjoy the ride back to the top. Wins may be hard to come by for the Blackhawks, but there will still be plenty of reason for Blackhawks fans to celebrate and feel encouraged about the direction of this organization. 
There is a plan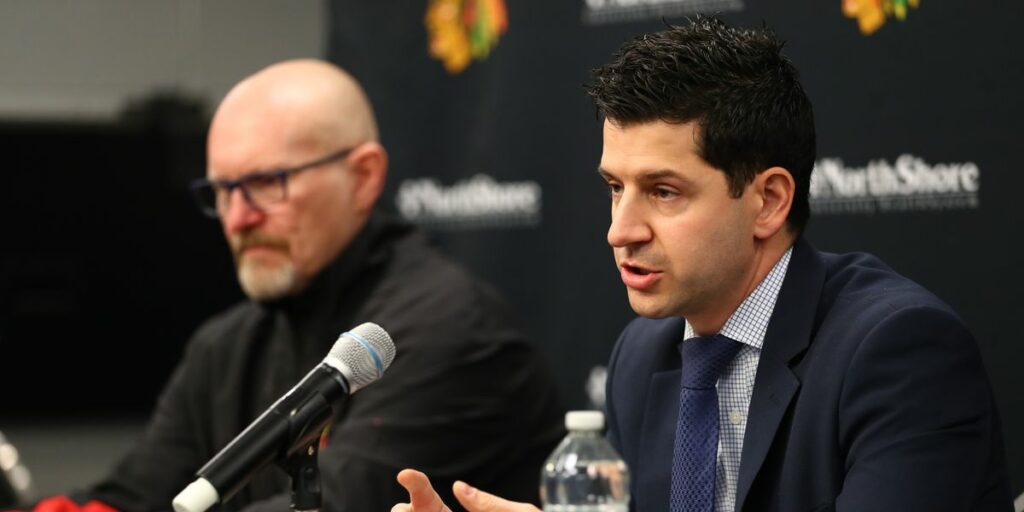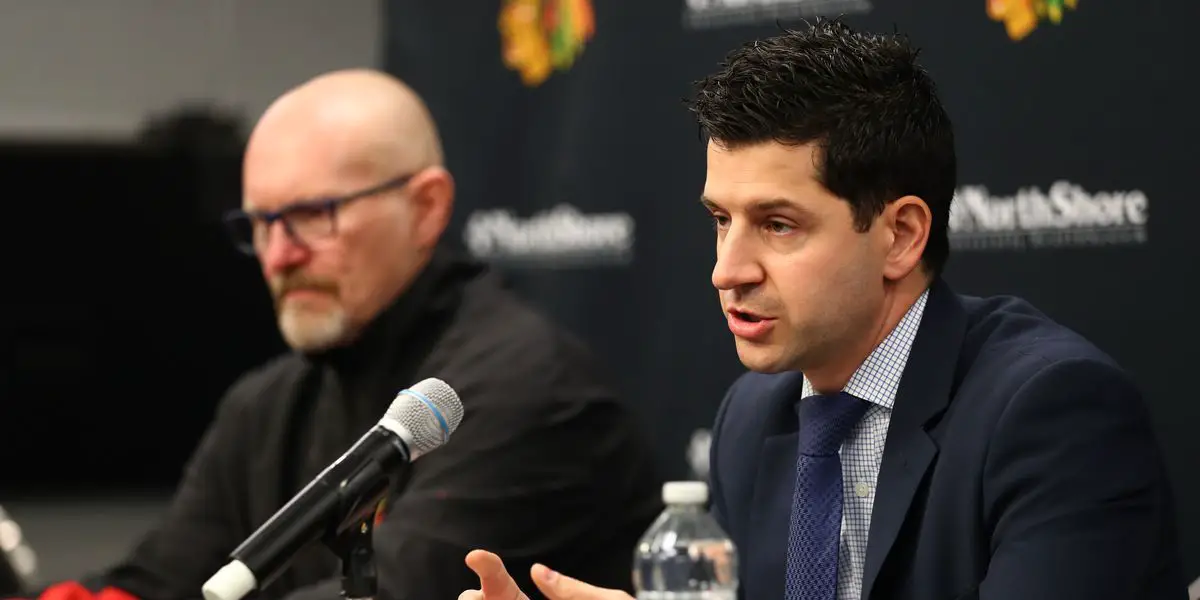 For the first time since the 2015 season, the Blackhawks have a General Manager with a future vision. It may be a plan that many fans don't like to hear, rebuild. But a rebuild is undoubtedly the correct direction for this team. Kyle Davidson also has shown he has the guts to trade away anyone. It does not matter if you are a fan favorite or a forty goals scorer. While it may hurt to see these players leave, Davidson collected three first-round picks (Korchinski, Nazar, and Renzel) and two second-round picks (Paul Ludwinski and Ryan Greene). Three third-round picks (Gavin Hayes, Samuel Savoie, and Aidan Thompson) in last year's draft, to go along with two first-round picks, Two second-round picks, and two third-round picks in the next two NHL drafts. Davidson also will have plenty of assets to offload at the deadline to acquire more draft picks. Davidson took a team with almost no "NHL" prospects to have a cupboard full of draft picks and multiple "NHL" prospects. Trust Davidson and trust the plan.
Lukas Reichel is that good!
Lukas Reichel is starting in the AHL, but Reichel will force the Blackhawks' hands. After putting up a point per game in the AHL, last season (56GP, 21G, 36A, 57P), Reichel is poised to dominate even more after spending the off-season getting bigger and muscular. Reichel struggled at times last season to win the board battles, but he should take a step forward after getting stronger. When the Blackhawks finally call Lukas Reichel up, expect him never to play a game in the AHL again.
The Prospect pool finally has NHL-quality prospects.
From players such as Alex Vlasic (who is poised to see a good amount of NHL games) to players such as Frank Nazar, the Chicago Blackhawks have a lot of exciting prospects for fans to follow. Of course, most of these players won't be wearing a Blackhawks jersey, but don't miss out on watching the growth of the future dynasty being formed. Players watch Landon Slaggert (Down the road playing at Notre Dame), Drew Commesso, Ian Mitchell, Frank Nazar, Kevin Korchinski, Samuel Savoie, and Sam Rinzel).
The race for last will come down to the wire.
The Blackhawks have gone all out to try to land Connor Bedard, but they aren't the only team with a horrendous roster, Arizona. The Coyotes will have a lot to say when it comes down to the best odds for Bedard. San Jose could also find itself closer to the bottom than most people think. Montreal just had the first overall pick and didn't add too much to the roster, and they should remain toward the bottom of the standings. And who knows how Torts and Philly will pan out? But when it is all said and done, the Blackhawks should find themselves with the best odds to land the next great superstar in Connor Bedard.
Patrick Kane and Jonathan Toews.
Who knows what their futures hold, so every Blackhawks fan better take in and enjoys these players for everything they have done and brought to the city and organization. Regardless if they both stay or are traded, fans should be tuning in to watch some of the greatest to ever pull on a Blackhawks jersey. Kane alone is worth watching. Even if you are not a Blackhawks fan, he will make jaw-dropping plays two or three times a game. And maybe, just maybe, Toews can find his old game or something that can resemble it. Either way, both players deserve standing ovations every night. But who knows, maybe this isn't the end, and they both stay.
Season 2 Episode 10: Is Patrick Kane The Greatest Blackhawks Player Of All Time
–
Cue The Dagger
In this episode, we discuss if Patrick Kane is the greatest Blackhawks player of all-time, Lukas Reichel's one NHL game, and his unbelievable shootout goal. We also break down Seattle's chances of making the playoffs, is hitting and fighting making a comeback? and much more NHL news and topics  #Blackhawks #ALLCAPS #NHL #SeaKraken #LetsGoBuffalo