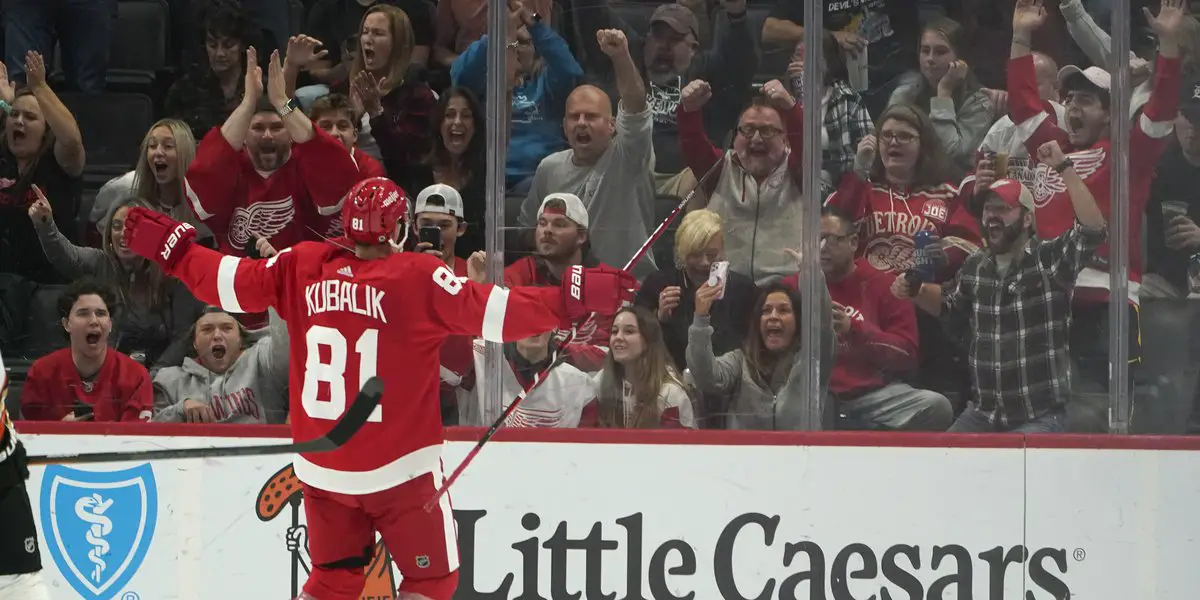 Dominik Kubalik's three-point game paced the Red Wings to a 5-1 victory over Anaheim on Sunday. Kubalik has eight points in four games since being moved up to the top line to replace the injured Tyler Bertuzzi.
On Monday, Oskar Sundqvist forced overtime with a last-minute goal to tie the game 4-4. Philip Danault scored the Kings overtime winner 1:12 into overtime. Adam Erne, and David Perron with a pair, scored Detroit's other goals. Ville Husso made 31 saves on 36 shots while in goal for the Red Wings.
On Friday, the Red Wings took a 3-1 lead into the third period before dropping a 4-3 overtime loss to Chicago. The Red Wings vowed that this was a learning experience and would be better prepared for Sunday. Pius Suter, Dylan Larkin, and Kubalik scored for Detroit. Alex Nedeljkovic made 25 saves on 29 shots.
Five Takeaways
The goaltending duo of Husso and Nedeljkovic have a 2.38 GAA and a .933 SV% to start the season.
Dominik Kubalik leads the Red Wings in scoring with eight points in five games.
Olli Maatta leads all Detroit defensemen in scoring with five points in five games.
Dylan Larkin and Filip Hronek lead the Red Wings with a +5 rating.
The Red Wings have five power-play goals in five games. The Red Wings success rate on the power-play is 23.8%, placing Detroit 15th overall.
Detroit remains a perfect 100% on the penalty kill. Only St. Louis and the New York Islanders also remain perfect when killing a penalty.
Moritz Seider picked up his first point of the season, a power-play assist, in Sunday's victory.
NOTES: 
After Sunday's win, the Red Wings were 7th in the league standings. …Besides Detroit, only three other teams (St. Louis, Pittsburgh, and Dallas) have not lost a game in regulation. …The Red Wings currently have a record of 3-0-2. The Red Wings have a goals differential of +8 after five games. ...Jordan Oesterle is the only Red Wings roster player who has not been in a game. Tonight, the Red Wings begin a stretch of four games in seven days to close out the month of October.
The Week Ahead
The upcoming week for the Detroit Red Wings includes three games in five days. The Red Wings will start the week playing on Tuesday at home against the New Jersey Devils. The game time is 7:00 PM ET. Detroit will have one day off before they travel to Boston for Thursday's 7:00 PM ET tilt with the Bruins. The Red Wings will return home for a Saturday evening affair with Minnesota. Game time is 7:00 PM ET at LCA.
In this episode, we recap the World Championships, highlighting Kubalik, Seider, Mazur. Next, we take a long look at the 2023 first round and which players will be available at 9th and 17th.