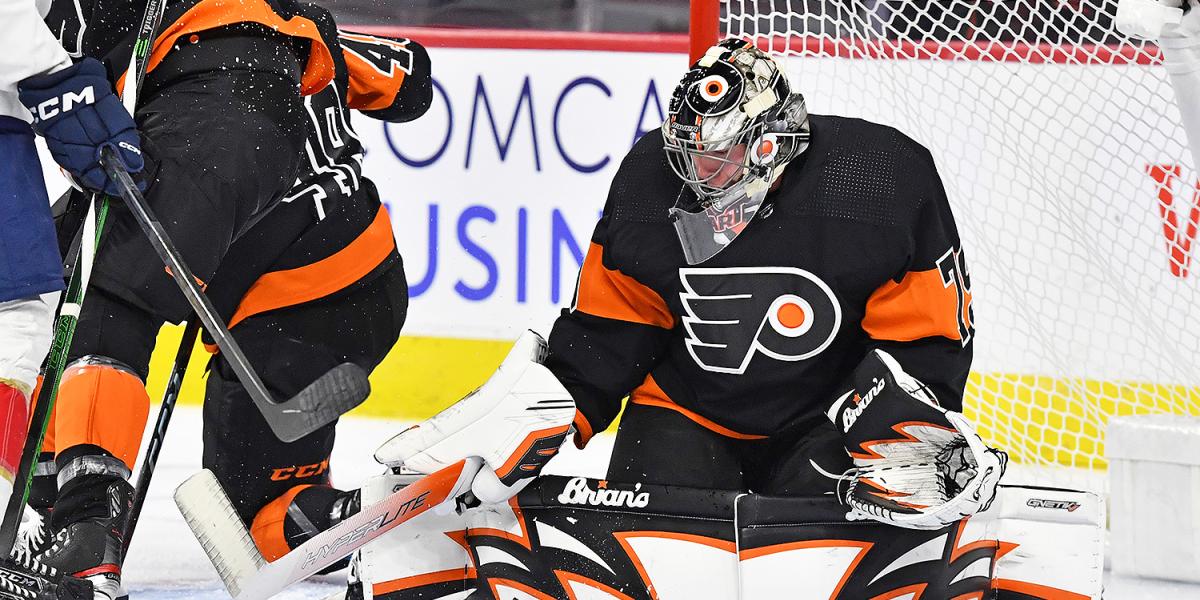 Goaltending development can be unpredictable at times. It can take longer for some goalies to progress to the National Hockey League. Netminders can be inconsistent. Some figure it out, while others never do. And some start hot in their rookie season and burst onto the scene. The latter was Philadelphia Flyers' goalie Carter Hart.
Hart was the 48th pick in the second round of the 2016 NHL Draft of the Flyers after showing tremendous potential with the Everett Silvertips of the Western Hockey League in the 2015-16 season when he posted a 2.14 goals against average (GAA) and a .918 save percentage. Hart would play two more seasons for Everett, his last season ending with spectacular numbers. The 6-foot-2 netminder was 31-6-3 with a 1.60 GAA and a .947 save percentage. The following season, Hart was with the Lehigh Valley Phantoms of the American Hockey League for 18 games before moving on to the NHL to stay.
In 2018-19, Hart was 16-13-1 with a 2.83 GAA and ninth in Calder Trophy voting for the league's top rookie. But in year two, Hart became a viable number one goaltender in the NHL. The Sherwood Park, Alberta native, was 24-13-3 that season with a 2.42 GAA, and in the postseason, Hart was 9-5 with a .926 save percentage. Carter Hart had arrived, and the Flyers seemed to have their franchise goalie. But as goalies often experience, Hart would begin to struggle in the pandemic season of 2020-21 when his goals against ballooned to 3.67. At the time, fans and media had wondered if the second-round pick was a flash-in-the-pan. Had Hart lost it, and would he recover? Last season, the Flyers struggled mightily, but Hart showed signs of rebounding by starting 45 games.
This season has been about rebuilding with new head coach John Tortorella. Hart, who is just 24 years old, has seen a resurgence early in the season, as have the surprising Flyers. Philadelphia is 5-2-0, and Hart is undefeated in five starts in net and has been terrific with a 2.00 GAA and an impressive .947 save percentage. It hasn't been easy for Hart, who has faced 188 shots for an average of 37.5 shots per game. The best performance was Hart's last game against the Florida Panthers on Thursday night, a 4-3 win in which the netminder saved 48 of 51 shots. Hart has been a massive factor in Philadelphia's excellent start to the season.
When Hart struggled, former coach, Alain Vigneault questioned the goalie's work ethic and willingness to work on his game. Tortorella has been a good influence on Hart from the beginning, and the poise and confidence is back in the young goaltender's game because of it.
Hart will be tested in the coming days as the Flyers face Carolina at home Saturday, then three road games against the New York Rangers, Toronto, and Ottawa before returning home to play St. Louis. The Flyers will be tested, as will Hart. But unlike the last couple of seasons, Carter Hart is up for the challenge.
Season 2. Episode 38. Special Guest Terrence Wallin
–
Bruins Benders Podcast
Maine Mariners Coach Terrence Wallin makes a return visit to recap the season. Should the Bruins make room for Tyler Bertuzzi? Will the Bruins move some core pieces? I guess there is more time for golf and more!