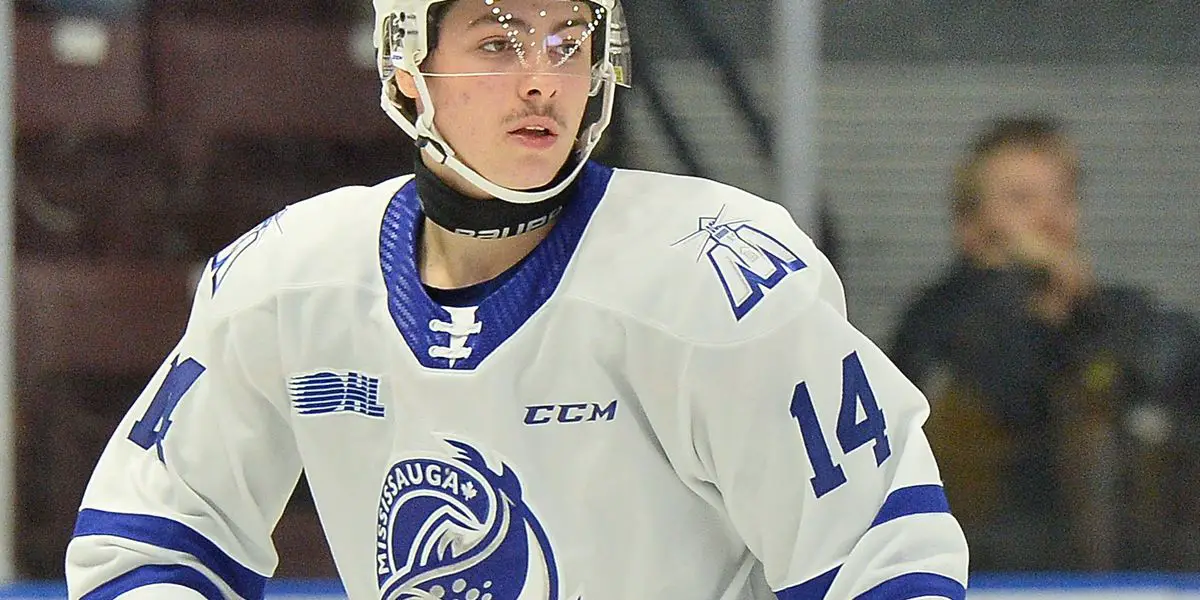 In the final year of his Ontario Hockey League career, Mississauga Steelheads forward James Hardie is making some noise. After being invited to both the 2021 Toronto Maple Leafs and the 2022 Boston Bruins prospect development camps, Hardie is still fighting to reach the next level. This season with the Steelheads, it's safe to say that Hardie's play should turn some heads. 
After a trade deadline that saw Mississauga deal away National Hockey League prospects like Owen Beck, Luca Del Bel Belluz, and Ethan Del Mastro, it was clear the direction the franchise was heading in. However, due to the electric season from the 21-year-old, the Steelheads still remain competitive, having won four of their last six games. After unloading some serious talent, James Richmond's group has seen multiple players step up and fill the voids left after the trade deadline. Honorable mentions to players like Luke Misa and Angus MacDonell, who have stepped up, but nobody has made a larger impact than James Hardie.
Last weekend the Steelheads played three games; Mississauga was victorious in two of them but fell 6-4 to Barrie on Thursday night. James Hardie had five goals and two assists for seven points through these three games. The overage forward had a spectacular weekend and one that I got to see live. After making the trip down to Paramount last weekend and getting an in-person look at some of this year's draft eligibles, I couldn't help but be impressed with the growth in Hardie's game. 
Through forty-nine games this season, Hardie has thirty-five goals and thirty-four assists for sixty-nine points. The Barrie, Ontario native is well on pace to smash his OHL career-high and officially become the franchises leading scorer. If that's not enough for you, Per Geoffrey Brandow, the 21-year-old forward has 19.7% of the Mississauga Steelheads goals this season and the league-leading percentage of points for a team at 14.7%. 
Predicting what the next step is for an overage player can be difficult. However, I wouldn't be surprised if Hardie finally reached the next level. For a player who's always had a strong release with good accuracy, it's no surprise Hardie has scored at all levels. However, some feel his skating ability keeps him from reaching the next phase. The reason I feel like Hardie can finally take that step is because of how much growth you can see in his game.
The 21-year-old has always had strong puck-handling ability, but his skating has looked like it's taken a step. This is normal; some players take a little more time to perfect their stride, and it looks like that's the case with Hardie. I wouldn't say his skating is his strength, but I think this is the best version we've seen from the 21-year-old.
I can't lie, I'm a massive fan of what James Richmond and the Mississauga Steelheads management did at this year's trade deadline. The franchise looks well set up for the future. Players like Jack Van Volsen and Porter Martone are only just some that are going to be fun to watch. However, there's no denying the electric season from Hardie and how much he means to this group. I'm rooting for the 21-year-old and highly recommend tuning into some Steelheads action and get a look for yourself. National Hockey League General Managers should definitely take note, and something tells me they already have. 
Thanks for reading; for more hockey content, follow me on Twitter at ITR_Anselmo!
WELCOME BACK TO LEAFS LATE NIGHT! Presented by Inside The RinkRoscoe / Galaxy Biehn – Dubas Out?!?- Remember All The Good Times We Shared- I Don't Love Our Options- Matthews Next Deal?- Keefe's Fate- AI MascotsSPORTS! IS FUNMERCH IS AVAILABLE!JOIN OUR DISCORD!Remember to follow us on Twitter @LeafsLateNight & IG @LeafsLateNightCheck out Mike, Josh, and Nathan's articles on the Leafs + many more! insidetherink.com