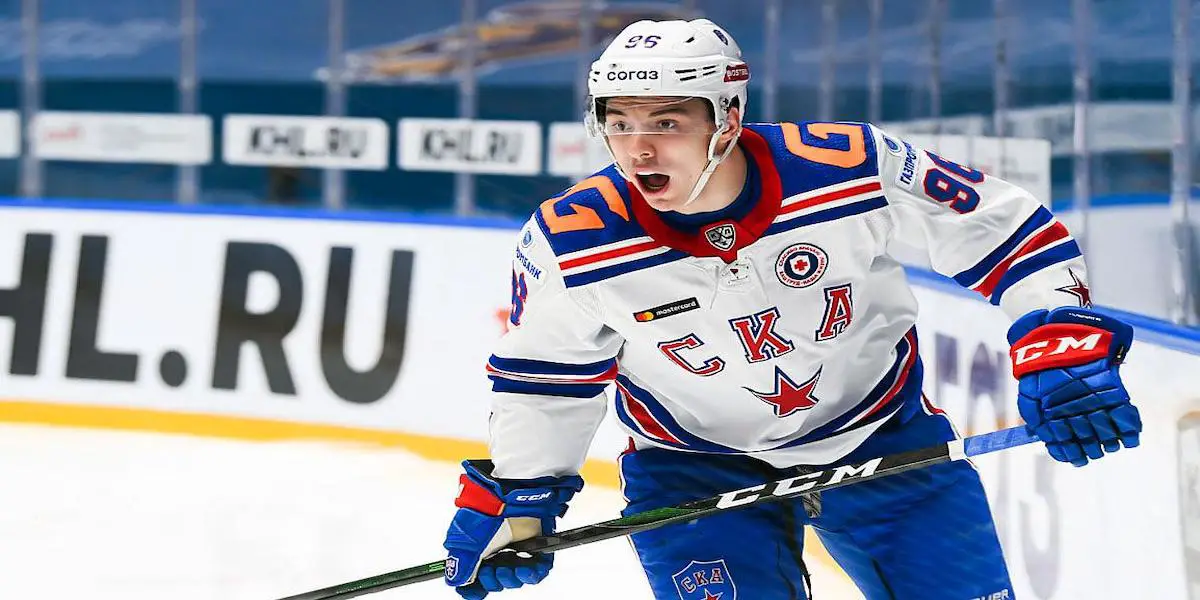 With the Bruins' roster filled with many question marks up and down the lineup, this off-season, general manager Don Sweeney will have to make some splashes in free agency or via trades if they want a chance to compete next season. With their defense and left-winger Brad Marchand banged up from offseason surgery that will keep them sidelined for four to six months and the status of Patrice Bergeron still unknown, it's time for the Bruins to make some moves.
Even though free agency for NHL players doesn't officially begin till July 1st, these weeks leading up to that can be used to meet with free agents outside the NHL. The biggest name this off-season for non-NHL free agents is Andrei Kuzmenko.
According to TSN's Darren Dreger, he is reporting that Andrei Kuzmenko will be meeting with four NHL teams this week. It has been narrowed down to two Canadian teams and two from the U.S. Those teams are the Edmonton Oilers and Vancouver Canucks, while the two US teams are a mystery leaving much to be wondered about.
The 26-year-old Russian native is projected to be the next Artemi Panarian, who took a similar path to the NHL back before the 2015-2016 season when he joined the Chicago Blackhawks. This past season Kuzmenko played for St. Petersburg SKA of the KHL, where he appeared in 45 games, collecting 20 goals and 33 assists.
The right-shot left-winger brings versatility as he is used to playing on his off side, allowing the Bruins to flip flop either side where they need help the most. While we most likely won't know the two U.S. teams until the meetings occur. If Don Sweeney is able to pull this off, it's the first step in the right direction of fixing what has been the most dysfunctional off-season for the Bruins in years, if not decades.
Episode 51: Interview w/Jack Ahcan Episode 51 is back in action talking about the New York Paingers ITR bet, Can Buffalo Sabres make the playoffs? Is Vancouver in the wrong on the Boudreau treatment? Is Tocchet the right guy? Is Daryl Sutter the last Dinosaur in the NHL?YouTube: https://www.youtube.com/@insidetherinkTwitter: https://twitter.com/CueTheDuckBoatzFacebook: https://www.facebook.com/Cuetheduckboats/Thanks for listening! Please rate and review our show on your favorite listening platform. Check out our partner's website at www.insidetherink.com for all your latest hockey news. Also, catch all of the games in this year's NHL season by signing up for ESPN+ at Insidetherink.com/ESPN