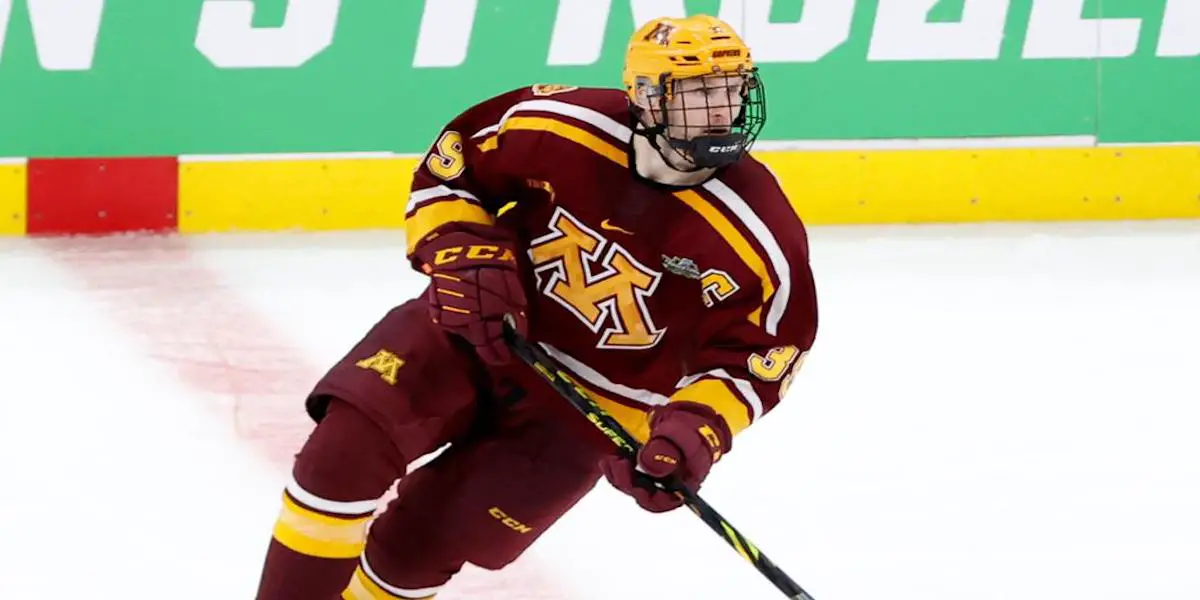 What a rollercoaster of emotions collegiate athletes are sometimes put through. Over the weekend, now former Minnesota Golden Gophers Matthew Knies and Brock Faber were playing for an NCAA men's ice hockey National Championship at the Frozen Four in Tampa, Florida. Then, before the sting of defeat could even fully set in, both had to make decisions about their futures: stay in school and go for another title, or go pro and start getting paid to play the game they love. Well, without much more to prove at the college level, both players signed their pro deals and will head to their respective NHL franchises immediately.
The 20-year-old Matthew Knies got to represent Team USA at the Winter Olympics and the IIHF World Junior Championships. He was voted Big Ten Player of the Year and was also a finalist for the Hobey Baker (Michigan's Adam Fantilli rightfully won). I'm sure he would've loved adding a national title to his cupboard of accolades, but it was not to be, and now the Toronto Maple Leafs will get a quick glimpse at the power forward, as possibly as soon as Monday night before deciding if he can help in their playoff run.
I have a hard time envisioning Knies getting a lot of run for Toronto in the playoffs unless there is an injury or someone's game goes south. No team faces the pressure the Leafs do from the local media and their fans; throwing a kid right into the frying pan might not be the best idea, and their lineup is already pretty solid. The Leafs will also be looking to get out of the first round for the first time since 2004 against a very experienced Tampa Bay Lightning squad, eek.
Drafted 57th overall by the Leafs at the 2021 NHL Entry Draft, the 6'3″, 235-pound Knies is a power forward in every sense of the word. He plays a hard, heavy, two-way game and uses his frame to his advantage, and while he may not be the best skater, with the shot he possesses, that may not matter much, and his skating can always be improved. Knies also has no problem going to the dirty areas of the ice, and from what I saw during the Frozen Four, he is a tremendous back-checker; these kinds of skills bode well for his future as an NHL'er.
The other Golden Gopher leaping into the NHL is the former team captain and Minnesota native Brock Faber. He signed his 3-year entry-level deal with his boyhood club, the Minnesota Wild, and will immediately burn a year off that deal as he has already joined the team in Chicago. He is expected to make his NHL debut Monday night as the Wild look to rest players before the playoffs and get a look at Faber. Like Knies, I don't know how much Faber adds to an already potent Wild lineup, but come playoff time, you can never have too many healthy and capable defensemen.
Originally drafted 45th overall in 2020 by the Los Angeles Kings, the 20-year-old Faber was dealt to the Wild in 2022 as part of the deal that brought Kevin Fiala to LA, talk about a dream come true for a kid who grew up a Minnesota fan. Faber is a solid two-way defenseman who is a smooth skater that brings loads of leadership and big-game experience, having represented Team USA at this past Winter Olympics and won a gold medal at the 2021 IIHF World Junior Championships. He is also a two-time Big Ten Defensive Player of the Year and was selected to two All-Big Ten First Teams.
While Faber is known as a shutdown defender who uses that tremendous skating ability to keep the opposing team in check, he did add more to the offensive side of his game this year by basically doubling his stats from a season ago. In 38 games this year, the young defensemen scored four goals and added 23 assists for a total of 27 points, all career highs by a longshot. The Wild will certainly hope to continue to grow that side of the game, and if they do, Faber could be anchoring their defense for years to come.
Where There's a Woll, There's a Way
–
Leafs Late Night
WELCOME BACK TO LEAFS LATE NIGHT! Presented by Inside The RinkRoscoe / Galaxy Biehn – An Injury Away From– Klingbroke- Underperforming?- The Perry Sitch- BOGM UpdatesNEW MERCH IS AVAILABLE!JOIN OUR DISCORD!Remember to follow us on Twitter @LeafsLateNight & IG @LeafsLateNightCheck out Mike, Josh, and Nathan's articles on the Leafs + many more! insidetherink.com