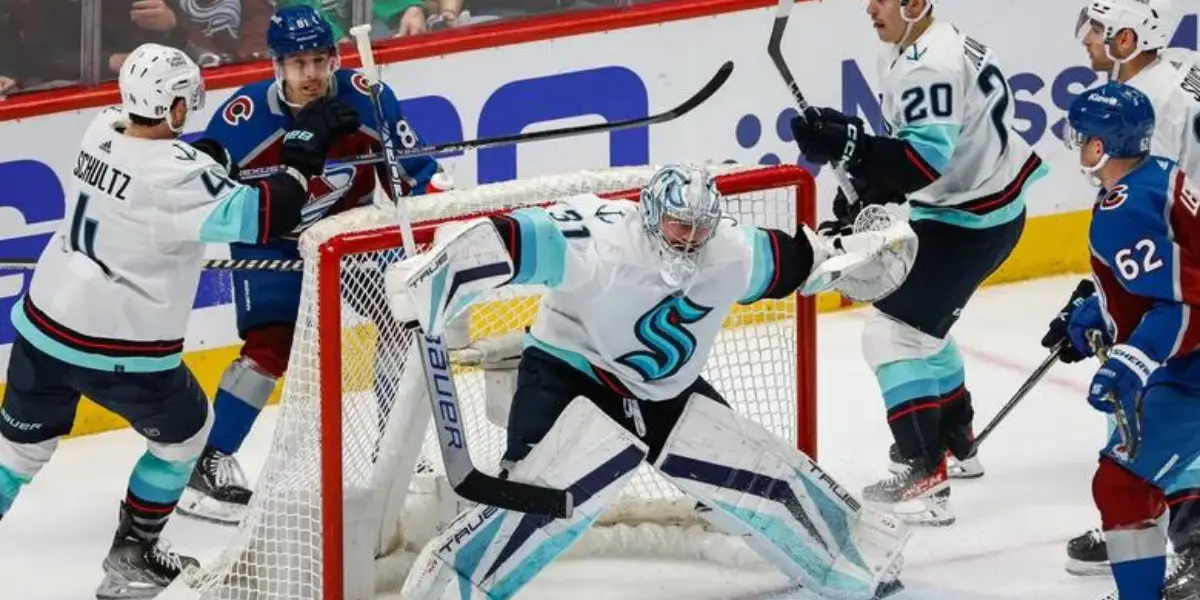 Colorado faces off against Seattle on Thursday night in Game 2 of the First Round of the 2023 Stanley Cup Playoffs.
COLORADO AVALANCHE (0-1) VS SEATTLE KRAKEN (1-0)
7:30 PM MT | BALL ARENA DENVER, COLORADO
The Colorado Avalanche look to bounce back and even the series as they battle the Seattle Kraken in Game 2 of the First Round of the 2023 Stanley Cup Playoffs. Seattle currently leads the best-of-seven series 1-0. 
GAME 1 RECAP
Seattle leads the series 1-0 after winning against Colorado 3-1 on Tuesday night at Ball Arena in Denver, Colorado. Mikko Rantanen scored his 24th career playoff goal to make it in the top ten on the franchise's postseason goals list as he scored his first goal of the 2023 postseason. Nathan MacKinnon and Bowen Byram were credited with the assists on the goal to bring their career playoff point totals to 94 and 10, respectively. Ben Meyers and Denis Malgin both made their playoff debut in the game. In net, starting Goalie Alexandar Georgiev made his first-career playoff start, making 27 saves on 30 shots as he made his first postseason appearance since 2022 as a member of the New York Rangers. Erik Johnson equaled his postseason career-highs with six hits and five blocked shots.
For the Kraken, Eeli Tolvanen, Alex Wennberg, and Morgan Geekie all scored at even strength. Between the pipes, former Avalanche netminder Philipp Grubauer made 34 saves on 35 shots for the win.
In Game 1, Colorado went 3-for-3 on the penalty kill and limited the Kraken to just two shots while being on the disadvantage. Seattle went 2-for-2 on the PK.
Mikko Rantanen and Nathan MacKinnon lead the Avs in faceoff-win percentage in Game 1, helping Colorado go 31-for-55 on the night.
GOALTENDING MATCHUP
On Tuesday night, Georgiev made his first-career playoff start and third playoff appearance in Game 1. Netminder made 27 saves on the 30 shots that came his way. Georgiev finished the 2022-23 regular season with a 40-16-6 mark, along with a .919 save percentage and a 2.53 goals-against average.
Grubauer started in his 34th postseason appearance on Tuesday, and the first for Seattle, as it was the team's first game in franchise history. The ex-Av made 34 saves in the victory. Grubauer earned a 17-14-4 record in the 2022-23 regular season, with a .895 save percentage and a 2.85 goals-against average.
Players to watch for:
Kraken forward Alex Wennberg scored his first-career playoff game-winning goal and added an assist in the game. 
Kraken forward Morgan Geekie found the back of the net in his playoff debut.
Mikku Rantanen continues his scoring success from the regular season by recording his 24th-career playoff goal in Game 1.
QUOTE OF THE GAME:
"Just overall, it felt like sometimes, at points during the game, we didn't have our legs, especially in the d-zone. I think a big trait of our team is quick to contact, and I felt like, especially us as a d-core tonight, [we] weren't quite there. It's one game, and we move on, learn from it. I think there's a lot of good things that happened, but at the same time, every individual knows we can give a lot more here." – Colorado defenseman Cale Makar on Game 1
Quote Credit-Cameron Kelly @Avalacnhe / ColoradoAvalanche.com
The boys are back after a long break but have plenty to talk about as the playoffs are in full swing. We go series by series, looking at how teams have fared so far and who will come out on top. Thanks for listening! Please rate and review our show on your favorite listening platform. Check out our partner's website at www.insidetherink.com for all your latest hockey news.