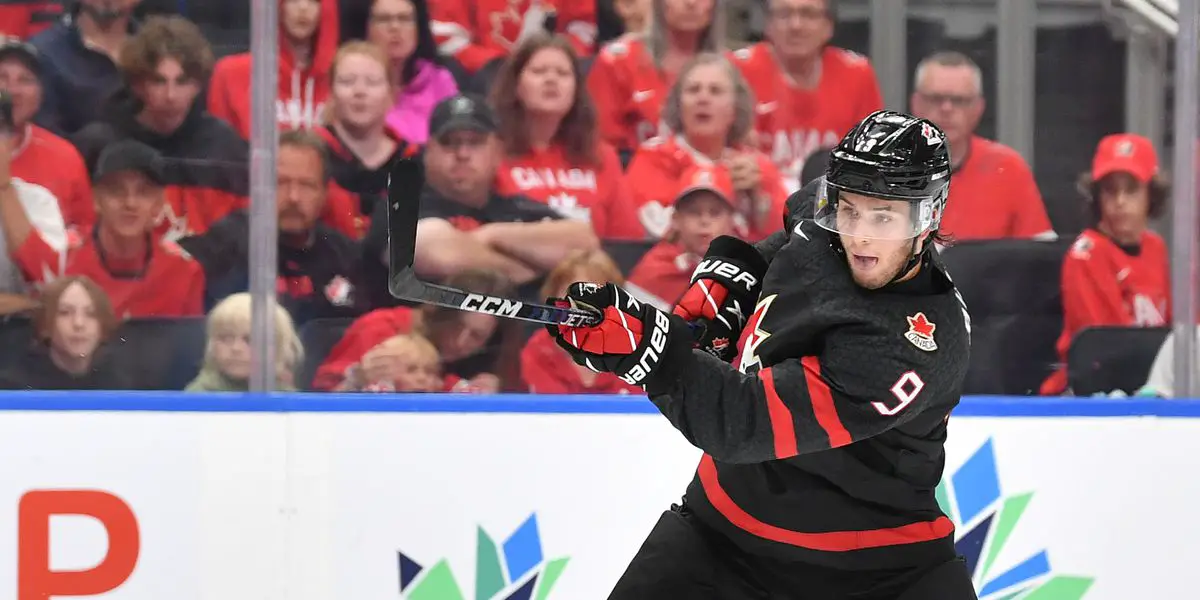 Tonight at 6:30 pm EST, one of the best rivalries in hockey will get underway! For the first time in the 2023 World Juniors, Team Canada will take on Team USA in the semi-final! Both teams have some of the best prospects in the sport, going head-to-head for a shot at the gold medal. You can't script it much better than this, a classic battle that makes these tournaments so special. On a cold and wintry night in Halifax, buckle up because it's going to be one crazy ride! 
Team Canada comes into tonight's game after defeating Team Slovakia 4-3 in overtime on Monday night! An absolutely magnificent game-winner by the 2023 NHL Draft eligible forward, Connor Bedard was the difference maker. A game where Team Slovakia really put in the work, almost stealing it from the Canadians, but couldn't stop Bedard in overtime. Team Canada finished second in Group A with a record of 3-0-0-1. Canada's tournament started off with a disappointing opener. Since then, though, the team hasn't lost a game. During Team Canada's 4-game unbeaten run, the Canadians have scored a ridiculous 31 goals in four games. Thanks to an offense that has Connor Bedard, Team Canada needs to find more consistency from the rest of the lineup. What Bedard has done in this tournament has been insane. However, in elimination games such as this one, it's important that you get depth scoring if you want to be successful. As for the goaltending of Team Canada, Thomas Milic is expected to get the start again. Milic has faced a ton of criticism at this year's tournament. However, after his most recent performance, it might not be fair. Milic made a number of big time clutch saves to keep Canada alive and especially that sequence in overtime where Slovakia forward Adam Sykora almost scored. It'll be interesting to see if Canada's coaching staff will give more ice time to forward Owen Beck tonight. Beck played two shifts against Slovakia while drawing a penalty. Beck has been solid for the Steelheads in the OHL this year and did well in his limited ice time on Monday. The Canadians will need to have a fast start and keep their structure the full sixty minutes if they want to beat this strong American side. 
Team USA, who finished first in Group B with a 3-0-0-1 record. Expect a highly skilled group with some real offensive punch. Highlighted by 3rd overall draft selection Logan Cooley, the United States have tons of hockey's top prospects. Names like Cutter Gauthier, Rutger McGroarty, and Luke Hughes surely will make an impact tonight. Team USA beat the Germans 11-1 on Monday night and have looked good in most of their games. They did however, have one stinker, which came against Team Slovakia, where they lost 6-3. St.Louis Blues 2022 1st-Round pick Jimmy Snuggerud has been one to watch for so far. The 18-year-old, who plays on the USA's top line, has 10 points in 5 games. Snuggerud creates opportunities for his linemates and is strong in possession. Not one to rush opportunities and really has an excellent understanding and awareness of the game. As for Team USA's goaltending, expect Trey Augustine to get the start. The 17-year-old goaltender has a 1.36 goals against average, and a .938 save percentage through 4 games. Augustine is a draft-eligible prospect next June, and his strong play has certainly got him some buzz. Team USA certainly has a strong roster on paper and looks to give Canada a real test. I expect the United States to play a strong game and utilize some of the size in their lineup, especially against Bedard. 
As for predictions, I'm going with Team Canada to win this one 5-4. Despite the strong roster of the United States, I can't count against Connor Bedard. It'll be a great game with lots of opportunities! Goaltending might be a disadvantage for the Canadians in this one, but don't count out Milic. Thomas was clutch in Monday night's performance and could be the building block moving forward. If Team Canada doesn't clean up the sloppiness in the defensive zone, this one could slip away early. Team Canada needs to have a strong start and take advantage of the power-play opportunities when given. 
Thanks for reading! For more hockey content, follow me on Twitter at ITR_Anselmo. Enjoy tonight's game!
WELCOME BACK TO LEAFS LATE NIGHT! Presented by Inside The RinkRoscoe / Galaxy Biehn – Dubas Out?!?- Remember All The Good Times We Shared- I Don't Love Our Options- Matthews Next Deal?- Keefe's Fate- AI MascotsSPORTS! IS FUNMERCH IS AVAILABLE!JOIN OUR DISCORD!Remember to follow us on Twitter @LeafsLateNight & IG @LeafsLateNightCheck out Mike, Josh, and Nathan's articles on the Leafs + many more! insidetherink.com