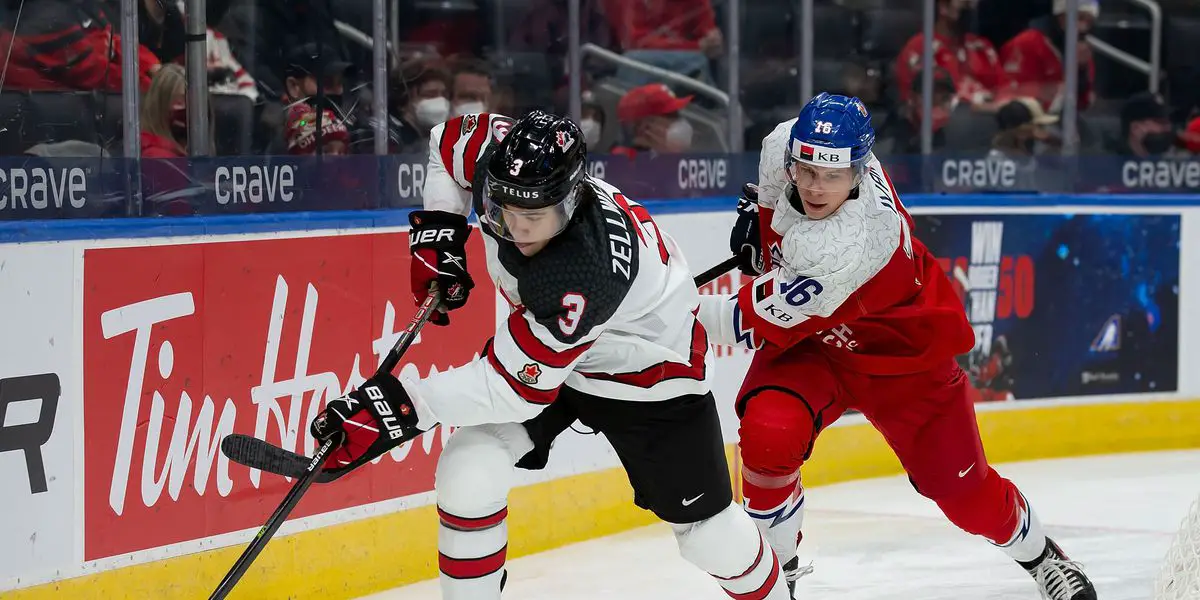 After all the upsets, the goals, and saves, it's finally that time! Tonight at 6:30pm EST Team Canada will take on Team Czechia in a rematch for the gold medal! The last time these two sides met was in the opener, which saw Czechia victorious 5-2. Tonight Team Canada looks for revenge as the quest to win gold on home soil all comes down to tonight. After an electrifying win for both sides yesterday in the semifinals, expect one crazy game here tonight.
Team Canada comes into this one tonight, winning five straight after their loss to this same Czechia side. Since the loss, Team Canada hasn't nearly looked like the same group from the opener. Team Canada's offense is the reason for the squad's unbeaten streak, but after the last game vs. the United States, it's hard not to focus on Canadian goaltender Thomas Milic. After an outstanding performance from the 19-year-old, Milic will look to carry that momentum into tonight's game against Czechia. Milic was clutch shutting down the United States on Wednesday night, and arguably the biggest reason they won. If Team Canada can get the same goaltending they did last night, it's hard to imagine a repeat of what happened in the opener. Team Canada is at their best when the team gets its secondary scoring; players like Joshua Roy and Adam Fantilli were important in the win over the United States on Wednesday. Having a potential superstar on the roster in Connor Bedard is a luxury. However, relying on Bedard's heroics to have group success isn't a great recipe. Team Canada will look to get players like Dylan Guenther and Shane Wright scoring at a higher rate on even-strength play. Both have been good for the Canadians in the tournament so far, but in a game like this, you're going to need your full lineup and not just rely on special teams opportunities.
As for Team Czechia, a roster that's highlighted by Columbus Blue Jackets top prospect David Jiricek! Expect a hungry, aggressive and determined group out there tonight. Czechia has definitely been the team to watch at this year's tournament. After getting great goaltending from Tomas Suchanek, strong offensive production, and sound defensive play from the whole group, this will be quite the test for the Canadians! Suchanek comes into tonight's game with a 1.30 goals-against average and a .938 save percentage through 6 games. The undrafted 19-year-old goaltender will surely get some NHL buzz after the tournament concludes. The last time Team Czechia made the World Juniors gold medal game was in 2001, after winning back-to-back tournaments in 2000 and 2001. Since then, it's hard to imagine a better Czechia group, a roster that has so many returning players from last year's tournament mixed in with all the talent.
Czechia forwards Matyas Sapovaliv, and Jiri Kulich have been a huge reason for Czechia's success. Sapovaliv is an 18-year-old forward that's so dangerous in the offensive zone. Displaying a unique ability to slow down the game and taking advantage of opportunities opponents give up is what makes him such an intriguing prospect. This season in the OHL with the Saginaw Spirit, Matyas has 30 points in 30 games. As for Jiri Kulich, a late 1st-Round pick by the Buffalo Sabres, Kulich has been clutch for the Czechs. The 18-year-old forward has six goals and two assists for eight points through six games for Czechia at the World Juniors. Kulich also scored the team's most important goal at the tournament so far, a late overtime winner in the semi-final against Sweden yesterday! Team Czechia will look to keep their game simple tonight and take advantage off the rush against Team Canada. If Canada fails to close gaps quickly again vs. Czechia, don't be shocked Czechia scores a good amount.
As for predictions, I'm taking Team Canada to win tonight's game 2-1! As I've said before, counting against Connor Bedard is a dangerous game. The 2023 Draft eligible forward should have quite the spark playing in what most expect to be his last game in the World Juniors tournament. Team Canada should be hungry for revenge with a group as talented as they are; if they can get the same goaltending from Milic they did vs. the United States, I expect them to be successful. Be aware of the talent Team Czechia possesses, though; they can seriously burn you and definitely cause severe chaos if you let them.
Thanks for reading! For more hockey content, follow me on Twitter at ITR_Anselmo. Enjoy tonight's game!
So Nice, It Ended Twice feat. Marty Zylstra
–
Leafs Late Night
WELCOME BACK TO LEAFS LATE NIGHT! Presented by Inside The RinkGalaxy Biehn / Marty Zylstra of Sports! Is FunCheck out Marty's Music- Lucky To Be Good, Good To Be Lucky- Mitch Marner Is Underrated- Joseph Woll Remembers.- Gregor's ArkNEW MERCH IS AVAILABLE!JOIN OUR DISCORD!Remember to follow us on Twitter @LeafsLateNight & IG @LeafsLateNightCheck out Mike, Josh, and Nathan's articles on the Leafs + many more! insidetherink.com