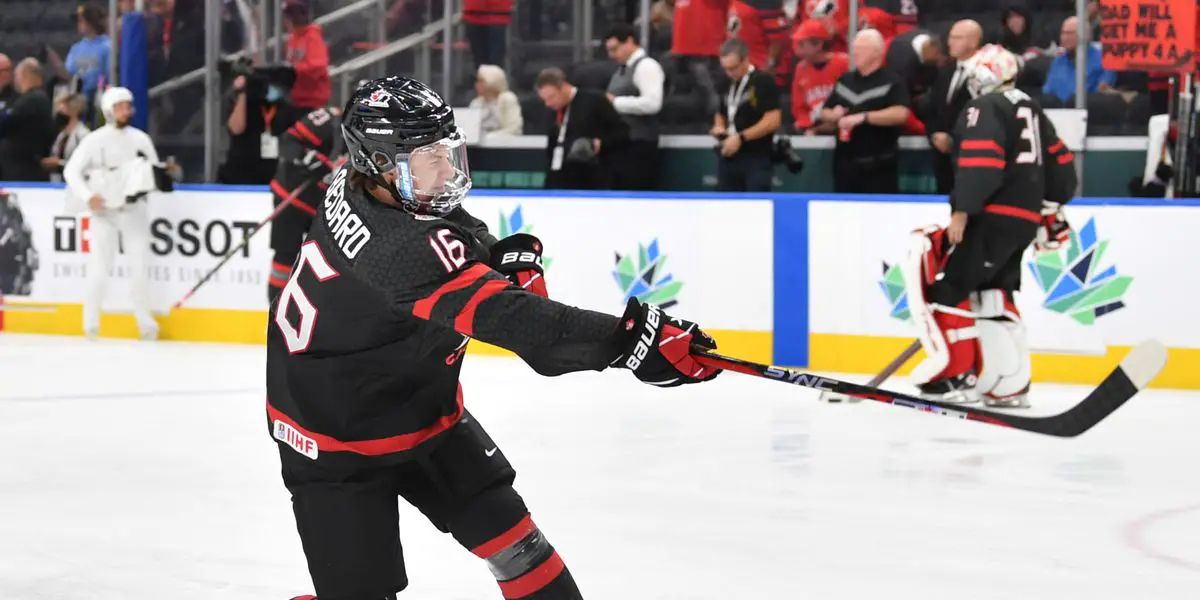 After a disappointing opener for Team Canada on Monday night, the boys are finally back in action tonight Vs. Germany! Primed and ready for revenge, Team Canada looks to get back on track against a German side that's also looking to do the same. Team Germany lost a close one in their opener yesterday 1-0 to Team Sweden. With both squads starting their campaigns with a loss, this could make for a very entertaining matchup between the two! Let's dive deeper into tonight's game between Team Canada and Team Germany! 
As frustrating as Team Canada's opener was, you can't count this team out just yet! A squad so richly filled with talent, this could have been the reality check Team Canada needed. Nerves could have been a factor, but there were too many bad defensive lapses and not enough determination. Team Canada often looked like they overcomplicated their game at times instead of keeping it simple, all things that are fairly understandable when you take a group of kids this talented and throw them onto a roster. In this one tonight, expect some changes to the lineup. Head Coach Dennis Williams said that there will be "changes" despite not having a practice yesterday. Team Canada forward Adam Fantilli played only 2:56 in the final frame in the loss to Czechia. I'd expect him to be moved out of the top-six tonight, Fantilli will likely skate on the third line tonight for Team Canada against Germany, which could work a bit better for everybody around. Fantilli is a dynamic, top-tier prospect that I expect to go very high at the Draft next June, but right now it's hard to justify his spot in the top-six. Don't count Fantilli out though, it'll be your own mistake! I still project him to play a significant role for Team Canada! Especially if they hope to be successful at this year's tournament. 
In goal for Team Canada is goaltender Thomas Milic of the Seattle Thunderbirds! Thomas, who was perceived to be kind of like the back up goaltender to Sarnia's Benjamin Gaudreau, looks to be getting into some work early! If you read my pre-tournament article on Team Canada's goaltending you'll remember I said that it was expected to see both at some point, but this early? I certainly did not predict that. Milic is a goaltender that can certainly provide stable goaltending for Team Canada. With some vengeance to prove after going undrafted at the NHL entry-draft, this is the perfect opportunity for Thomas to prove scouts and staff across the league wrong. Milic is a very mobile goaltender that likes to play deeper in his net, relying on his reflexes to make stops. Milic is a personal favourite of mine and after watching many Thunderbirds games I can promise you he is definitely someone you can trust. He might not play that top of the crease, physical, modern style goaltending teams love nowadays but don't count him out. Milic is quick, and certainly fun to watch! I'm looking forward to seeing how he can take advantage of this opportunity here tonight against Team Germany! 
As for Team Germany, don't count them out! This isn't just another easy opponent at the World Juniors. This tournament in particular is one that I've noticed being a little bit more balanced out than previous ones. We've already seen the upsets, and after Germany's opener it's hard not to have all eyes on goaltender Nikita Quapp. The 19-year-old goaltender made 44 saves on 45 shots in a 1-0 loss to Team Sweden yesterday. The Carolina Hurricanes 6th-Round pick in 2021 had a fantastic opening performance, fans even chanted "M-V-P" at the game for him despite losing. As for players to watch for on Team Germany, forward Julian Lutz is a name that comes to mind! Lutz, who was just drafted in the 2022 NHL entry-draft by the Arizona Coyotes is a treat to watch. With good speed and determination, Lutz can do some serious damage if you let him. When watching Team Germany play yesterday, there was an exact play that Lutz made that certainly stood out. After skating down to beat an icing on a Finland defender, Lutz grabbed possession of the puck and made a sweet play off the same defender to quickly feed his teammate in front of the goal. The opportunity wasn't converted, but it just shows you how if you leave the door open against a German side like this, they can certainly make you pay! Lutz was a player I personally thought should have gone in the first round last June, but it's safe to say Arizona might have a gift that fell to them in round 2!
If you can't tell from the way I've written this article, I can not wait for this one, Julian Lutz against a hungry Team Canada side! Can Team Canada's goaltending find its way? Can Nikita Quapp do it again? whatever storyline you choose to look at for this one it should get you excited! As for predictions, I predict a 3-1 Canada win tonight! Obviously after a tough opener like that for the Canadians, it's extremely hard to count out a roster with all those names once again. However, this won't be a walk in the park and I'm truly looking forward to what Lutz can bring here tonight! 
Thanks for reading! For more hockey content follow me on Twitter at ITR_Anselmo, Enjoy tonight's game!