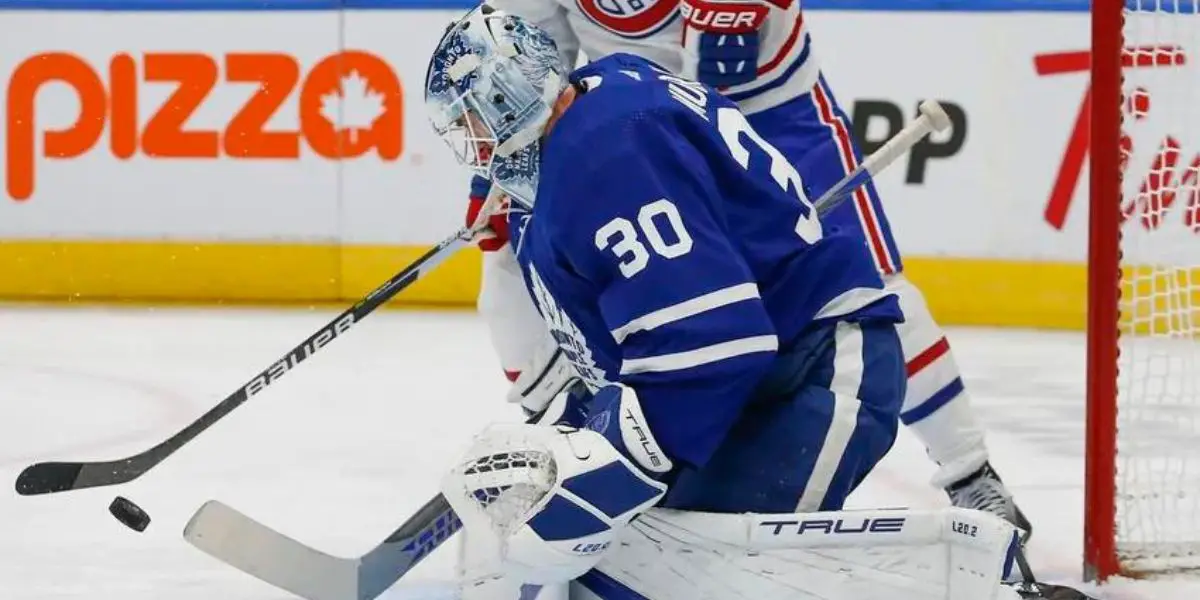 Tonight the Maple Leafs will take on the Canadiens while testing out more lines that we could see on opening night. As the regular season nears, competition for the second-line LW slot intensifies mainly between two names.
Projected Lineup
Forwards:
Bunting – Matthews – Marner
Robertson – Kerfoot – Nylander
Aston-Reese – Holmberg – Aubé-Kubel
Steeves – Gaudette – Malgin
Defense:
Rielly – Brodie
Giordano – Holl
Král – Mete
Goalies:
Murray
Samsonov
Players to Watch
Nick Robertson
Nick Robertson seems to impress more every day so far this training camp, which has led him to a tryout in the second-line LW position for tonight's preseason tilt. Robertson has racked up three goals and four points in three preseason games while only averaging 14:57 of playing time per game. He is looking to build off of the last game, where he sniped two goals and set up a goal for teammate Denis Malgin.
Robertson added size during this past offseason, and watching him play, and you can tell he is stronger on his skates and doesn't fall over near as much as he used to. It is important to remember that Robertson is still a young player at age 21 and has lots of potential for continual growth. Some think because of his age and ability to be sent down to the Toronto Marlies without passing through waivers, that he will be cut from the team over the depth pieces who have to pass through waivers. However, his training camp so far is pushing him to the point where he likely should be on the roster come opening night, and he will continue to try to prove that tonight in a top 6 role.
Denis Malgin
Malgin was previously considered a likely candidate to slot into the second-line LW slot, but due to the rapid growth Robertson is showing, Malgin has been bumped down the lineup for tonight's game. While Malgin is lower in the lineup, this is still an important game for him, as regardless of whether he gets a spot on the second line or not, he is still fighting for a spot on the roster. He has impressed many throughout training camp so far, and tonight he has the chance to show that he can produce no matter where he is in the lineup. Be on the look for him to try and extend his goal streak to 4 games tonight.
Adam Gaudette
Gaudette played with effort in his first preseason game, but an injury took him out of commission for a little over a week. Tonight is his first game back since the first preseason game of the year, and he looks to make up for a lost time as he fights for a roster spot.
Gaudette can bring physicality to his game, but he is also no slouch with the puck either. Skating with Steeves and Malgin tonight, watch out for a speedy line that can contribute at both ends of the ice. Tonight is Gaudette's first game lining up as a center, so I'm sure the coaching staff will also be looking at how he performs on draws and how he helps the Leafs' defense in their own zone.
Filip Král
Filip Král has had a strong camp, but due to the defensive depth and the recent signing of Rasmus Sandin, his chances of making the Leafs out of camp are slim to none. Král should still be kept an eye on, though, as a depth piece that could be called up in the case of injuries. With Jordie Benn being out for three months and Carl Dahlström being out for six months, his chances of getting time with the Leafs' club, if other injuries pile up, has grown significantly. Keep an eye out to see how Král performs as he looks to prove that he can handle games at the NHL level.
Matt Murray
After an impressive first game where Murray played 40 minutes, made 16 saves, and didn't surrender any goals, he is projected to play the full 60 minutes tonight. Murray is one of the largest goaltenders that the Leafs have had lately, and he will look to use his size and skill to help push the Leafs towards another win tonight.
Tonight is an important night for the Leafs as they look to test out more lines and start to paint a picture of their opening night lineup. Tonight we will see Robertson get time on the second line, Kerfoot slotted in as second-line center, another chance for Aston-Reese and Aubé-Kubel to improve their chemistry, and much more. You can watch all of this live tonight at 7 PM EST on TSN2 or TSN4!
Thanks for reading! Feel free to follow me on Twitter @nathan_bondy.
WELCOME BACK TO LEAFS LATE NIGHT! Presented by Inside The RinkRoscoe, Biehner, & Steph The FanalystTonight's Topics Live, Love, Leafs BL/DBL: Mitch & JT 4 Life? 39 and GOT THE TEAM ON HIS BACK  0 Days Without Injury Witnessing Greatness MERCH IS AVAILABLE!Borje ShirtsRemember to follow us on Twitter @LeafsLateNight & IG @LeafsLateNightCheck out Mike, Josh, and Nathan's articles on the Leafs + many more! insidetherink.com