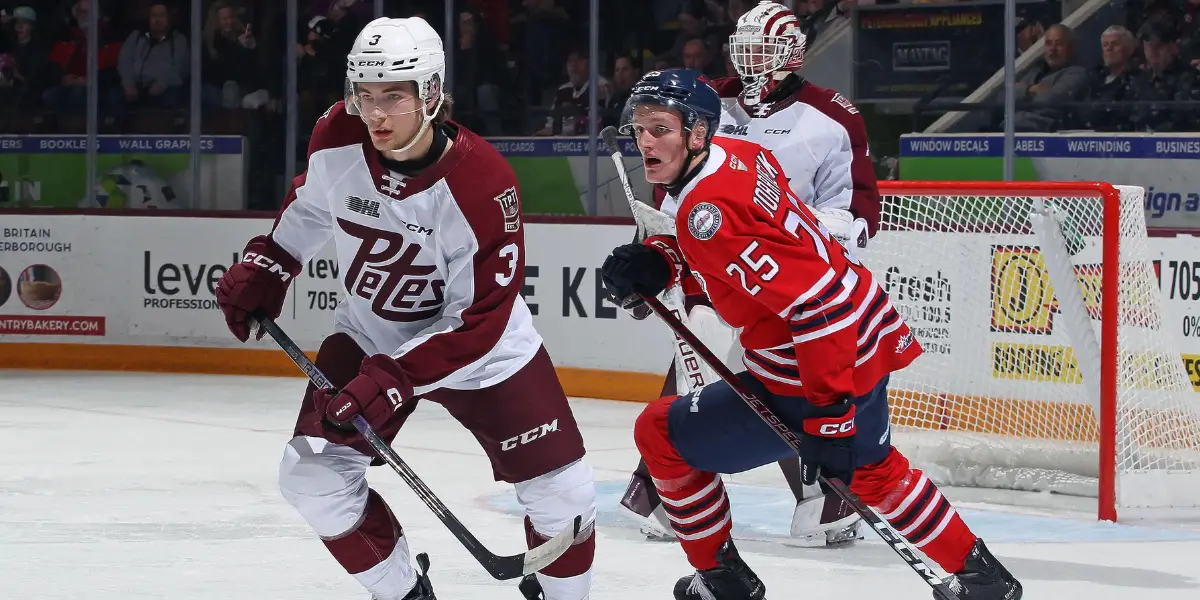 Oshawa Generals draft-eligible forward Beckett Sennecke had himself a night on Friday, leading the Generals to a 3-2 victory over the Peterborough Petes in overtime. After coming into the game goalless in his previous nine games, Beckett scored three goals himself for the hat-trick, which included the overtime winner.
In the first period, only 4:31 into the game, Beckett took the puck onto his backhand and drove to the Petes net. After getting around the Peterborough defenseman, Sennecke quickly changed to his forehand in tight, sliding the puck right around Petes goaltender Zach Bowen for his first goal of the game.
In the middle frame, Oshawa Generals forward Rasmus Kumpulainen found Beckett alone in the slot, who made absolutely no mistake with the chance. After receiving the pass from Kumpulainen, Sennecke once again took the puck on his backhand, then quickly transitioned it to his forehand, as he slid the puck right into the Peterborough net for his second of the game.
After putting on some pressure late in the game, Beckett Sennecke forced Peterborough defenseman Cam Gauvreau to take a penalty as the Petes defenseman shot the puck over the glass. This was a crucial opportunity for the Generals to capitalize late in the game. However, with only about nineteen seconds left in regulation, the Generals couldn't convert, which sent this one to overtime.
As Petes defenseman Cam Gauvreau still had time to serve on his delay of game penalty, the Generals started off the overtime with the man advantage. After coming close twice, Generals forward Rasmus Kumpulainen made a play behind the goal, finding Beckett Sennecke all alone to the right of the slot. Once the 17-year-old received the pass, Sennecke roofed the puck up high on the Petes goaltender, scoring his third goal of the game for the overtime winner.
After getting a chance to catch Beckett Sennecke live in person, I was blown away by his skillset. The 17-year-old forward has strong puck-handling ability, good vision in the offensive zone, and certainly has some speed. Another thing to note about Beckett's game is that he has a quick and impactful release with his shot, and does he ever work hard in all three zones.
Given his unique blend of traits, I currently have Beckett Sennecke as a first-round grade for next June's NHL Entry Draft, so It'll be exciting to see how Beckett Sennecke does throughout the season. The Generals have also made a few roster moves this week that should help this team a ton, so keep an eye on Oshawa over the next little bit.
Thanks for reading! For more CHL content, follow me on Twitter at ITR_Anselmo.
Episode 6. Early Trade Season
–
Inside The Rink
In episode 6 of the Inside The Rink Podcast, Tyler, Matt, and Connor return to business. This week, we are starting a new segment, "On The Shelf," an injury report from around the league. This week's show covers all-time leaders in empty net goals, the Washington Capitals cold start has turned into a torrid November, the Golden Knights presented US President Joe Biden with a golden hockey stick during their White House visit, which candidates should be selected for the 2024 Hockey Hall of Fame Induction, Carolina has stumbled out of the gate, and their Captain has called out his teammates, Firing Jay Woodcroft has lit a small fire under the Oilers roster after seeing 3 straight wins. Lastly, is it time for the early season trades to erupt? We discussed all the teams primed to make some moves prior to the Trade Deadline.For more ITR: https://insidetherink.com/How to support us and our sponsors: ESPN+ –  https://insidetherink.com/espnFanatics – https://fanatics.93n6tx.net/c/3080932/586570/9663Draft Kings – CODE ITR