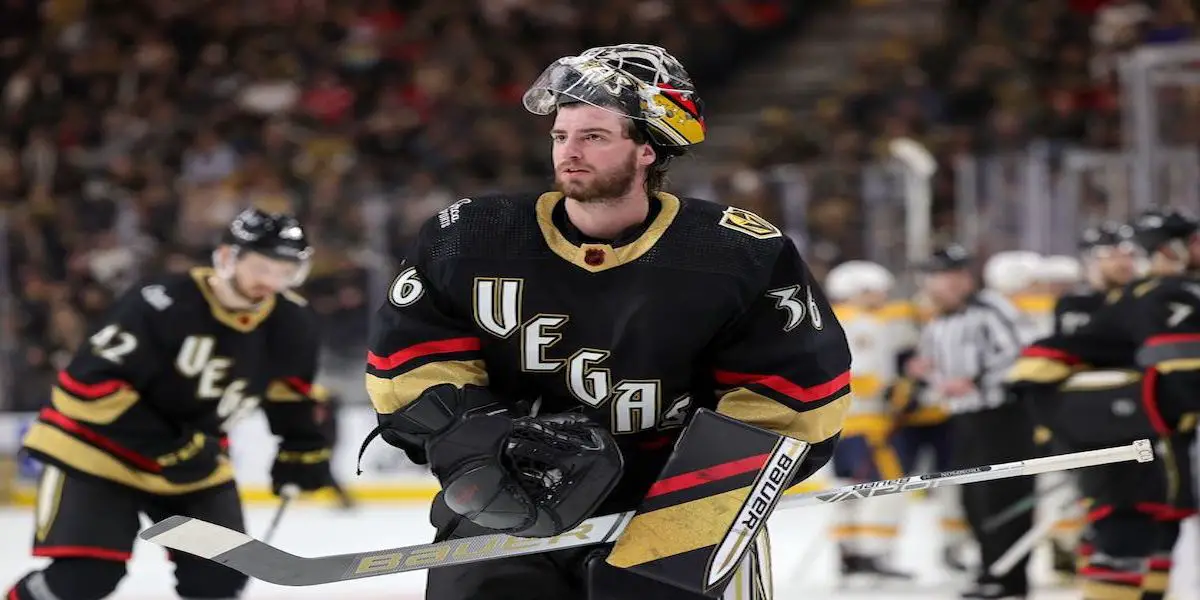 Some significant changes have been made to the Vegas Golden Knights and their minor league affiliate teams, as Vegas goaltender Logan Thompson is out with a lower-body injury. Due to his injury, one of the Henderson Silver Knights' goalies, Michael Hutchinson, has the incredible opportunity to move up to Vegas in his absence. In that respect, Henderson has Jordan Papirny of the Savannah Ghost Pirates in Hutchinson's position. Henderson's most recent game with Hutchinson in goal was Sunday, February 19th, against the Tucson Roadrunners. The Silver Knights lost 2-3 in regulation. Vegas played just last night against the Chicago Blackhawks, and they lost 2-3 in a shootout. While Hutchinson was with the Golden Knights in Chicago, he hasn't been in net for them just yet. Henderson's team is playing tonight against the Calgary Wranglers. Vegas plays tomorrow against the Flames.
In Vegas' match on Tuesday against Chicago, they lost 2-3 in a shootout. At the end of the third, both teams had a score of 2-2, with shots equal at 34 apiece. Vegas' Keegan Kolesar scored the first goal of the game with a wrist shot at 3:26 in the first period, assisted by Nicolas Roy. Kolesar's goal was matched by one from Chicago at 12:39, making the first period's final score tied 1-1. Jack Eichel raised the score 2-1 in the second, as he was the only person to score during that period. Eichel has been given a bad rap this season from NHL fans, claiming he's peaked. However, he did seem to play better against the Blackhawks. Chicago tied the game 2-2 in the 3rd period with an uncontested goal with a slapshot. The game ended in a shootout, with Jack Eichel, Paul Cotter, and Jonathan Marchessault shooting for Vegas, and Andreas Athanasiou, Patrick Kane, and Tyler Johnson for Chicago. Johnson was the only one of the six shooters to score, making the Blackhawks win 3-2 and allowing Vegas to leave with a point in the standings.
With 14:12 remaining in the first period of Henderson's game against the Calgary Wranglers, Calgary had no shots so far and two players in the penalty box, one for interference (2 minutes) and one for hooking (2 minutes). Henderson had two shots from Jonas Rondbjerg and Gemel Smith. They've only had one player in the box for 2 minutes for interference. Jordan Papirny and Daniel D'Amato, who were just added to Henderson's roster from Savannah earlier this week, have joined the Silver Knights tonight in Calgary. Neither started, but they are both on the bench until they're needed on the ice. Around 11:00 left in the first, Calgary scored, making the score 1-0, in their favor, with shots at 7-4 Henderson.
It's not exactly clear how long Logan Thompson will be out with his injury and if Michael Hutchinson and Jordan Papirny will play much with their new teammates. However, they still have a great opportunity to develop with them in practices. The Golden Knights have a two-game homestand to finish out the week. They play the Flames tomorrow and the Stars on Saturday.
VGK free agency recap, Knights news and notes. UNLV roster update
–
The Vegas Fever Podcast
The Golden Knights wrap up free agency pretty quickly. The Reilly Smith trade to Pittsburgh was the toughest pill to swallow for us. The Golden Knights announce new additions behind the bench as well. UNLV basketball rounds out their 2023-24 roster while capturing their first commit of 2024. Thanks for checking us out! Please subscribe after you listen. Learn more about your ad choices. Visit megaphone.fm/adchoices