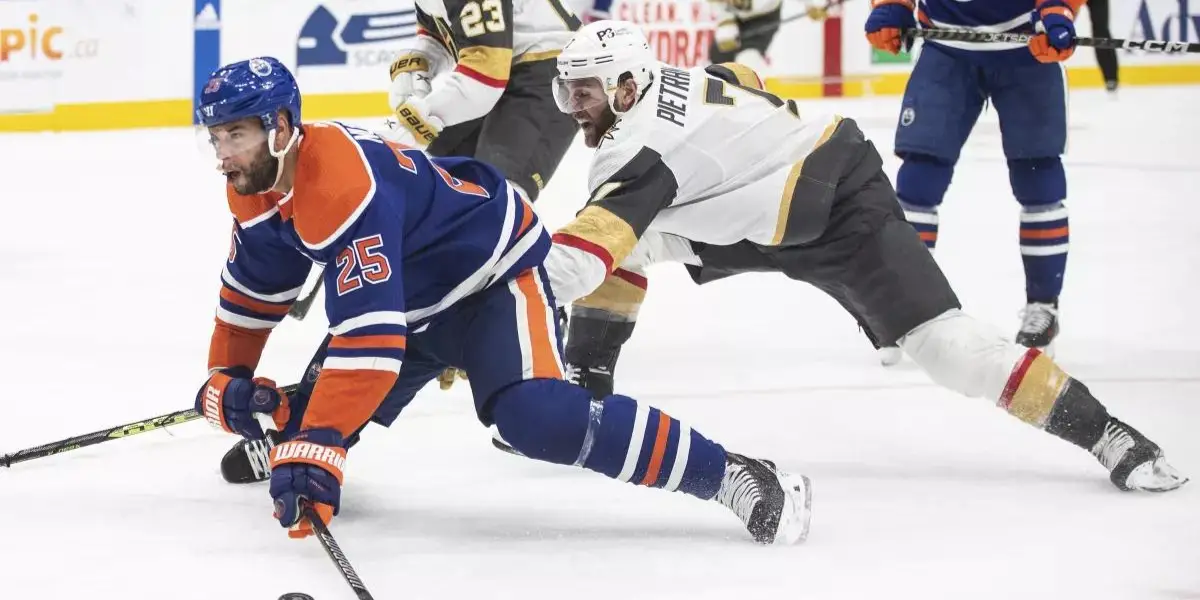 The NHL's Department of Player Safety announced the suspension on Thursday.
 The Vegas Golden Knights will be without their best defenseman in Game 5, with their second-round series against the Edmonton Oilers hanging in the balance.
Alex Pietrangelo was suspended for one game Thursday by the NHL Department of Player Safety for his slash on Edmonton's Leon Draisaitl in the final two minutes of the Oilers' 4-1 victory Wednesday night that knotted the series at 2-2. Game 5 is Friday night in Las Vegas.
"That was a really, really dangerous slash," Draisaitl said before the announcement. "I think those are things that have nothing to do with hockey or the game. You can seriously injure someone with a slash like that."
Oilers captain Connor McDavid said Pietrangelo should be suspended. His coach, Jay Woodcroft, agreed: "I would not define it as a hockey play, and I'd leave it at that."
The NHL cited Pietrangelo's history of not having previously been fined nor suspended in his 15-year career, indicating it was a reason he didn't receive harsher punishment.
"He's got no history of suspension or being called on the carpet by the league," Vegas coach Bruce Cassidy said. "Petro's a pretty honest player, I can attest to that. We love the way he plays the game for us."
Quote Credits: AP
The Oilers will be without defenseman Darnell Nurse, who received instigator and misconduct penalties for fighting Nicolas Hague after Pietrangelo's slash. Because the instigator penalty occurred in the final minute, it carries an automatic one-game suspension, which the NHL upheld.
Nurse was assessed a minor penalty for instigating, a major penalty for fighting, and a 10-minute misconduct for instigating following a fight with Knights defenceman Nic Hague at 19:10 of the third period.
Nurse will be forced to sit out Game 5 in Las Vegas, with the best-of-seven series tied 2-2.
"I was surprised," Nurse said of the penalties. "You go through the whole sequence of events, being asked multiple times to fight by him, even multiple times before the puck dropped during the sequence of the play.
"It is a fight that takes place between two people who I think were willing to fight. I didn't go in there and jump him by any means. His gloves were off first. I didn't throw the first punch, I think he threw the first eight punches."
Nurse added that Hague was looking for a fight.
"For 40 minutes, he was out there challenging and trying to provoke a fight," Nurse said. "For me, you play 24 minutes a game and don't want to take yourself out at the wrong time.
"With 30 seconds left in a 4-1 game, to do it a fair way, to have (a) fair fight where both people want to fight and are willing to engage, I think that is what took place last night."
Jay Woodcroft, head coach of the Oilers, was fined $10,000.
Tensions have been high throughout the series and came to a boiling point Wednesday. Misconduct penalties were handed out to Vegas' Chandler Stephenson, Jonathan Marchessault, Brett Howden, and Edmonton's Kailer Yamamoto and Evander Kane. The Knights' Hague went out for fighting.
Kane, a longtime Knights rival dating to his days with the San Jose Sharks, has been at the center of the bad blood. He took a running start at the end of the second period in Game 3 and cross-checked Pietrangelo; one game earlier, Kane was assessed a double minor and 10-minute misconduct after repeatedly hitting Vegas' Keegan Kolesar as he lay on the ice.
The Knights were the NHL's least-penalized team during the regular season, but they haven't been faultless in this series. Pietrangelo received a roughing penalty in Game 1.
This series has turned into a best-of-three, and it could be decided which is the more disciplined side.
"The clean physicality is fine," Cassidy said. "The stuff that isn't should be addressed and should be managed in-game by the officials."
Will the VGK win Game 6/7 or choke away the WCF?
–
The Vegas Fever Podcast
In this episode we review:The first 5 games of the WCF, the VGK lead 3-2We also..Discuss how closing out the Stars will go and how not closing them out will go after leading the series 3-0.Be sure to send in your questions, comments , concerns and emotional outbursts to our twitter DM'sThanks for checking us out! Please subscribe after you listen.