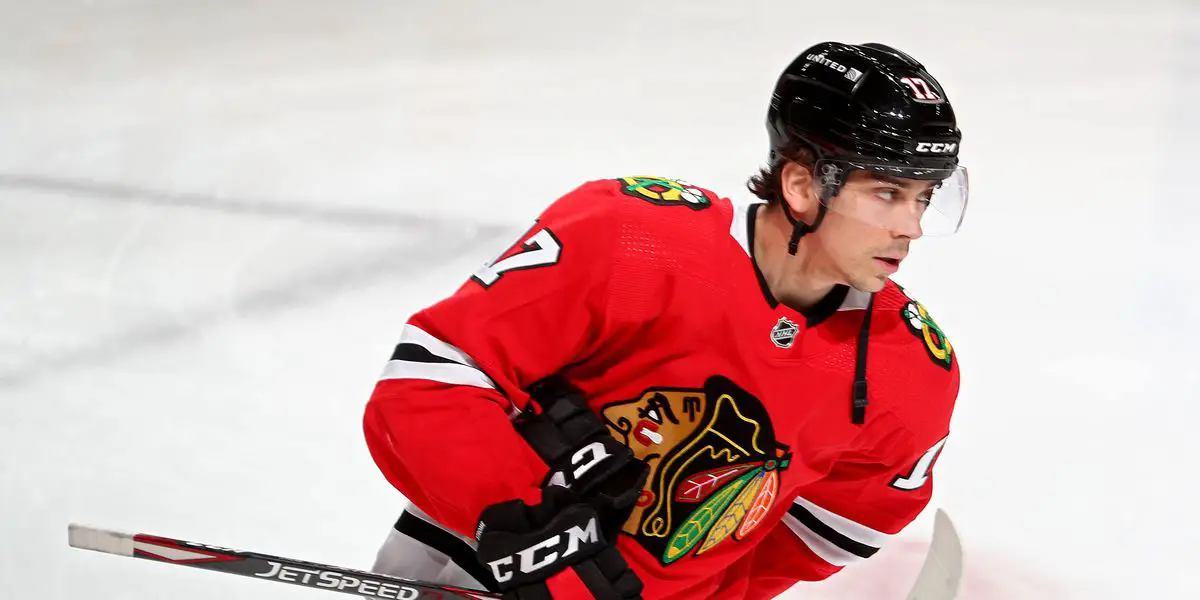 The trade deadline is fast approaching, and Chicago will be evaluating their roster over the coming days. This roster could lose up to seven players such as Fluery, DeHaan, Carpenter, Hagel, and more, including some people saying DeBrincat could be moved. So what better time then to grade how the players have performed throughout the season. 
Player grades As of Monday, February twenty-first:
Isaak Philips:
Philips has not gotten much of a look this season; he's looked alright in the three games he has played. It needs more time to develop in the AHL. With zero points and a negative one plus-minus. 
Grade: C
Lukas Reichel:
Reichel is the only high-end forward prospect that the Blackhawks have, and they are doing right by taking their time and not rushing him up. Reichel has played four games with zero points. That's okay. Reichel has played well and gotten looks just had not had the puck fall his way. He averages two shots a game. It's only a matter of time before he breaks through and gets a point, as long as he gets more NHL games this season. 
Grade: C+
Alec Regula:
Not much to say; he has only played two games. Played an average of 15:07 a game. The sample size is small.
Grade: C
Nicolas Beaudin:
6:10 TOI/GP during his two games played. He was not given a fair shake but had to grade him off his play on the ice, and it wasn't very impressive at best. The handling by both coaches hurt Beaudin's grade a lot.
Grade: D
Wyatt Kalynuk:
Another young defenseman has gotten a small look. He's shown his ability to move the puck in transition. In his five games played, he has a -3 plus-minus. Kalynuk looks to be poised to be an NHL defenseman shortly. 
Grade: C+
Jakub Galvas: 
Galvas has been the biggest surprise for me. In his limited NHL time, Galvas has been impressive. He has yet to record a point, and he has looked poised with the puck in his zone. He has averaged 18:25 a game! Galvas should get another look after the deadline. 
Grade: B
Kurtis Gabriel:
In just two games, Gabriel was exactly what you expected him to be, a fourth-line player that is willing to throw his body around. Just a depth player. 
Grade: C-
Josiah Slavin:
The young forward got more games than anyone would have thought. Playing in fourteen games already, Slavin has proven he can be a fourth-line player, and he still needs to develop offensively as he has only recorded a single assist so far but a solid start to his NHL career. 
Grade: B-
Ian Mitchell:
Mitchell has been exceptional in the AHL this season. However, this hasn't exactly translated to the NHL. Mitchell has gotten into eight games but hasn't been trusted yet by the coaching staff to play him on big moments. He is averaging just over eleven minutes of ice time a game. Mitchell could be a player on the NHL roster next season and will need to find a way to make his game more transferable to the NHL. 
Grade: D
Sam Lafferty:
Lafferty brings a lot of speed to the game. His impact can be seen on the ice. He may not put up points, but his energy and willingness to get dirty and hit is something this roster is lacking. Lafferty does have one goal in his sixteen games played. Trading for Lafferty was the right move. 
Grade: C+
Brett Connolly:
Connolly has been Brett Connolly, a player that probably has too much skill to play in the AHL but never can stick in the NHL. He's played in nine games and has pretty much been nonexistent, except his suspension.
Grade: F
Mike Hardman:
Another player who fits the fourth-line role. Hardman did what he was asked of him when he got his looks this year. He's a responsible forward but has little offensive upside. His game needs to find some offense if he wants to be an everyday NHL player. 
Grade: C-
Jujhar Kharia:
Kharia started the season great was impactful. He got some looks on the top line even at times, but then he took a devastating hit. Since returning from injury, he's been in and out of the lineup and has not looked good. Kharia plays his best when he has an edge to his game, which has been missing. Let's hope it's just a lack of confidence, and he can't find the game he had in the early part of the season. 
Grade: D
Tyler Johnson: 
Not much to say, but he should be returning in the coming weeks. 
Grade: N/A
Reese Johnson: 
Reese Johnson has been average. In eighteen games, Johnson has four points. Johnson is another fourth-line type player that Chicago has about 10000 of. Once he returns from his injury, if he can find a way to elevate his game a little more, he could be a nice player for the Hawks. 
Grade: C
Caleb Jones:
Caleb Jones has to be the most demanding player to grade on this list. Jones sometimes looks like a deer in headlights throwing the puck away and turning it over left and right. But then something changed, and Caleb started getting more ice time and started to calm down on the ice. Caleb is now a plus one and has two goals and three assists. Caleb looks like he can turn into a nice solid skating defenseman. Jones will have to find a way to continue his play as of late. Overall, Caleb has been a delight. 
Grade: B
Calvin DeHaan:
DeHaan's time in Chicago is probably coming to an end come at the trade deadline. DeHaan has been good in his defensive zone, with his blocked shots totals among the league leaders. He brings little to no offensive. He's an excellent middle pair shutdown defenseman. He has five points in his forty-eight games and is a -16.
Grade: C-
Henrik Borgstrom: 
Stan Bowman made sure to get Borgstrom, and so far, he's disappointed like most of Bowman's moves. Borgstrom has not worked out in a top-six role and has found himself playing little minutes most nights. He has flashed his soft hands and ability to create with the puck at times, just not often enough. Consistency is something that is lacking in Borgstrom's game. With four goals and three assists in thirty-seven games, Borgstrom has potential it's just a matter of will it ever be unlocked. 
Grade: D-
Ryan carpenter:
Carpenter has played his role well. He's a shutdown fourth-line player who will chip pucks out, get the puck deep, and grind away. The negative side is he has zero offense to him. He is a good penalty killer. With one goal and six assists in forty-eight games. Carpenter is another name that could be moved at the trade deadline.
Grade: C-
Connor Murphy:
Murphy has been solid so far. In forty-nine games, Murphy has four goals and four assists. He has also done an exceptional job laying his body out there, blocking shots. Murphy is your prototypical shutdown defenseman. He will play 20+ minutes a night and face the tougher matchups. Murphy has done a fine job on a team that can struggle at times. 
Grade: B
Mackenzie Entwistle:
Entwistle has well exceeded all expectations. In thirty-six games, he is tied for eleventh on the team in points with ten, five goals, and five assist. Entwisle plays hard every shift and seems to get under players' skins when he is on the ice. Ask Jamie Benn. Mackenzie can produce more points as he continues to grow. He's even been used to killing penalties at times. Entwistle is only twenty-two.
Grade: B
Riley Stillman: 
Stillman made the jump this season. He looked like an NHL defenseman that can be impactful. Stillman plays a hard game, willing to throw his body around and drop the gloves at times. Stillman was in the middle of breaking out before an injury would take him out of the lineup for a significant time and still has yet to return. Stillman took a step offensively this year, and in his twenty-eight games, he had one goal and nine assists, not bad at all. Let's hope he picks up right where he was before getting hurt when he finally gets healthy.
Grade: B
Jake McCabe:
McCabe struggled. He was coming off an injury in the early parts of the year, and the Hawks were putrid to start the season. McCabe has settled in a little and has had stretches of being the physical defensive guru he was in Buffalo but has struggled to find that game constantly. McCabe gets a little bit of a pass because of the injury but not much. McCabe has produced some offensive with ten points so far this season. McCabe is a -21 on the season, horrendous. But much of that has to do with the start of the season and just how bad the Blackhawks were.
Grade: C-
Phillip Kurashev: 
One word to describe Kurashev's game, FRUSTRATING. Kurashev, at times this season, has shown he has an insane skill set. His soft hands can dangle around a defenseman, and when he's playing with the speed, he can drive a line and looks like a top-six forward. Too bad he has zero consistency to his game. He will flash one game and then look like Casper the next. He's found himself healthy scratched, and even sent to the minors once. The lack of effort on the ice can be infuriating. His potential could be a good top-six forward, but Kurashev will have to find a way to be more consistent for this to happen. In forty-fine games, he has four goals and ten assists. 
Grade: D
Erik Gustafsson:
Gustafsson has had his share of good games. Overall he's been bad. He turns the puck over in his defensive zone two to three times a game. He never pinches at the correct times. He should not be in the lineup. Gustafsson is a defenseman who is a liability in his defensive zone but has some offense to his game. The Hawks would be better suited playing a young defenseman in his place. Maybe the Hawks can move him for a late pick at the deadline. 
Grade: D-
Dominik Kubalik:
Kubalik has taken a step back from last year. He's a "goal scorer" who hasn't scored this season. With ten goals in fifty games, even he would say he is disappointed in his production. Kubalik is a shooter and won't create much as assist go, and this year he has struggled to get his shot off. Chicago has not used him on the power play as they should, which is one factor in the dip in goals. His game has also slipped defensively. Kubalik is a streaky player and could get hot, but he's been room temperature at best so far this season.
Grade: C-
Jonathan Toews: 
Toews year started terribly, and it was taking Toews time to adjust back to NHL life after missing over a year. He was still himself in the faceoff dot, winning over 50%. He wasn't the same Selke-winning player in the defensive zone, but he was still playing at a top level in that part of the game. His struggles all came offensively. He looked like a player with no confidence at times, and his frustration was boiling over. Toews was settling in and starting to play a more consistent game, but then he got hurt again and had been on IR since late January. He has nineteen points in forty-three games played. 
Grade: D+
Kirby Dach: 
Everyone wants to say Dach has been disappointing, and I would disagree. Dach has had a lot of responsibility thrust on him at a young age. Not to mention the two injuries that took a lot of games away from him. At the age of twenty-one, Dach is young. Not everyone lights the league on fire offensively right away. This season, it took Dach time, but the last month has been good for Dach. Since January thirty-first Dach has played in eight games and has one goal and five points. His confidence is starting to come back. Dach has taken a step forward this season. If he can continue to grow and learn how to drive the offense more, Dach will be a great top-six forward. If he can't figure out how to win a faceoff, he may need to be moved to the wing. He's only winning 33.6% of his draws. That makes me want to puke. Dach has had a solid year outside of the faceoff dot with seven goals and thirteen assists in forty-nine games. If Dach could shoot the puck a little more instead of trying to force the pass, he would start to score a lot more goals. 
Grade: B-
Dylan Strome:
After starting the year outside of the lineup, Strome has found a new game under King. Strome has been playing the best hockey of his career as of late. Since December fifth, Strome has played in twenty-five games. He has eight goals and ten assists. He also has been amazing in the dot. That is not a typo. Strome has won 54.6% of the draws. Strome has put the Blackhawks in a tough spot with his contract coming up at the end of the year. On the season, Strome has twenty-one points in thirty-nine games. 
Grade: B+
Brandon Hagel:
Hagel has been so good it's rumored teams have offered a first-round pick and a prospect for his services. Hagel plays with an energy that gets injected throughout the lineup. He played a top-six role for most of the year and has gotten power playtime. This is his break-out season with fourteen goals and thirteen assists in forty-six games. It will be interesting to see if he gets traded, but I think he will remain in Chicago. 
Grade: A-
Seth Jones: 
We are grading Seth Jones's play, not the trade package. Jones struggled out the gates, looking lost at times. Then he settled in and got hot and was pacing offensively with guys like Adam Fox. His offensive game has since fallen off a little. He still has thirty-one pints in forty-eight games. That's a great number, considering how offensively challenged Chicago is. Jones has been the solid number one defenseman he was advertised as.
Grade: B
Alex DeBrincat:
Alex DeBrincat has been unreal all season. Twenty-nine goals in fifty-two games. DeBrincat's heat-seeking wrist shot is almost impossible to stop. He was the All-star for the Blackhawks. DeBrincat has an argument to make for the best player on the team. DeBrincat is an elite winger that Chicago will hopefully build around him for years to come. 
Grade: A+
Patrick Kane:
Kane is still scoring at a point per game. He's still electric with the puck and is the main driver for the Blackhawks. In the goal-scoring department, Kane's play has been a little disappointing, with only thirteen goals. Besides that, Patrick Kane has been amazing and just continues to break Blackhawks records. In forty-eight games, Kane has forty-nine points.
Grade: A-
Marc-Andre Fleury:
Fleury is just a true pleasure. He's played at the Hall of Fame level. Without him, the Blackhawks could be a bottom-five team in the NHL. In the year, he has a record of 16-18-4, a save percentage of .912. Don't let the numbers confuse you. He's been one of the best goalies in the league. Fleury may not stay in a Hawks jersey all season, but it was an honor to have him wear a Blackhawks jersey. 
Grade: A+
Kevin Lankinen: 
Before his injury, Lankinen has been underperforming. He had a few strong games, including an amazing game versus the Blues but overall has let in too many weak goals. On the season, Lankinen has an abysmal save percentage of .889. That's just horrendous. Maybe the injury and time off can give Lankinen a reset. His record on the season is 2-5-4.
Grade: F
Arvid Soderblom:
Soderblom is not ready for the NHL. He has potential but clearly, in his two games started, it's shown he still needs work technically. He gave up more than a few bad goals in his starts. In Rockford, he's been good. Chicago should just leave him on the AHL. It was only two starts, so who knows, really, but it was a challenging two games. 
Grade: D-